Winter comfort food: Warm up and treat your taste buds with these Park Ridge-area favorites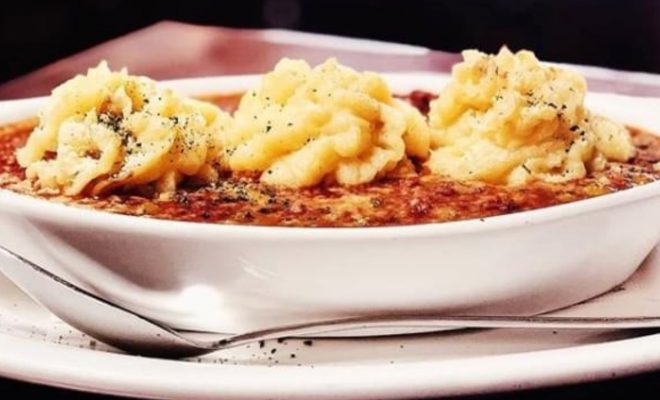 Shepherd's pie at Harp & Fiddle
Harp & Fiddle
Ownership likes to say they have themselves a "modern pub with an Irish flair," and that's a pretty accurate assessment. It's a relaxed, family friendly restaurant that plays host to a wide range of clientele and boasts a spacious, heated tent in their beer garden.
Shepherd's pie
They begin this classic masterpiece with a pan deglazed with burgundy wine, sage and bits of garlic, then add in ground top sirloin, gravy, carrots, celery, peas, tomatoes, fresh thyme and rosemary and top it all off with homemade redskin mashed potatoes. And then it gets broiled to a light crisp — better known as pure, hearty perfection.
Guinness stew
The Harp & Fiddle takes top sirloin that is slow braised for five hours and comes out as tender as you might imagine. Then they add some fresh garlic, carrots, onions and potatoes in a rich Guinness stew, and a sliced French baguette that is perfect for "mopping up" at the end is like the icing on the cake. An Irish Guinness cake, if you will.
110 Main Street in Park Ridge. 847-720-4466. TheHarpAndFiddle.com
Soup & Scoops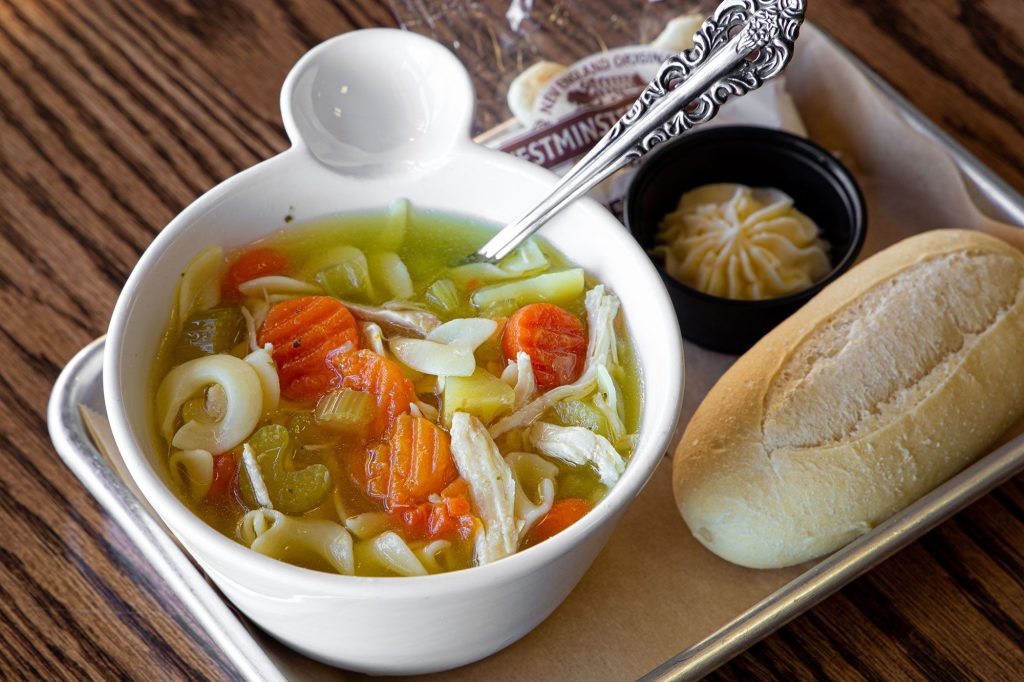 Small, cozy hidden gem in the heart of Edison Park that is perfect for that delicious homemade bowl of warm soup. Whether you're a vegan or a meat lover, you're sure to find something that fits your mood. Feel free to take a moment to sample a few of the daily soups, but know that won't necessarily make your decision any less difficult. They usually offer a couple standard regulars, and then rotate in several other specials for that day.
Our recommendations on a cold winter day: The cream of chicken with wild rice, the mac & cheese with ham and peas, or the creamy Italian sausage with broccoli. Flavors galore.
6709 N. Olmstead Ave. in Edison Park. 773-775-1079. SoupAndScoopsChicago.com
The Beacon Tap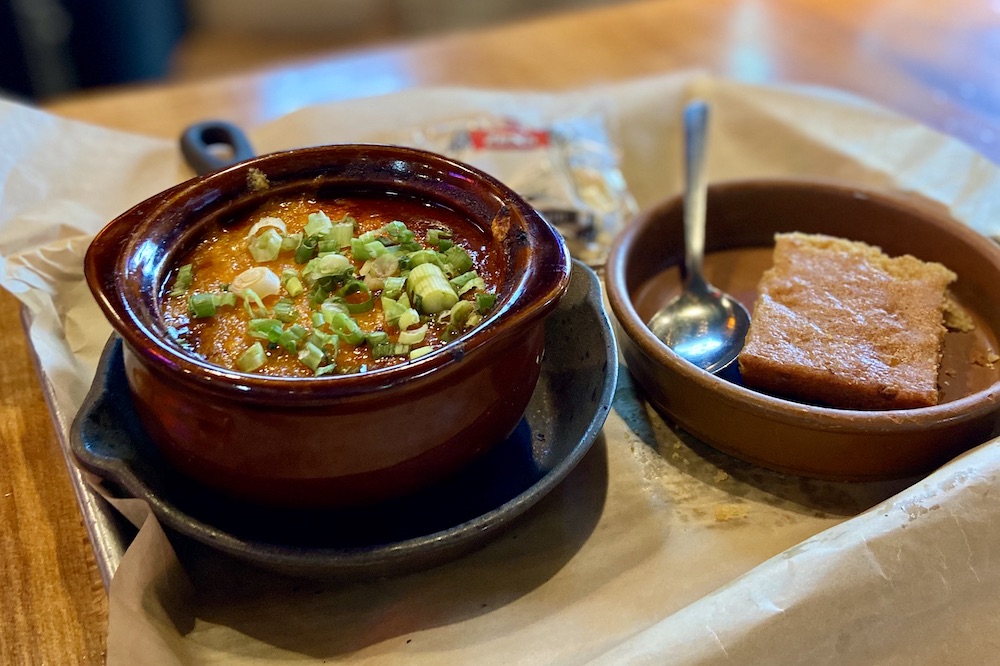 At the Beacon Tap in Des Plaines, a casual sports bar with a quality menu and longstanding reputation, your palate won't be disappointed. That much we can assure you. If you're tired of takeout, check out their quality heated tents this winter.
Chili is always a reliable go-to item when winter beckons outside, and the Beacon Tap's version is one of the best around, cooked low and slow. Smothered beef mixed with corn bread, cheddar cheese and scallions. Make sure to ask for beans. Don't forget.
Another worthwhile menu option here during the cold months is the Texas rodeo sandwich. It just sounds warm, doesn't it? We're talking smoked house brisket, pulled pork, andouille sausage and spicy southern coleslaw all coming to rest on some crispy Texas toast. Delightful, with a kick.
1374 Lee Street in Des Plaines. 847-715-2772. TheBeaconTap.com
We asked active locals for their favorite comfort-food dishes, and the responses we got made us hungry. Very, very hungry.

Ellen Shevlin: Shepherd's pie from Vaughan's Pub. So hearty and comforting.
Lauren Furmanski: Chicken pot pie from the Curragh Irish Pub in Edison Park.
Iman Jalali: Lasagna from Nonna Silvia's.
Joanna Riddle: Eggs benedict with sausage gravy from Lola's Diner. It's called "brinner" (breakfast for dinner)!
Andrea Nosal Werly: The beef birria tacos from Holt's are perfect for a cold night!
Matt Coyne: The chicken curry from Harp & Fiddle and cheese curds from Holt's.
Amanda Mrugala Rafferty: Pumpkin ravioli from Nonna Silvia's.
Kellie Walsh: Chicken pot pie or shepherd's pie from Sweet and Tart.
Teddy Constan: The lasagna from Zia's Trattoria, but ask them to also smother it with alfredo sauce. A friend introduced me to it. Changed my life.
The bourbon-glazed pork chop at Tavern on the Point is the ultimate comfort food. Cut a piece and drag it through the bourbon glaze and mashed potatoes. Each bite is amazing!
Claudine Kolton: Salmon with cauliflower mash at Pennyville Station. The sauce is so good.
Maria Fiore Capesius: The bourbon-glazed pork chop that comes with mashed potatoes at Tavern on The Point. The ultimate comfort food. The pork is cooked to perfection. Cut a piece and drag it through the bourbon glaze and the mashed potatoes. Each bite is amazing!
Stephanie Luehr Purcell: Tough to choose, but the lobster bisque at Reyes Steakhouse is amazing!
Amy Beth: The gnocchi with butternut squash, goat cheese and sage butter at Pennyville Station. So good!
Jessica Haycraft: Tagliatelle bolognese at Pazzi di Pizza.
Diane O'Malley Krzywonos: Balsamic chicken with roasted potatoes, broccoli and a side of pasta from Pasta De Arte on Milwaukee Ave.
Carol Rooney Craig: Sonny's Express chicken soup!
Julie Bronski: Any of the soups from Soup and Scoops in Edison Park.
The cinnamon rolls at Holt's. Warm, sweet, gooey — it's the perfect winter-morning treat. Order a couple for the table at brunch. Then fight over them.
Pauline Kelly: Fish and chips from Harp and Fiddle!
Patti Kelliher Wiederer: We have really enjoyed the whitefish with sweet pea risotto from Pennyville Station a few times during these past few months. Nice-sized portions.
Sharon Millon: The Boston baked cod at Harp & Fiddle. Awesome!
Mel P. Thillens: The cinnamon rolls at Holt's. Warm, sweet, gooey — it's the perfect winter morning treat. Order a couple for the table every brunch. Then fight over them.
Anne Joy Ce: Pistachio-crusted chicken from Nonno Pino! It's an unusual dish that is so good! Juicy chicken breasts breaded with ground-up pistachio nuts then covered with a creamy, roasted red pepper sauce. It's served with veggies and grilled polenta. Sometimes we switch out the polenta for garlic mashed or roasted potatoes.
Heather Heck-Feldman: Maharaja has the best Indian food around. A little (or a lot) of spice can definitely warm you up in the winter! Most of us in the Feldman house could eat it every day.
Jenna Miglore: The spicy chicken ramen from Blue Ridge Korean BBQ is flavorful with a kick of heat to warm me right up.
Patty Gaede Flener: Stopping to get a sausage with sweet peppers at Portillo's. The best!
Gayle Anne: Not necessarily winter, but my all-around comfort food is the chicken Caesar salad with extra dressing from the Edison Park Inn. We are talking 15 years of comfort!