Pick your patio: Here's your guide to outdoor drinks and eats in Park Ridge and the surrounding area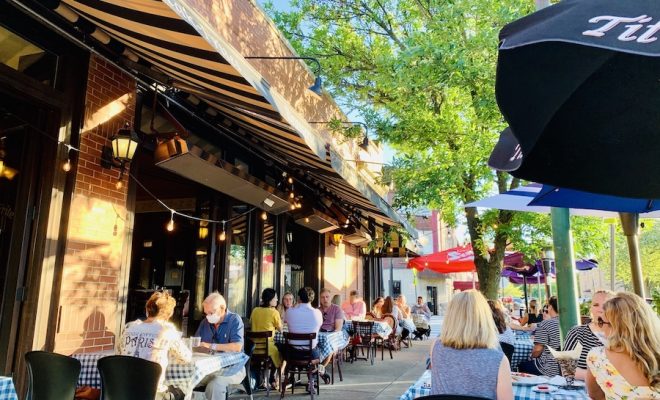 Café Touche
6731 N. Northwest Highway
773-775-0909
CafeTouche.com
This Edison Park tribute to the casual eateries of France is the pride of Zagat award-winning chef Joseph Calabrese, and it has one seriously gorgeous sidewalk patio, decorated with strong lights and colorful flowerbeds. The complimentary valet service is an added bonus at this cozy French bistro. So is the delectable weekend brunch.
What we're trying: For brunch, the brioche French toast with bananas foster sauce and applewood smoked bacon. If it's later in the day, definitely the Prince Edward Island mussels as an appetizer and probably the jumbalaya with shrimp, chicken and andouille sausage for a little New Orleans flair.
The Harp & Fiddle
110 Main Street in Park Ridge
847-720-4466
TheHarpandFiddle.com
This "modern pub with an Irish flair" is part of the popular Main Street patio takeover again this summer in Park Ridge, but if the front is full, don't forget the more than 2,000 square feet of enclosed beer garden space out back that's perfect for weekend brunch, cocktails after work or a casual dinner with family. It's tough to beat the relaxed, family-friendly atmosphere — especially when live music is involved.
What we're trying: One of their hearty Blank Angus burgers, the loaded cobb salad or balsamic-glazed salmon, as well as something off their extensive craft beer list or perhaps an Aperol spritzer, a specialty cocktail perfect for summer that's made with Aperol, prosecco, cucumber bitters and a splash of soda water.
The Beacon Tap
1374 Lee Street in Des Plaines
847-715-2772
TheBeaconTap.com
If you want to get the most out of those nice summer days (or evenings), the spacious beer garden at The Beacon Tap in Des Plaines is where you need to be. A casual sports bar with a quality menu and reputation, your palate won't be disappointed here. They're currently adding even more outdoor space, including a new exterior bar and expanded patio in place of an old sand volleyball court. Trust us, this beer garden proves difficult to leave in the summer.
What we're trying: It's difficult to swing in with a group and not be tempted by the trash can nachos (we recommend the smoked brisket addition). Nick's Greek salad is a great option if you want something a bit lighter, and their pizza and smokehouse sandwiches are hits as well. The Beacon Tap offers great daily specials, too, like the unlimited bloody Marys and mimosas from 11 a.m.-3 p.m. on the weekend.
Moretti's
6727 Olmstead in Edison Park
773-631-1223
MorettisRestaurants.com 
The Moretti's chain offers some impressive daily food and drink specials and is perfect for catching the game, meeting up after work or any casual celebration. The Edison Park location has one of the larger beer gardens you'll find anywhere on Chicago's northwest side.
What we're trying: Moretti's award-winning Chicago-style thin-crust and deep-dish pizza — featuring more than 80 Italian and American creations — is a staple, but their pastas (try the chicken parmesan or short rib ravioli), steak burgers and salads are tasty as well. Keep an eye on happy hour specials, which make it easy for a drink with friends to turn into a full-scale outing.
Zaza Cucina, the striking new contemporary restaurant in the heart of Uptown, offers a gorgeous, flower-lined dining deck overlooking the Park Ridge Library.
ZaZa Cucina
608 W. Touhy Ave. in Park Ridge
224-585-6155
ZazaCucina.com
"What better way to connect with others than enjoying the flavors of Italy and vino?" proprietor Danielle Sisto asks, and after taking a look at this menu and beautiful space, you'll get no arguments here. This striking new contemporary restaurant in the heart of Uptown offers a gorgeous, flower-lined dining deck overlooking the Park Ridge Library and Pickwick Theater. Classy little extra: Fire pits line the middle of tables on the patio to keep you comfortable on chilly evenings.
What we're trying: The rack of lamb with whipped potatoes, stone-fired pizzas (perfect for sharing as an appetizer) or pasta favorites like the wild mushroom ravioli or the linguini pesce di mare, which comes with flavorful shrimp, calamari, mussels, scallops and clams. Insider's tip: They have some of the best sangria around and a 25-percent-off happy hour Tuesday-Friday from 3-5 p.m. in the bar and lounge.
Tavern on the Point
6724 N. Northwest Hwy in Edison Park
773-867-6300
TavernOnThePoint.com
With its stylishly modern interior and combination of large rooftop and sidewalk patios, this impressive new addition to the Edison Park dining and nightlife scene is truly unlike anything else around. And let's not forget the elevated comfort food menu. But oh, that rooftop. And a bonus: You can feel equally as comfortable here in shorts and sandals as you would be dressed for a girls' night out.
What we're trying: It's a difficult decision here, as the quality options are plentiful, ranging from the bourbon-glazed pork chops and blackened grouper to hangover burgers, veggie omelettes and Fruity Pebbles pancakes.
Pennyville Station
112 Main Street
847-720-4841
PennyvilleStation.com
This popular and stylish restaurant offers farm-to-table New American fare, not to mention the largest patio on Main Street in Park Ridge, adorned with beautiful string lights and tables for all sizes.
What we're trying: Weekend brunch from 10 a.m.-2 p.m. for sure, with favorites like the skirt steak and eggs or lemon ricotta pancakes, bottomless mimosas and live DJ entertainment. Headed in for dinner? Try the roasted squash gnocchi or Cajun-spiced Lake Superior whitefish.
Sweet & Tart Shoppe
Located in Uptown Park Ridge, Sweet & Tart is the creation of two longtime friends who decided to set up shop where it all began — their hometown. The menu, which focuses on a creative assortment of baked goods, small plates and a full bar with fun cocktails, continues to evolve. Their sidewalk patio is ideal for a stellar weekend brunch, a martini and mimosa flight, and even some live music. 112 S. Prospect in Park Ridge. SweetAndTartShoppe.com
What's better than having lunch or dinner under the shadow of the famed Pickwick Theater? Not much, when you take into account Pazzi di Pizza's fresh, authentic Italian cuisine.
Pazzi di Pizza
What's better than having lunch or dinner under the shadow of the famed Pickwick Theater? Not much, when you take into account their fresh, authentic Italian cuisine. Quaint space, flowers and string lights make it feel almost European. Great daily specials too. 1 S. Prospect Ave. PazziDiPizza.com/park-ridge
Holt's
Home to some of the best burgers you'll find anywhere in the area, as well as some creative pizzas and an assortment of colorful summer cocktails, their blocked-off sidewalk patio on Prospect is one seriously coveted spot when the weather is nice. 43 S. Prospect Ave. HoltsParkRidge.com
Carmine's
As part of the famed Rosebud family of restaurants, the Carmine's location in Rosemont is not only known for its Italian fare, but also its elegant, year-round outdoor terrace that can seat 100 guests and offers a fireplace, stonework, fountain and large cocktail bar. 9850 Berwyn Ave. in Rosemont. RosebudRestaurants.com
Emerald Isle
This welcoming Irish pub has been a staple in Edison Park for more than four decades. During the summer, head straight to their hidden (and surprisingly large) beer garden for some wings, beer and live music. Solid happy hour from 4-6 p.m. Wednesday-Sunday too. 6686 N. Northwest Highway. EmeraldIsleChicago.com
Park Tavern
A popular spot in Rosemont's entertainment district, Park Tavern offers a contemporary spin on the gastropub experience. They have a first-level patio that's great for people watching, but the main draw here in the summer is the stylish Sky Bar rooftop lounge with views of the popular Parkway Bank Park. 5433 Park Place in Rosemont. ParkTavernRosemont.com
Countryside Saloon
Another sizeable beer garden perfect for losing a day in the sun. A favorite spot for pizza, catching the game, live music Fridays and taking advantage of some great daily specials like half-price pizza on Wednesdays and 23-ounce domestic drafts for $4 on Sundays. 2501 E. Ballard Road in Des Plaines. CountrysideSaloon.com
Boston Fish Market
Arguably the best spot for fresh seafood anywhere in the area, Boston Fish Market has a delightful outdoor dining space that's perfect for family dinners, date nights or a special occasion. And before you leave, swing into the market for a to-go order. 1225 E. Forrest Ave. in Des Plaines. BostonFishMkt.com
Hay Caramba
Go for the large outdoor space (on the sidewalk or tucked into their open-air patio), and stay for the wonderful Mexican food and flavored margaritas. 122 S. Prospect Ave. HayCaramba.com
Une Annee/Hubbard's Cave
Finding this creative brewery on your first visit may be a bit of a challenge, considering it's tucked back in an industrial area in Niles. But once you settle in, the tents and yard space — not to mention the Belgians, stouts, IPAs and homemade BBQ — will keep you coming back. 6343 W. Gross Point Road in Niles. UneAnnee.com