Park Ridge Insider: Joan Hohs on pizza at D'Agostino's and Pequod's, fajitas at Hay Caramba and Park Ridge ice skating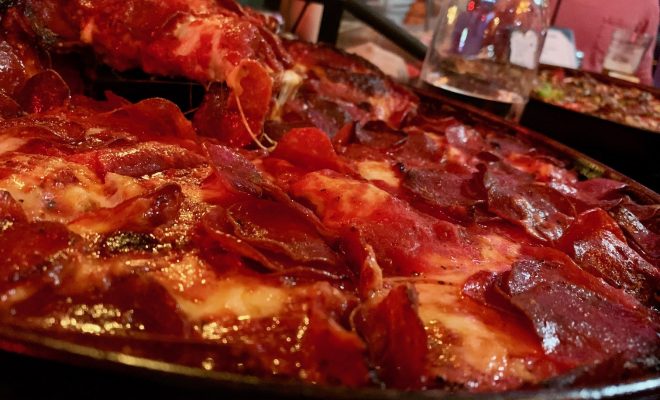 Pequod's Pizza
How long you've lived here: I have lived in Morton Grove for 60-plus years. Over the course of these years, I have spent time enjoying Park Ridge events, shopping, restaurants, theaters, sports and much more.
What you like best about Park Ridge: I thoroughly enjoy the quaint hometown feel of Park Ridge. The residents of Park Ridge are very welcoming and friendly. Also, you can literally park by the Pickwick Theater and walk to specialty stores, grocery stores, coffee shops, the movie theater and even their awesome library.
Best meal you've had recently: D'Agostino's has a great thin-crust pizza. If you are a fan of a sweet sauce on pizzas and pastas, then you are in for a treat. While waiting for your pizza, treat yourself to their salads. You will not be disappointed. Also, keep an eye out on their specials. Right now, they are offering a Friday special where if you purchase two pizzas, you receive eight wings free.
The secret ingredient that makes Pequod's stand out is their caramelized, thick-breaded crust. This burnt edge gives it a crispiness and is part of what makes their pizza taste so good.
Favorite "hidden gem" restaurant: Pequod's Pizza is truly a hole-in-the-wall pizza restaurant located in Morton Grove. This is the original Pequod's location, and their second location is in Lincoln Park in Chicago. Pequod's is one of Chicago' most recognized and award-winning deep-dish pizzas in Chicago. The secret ingredient that makes Pequod's stand out is their caramelized, thick-breaded crust. This burnt edge gives it a crispiness and is part of what makes their pizza taste so good. If you are not in need of ambiance, come and enjoy some of the best deep-dish pizza you will ever taste.
Best bar to grab a drink or to catch the game: Since one of my all-time favorite movies is Caddyshack, I was elated when Bill Murray and his brothers opened Murray Bros. Caddyshack in Rosemont. The restaurant — with a theme of "Eat, Drink and Be Murray" — serves American fare and is family friendly. The decor is Scottish golf-themed, and the pictures on the wall feature movies and family pics of the Murray brothers. Also, plenty of flat screen TVs to watch whatever sport is in season. Don't forget to visit "The Shed" retail store inside the restaurant if you are looking for some authentic Murray merchandise.
A great night out with friends usually includes… heading out to an early matinee at the famous Pickwick Theatre and then head out to dinner. If you enjoy Mexican food, Hay Caramba on Prospect Avenue in the heart of Park Ridge has some great options. For starters, try their tortilla soup and tableside-made guacamole for appetizers. Their portion sizes are generous, and you can't go wrong with their enchiladas suizas, chicken fajitas, enchiladas Verdes.
The best way to spend a Saturday in the winter: My grandchildren participate in the Park Ridge hockey
program, and my husband and I enjoy going to watch their games. If you are looking to get your kids involved in skating, consider the Park Ridge programs that are rated as some of the best in the area. Also, my husband and I enjoy going over to the Oakton Ice Arena with our family to participate in their public skating sessions.
Favorite store or best shopping area: I would have to go with Old Orchard Mall, Northbrook Court or Von Maur in The Glen.
Secret Park Ridge spot: I thoroughly enjoy watching movies at the Pickwick Theatre. It was built in 1928 is an art-deco movie palace. It brings back such fond memories of going there in high school with my friends. Also, if you have never noticed, the theater is the backdrop for the first traffic-stop scene in the iconic Blues Brothers movie.
Underrated activity in the area: The Chicago Dogs are an independent professional baseball team located in Rosemont and a fun family outing in the spring or summer.
What have you heard great things about but have yet to try? Reyes Steakhouse.