Signature Dishes: A pair of creative new appetizers at Harp & Fiddle — the ahi tuna and pot roast poutine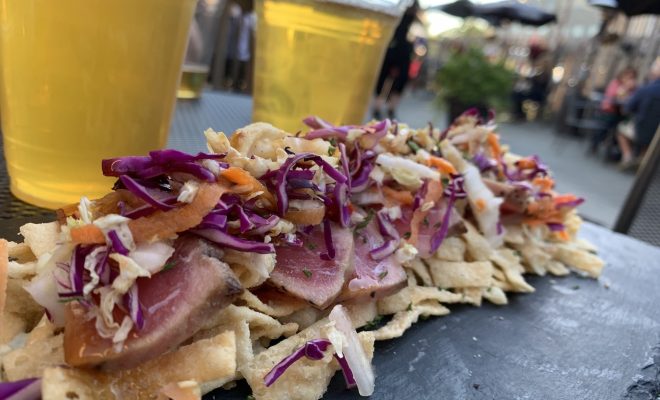 110 Main Street in Park Ridge
847-720-4466
TheHarpandFiddle.com
Ownership likes to say they have themselves a "modern pub with an Irish flair," and that's a pretty accurate assessment of this family-friendly spot in Uptown. The chef-driven menu includes everything from shepherd's pie, burgers, ribs and salads to a seafood paella, but we chose to focus our hunger on two of their newest appetizers.
Ahi appetizer
Think an Irish bar and restaurant can't successfully put a unique spin on an Asian favorite? Think again. Lightly seasoned, sashimi-grade seared ahi tuna comes topped with toasted quinoa and served with a pile of crispy wonton strips, cilantro lime coulis and a zesty teriyaki glaze. The sweet glaze makes it a fight for who gets the last of the wontons.
Pot roast poutine
Let's be honest here: This may be listed as an appetizer, but it's really more like a meal. First off, the pot roast is slow-braised for six hours in a Burgundy wine, making it incredibly tender. Then it's spread over French fries along with fried Wisconsin cheese curds, applewood smoked bacon, brown gravy, pickled red onions, garlic aioli and scallions. Stomach growling yet?
For more on the Harp & Fiddle, check out our Good Eats article.