Q&A with Harriet Resnick about the fall activities and Lightscape exhibit at the Chicago Botanic Garden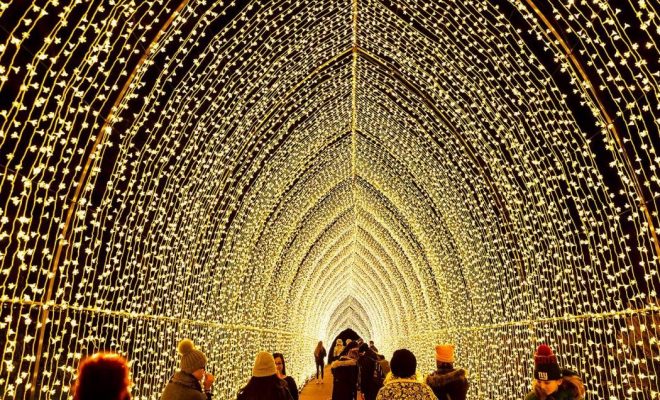 The Real Park Ridge sat down with with Harriet Resnick, Vice President of Visitor Experiences and Business Development of the Chicago Botanic Garden, to discuss the fall activities and upcoming Lightscape exhibit
Q: What are some fun fall programs you have coming up?
A: We have a number of events happening at the Garden this September and October. The last weekend in September (Sept. 26-27) is Harvest Weekend, where we share different ideas and tips for harvesting and preserving homegrown or farmers' market produce. In October, there is the Fall Bulb Festival (Oct. 10-11), where attendees can enjoy family activities and shop for more than 200 varieties of bulbs, and Night of 1,000 Jack-o'-Lanterns (Oct. 14-18 and 21-25), which features more than 1,000 hand-carved, real pumpkins — some as large as 150 pounds — that light up the night.
Q: Describe what the fall colors are like at the Botanic Garden to someone who hasn't witnessed it 
A: Fall offers a splendid show of colorful flowers and foliage. Sugar maple, oak, sassafras, magnolia, sweetgum and redbud are just a few of the Garden's trees cloaked with leaves that glow from pale yellow and gold to breathtaking brilliant red, purple, orange and russet. Ornamental peppers, lavender asters, garnet chrysanthemums and tall grasses topped with delicate, feathery seedheads, also offer autumnal eye candy as they signal a farewell to the growing season.
Q: Can you tell us a bit about the Lightscape exhibit as it enters its second season?
A: Lightscape, the holiday event that sold out in its debut season, returns to the Chicago Botanic Garden this November. The enchanting, after-dark, illuminated trail created just for the Garden will include an all-new path filled with favorite artistic installations along with many new features to surprise and delight the senses created by local artists for a world-class event. Attendees will bask in the glow of thousands of twinkling lights walking through the Cathedral of Light, listen to the playful choir of singing trees, and be delighted by new shining moments along the mile-long path.
This year's trail has also been designed with modifications to keep visitor safety in mind. New procedures include limited capacity per time slot, a one-way trail with a separate entrance and exit, and keeping the entire event outdoors. Tickets are on sale now at chicagobotanic.org/lightscape.
The Chicago Botanic Garden is located at 1000 Lake Cook Road in Glencoe. ChicagoBotanic.org