March Madness is here: Enjoy the NCAA Tournament with these great specials from local establishments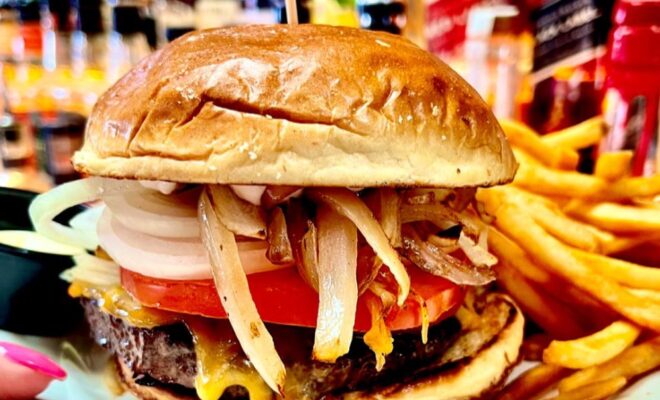 The Howard Street Inn
6700 W. Howard Street in Niles
HowardStreetInn.com
This popular Niles sports bar and restaurant is sticking with its regular daily specials for March Madness. And that's a beautiful thing, because HSI has some of the best daily deals you'll find anywhere around.
All day, every day
$17 domestic buckets (6)
Weekday happy hour 3-6 p.m.
$1 drafts of Miller Lite, MGD and Coors Light
, $2 Fireball shots
, $3 select martinis (cosmo, lemon drop, chocolate)
Thursday
$3 martinis
, 80-cent wings
Friday
$3.25 select premium pints and $5 mai tais
, $10.95 all-you-can-eat fish fry
Saturday & Sunday
$3 24-ounce domestics
, $4 24-ounce premium drafts, 
$4.25 bloody Marys + $1 beer chaser
For St. Patrick's Day, they'll be adding the following specials this week Thursday-Sunday:
$14.99 all-you-can-eat corned beef and cabbage
$2 green beer
$3 Jameson shots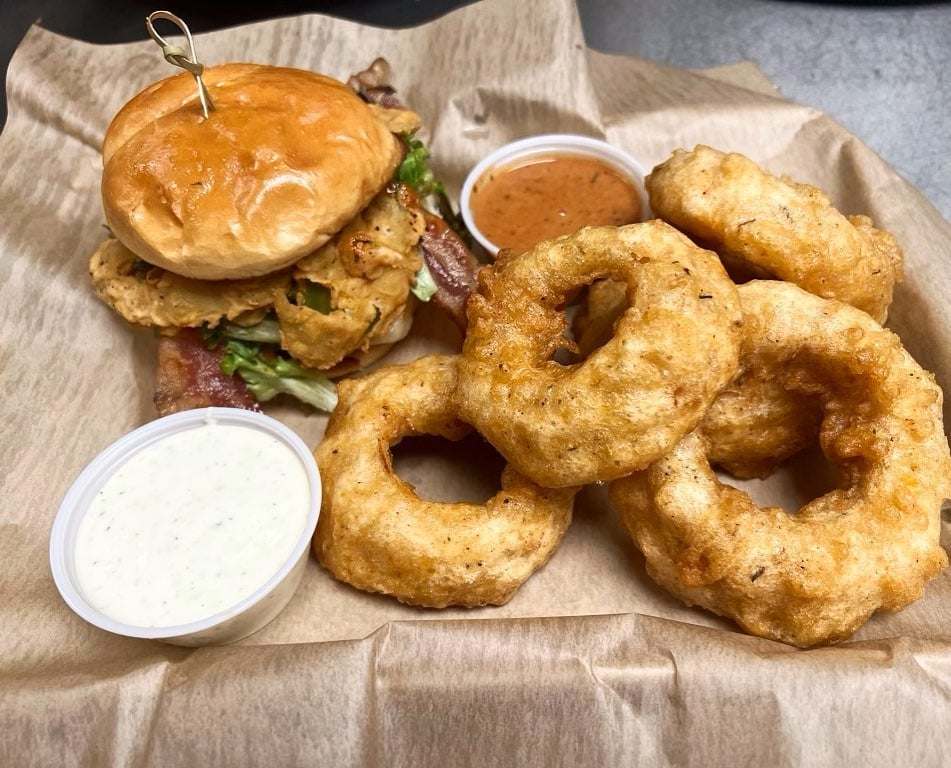 The Beacon Tap

1374 Lee Street in Des Plaines

TheBeaconTap.com
This Des Plaines staple has a great vibe and will be cranking it up for March Madness. Don't forget to check out their new back bar off the patio.
Going out Thursday? Check out St. Patrick's specials like $13.95 corned beef dinner, $10.95 corned beef sandwich with a side, $8.95 Irish nachos. And don't forget, the Trinity Irish Dancers taking center stage at 7 p.m. Expect a big turnout for our local squads on Friday with Loyola playing at 11:15 a.m. and Illinois at 5:50 p.m.
Thursday
$8 burgers
$4.75 Modelo crafts
$5 Jack family shots
$8 Old Fashioned and Manhattans
Friday
Fish fry
$4.75 Blue Moon drafts
$5.50 Tito mixers
$5.50 energy bombs
$1 off select craft drafts
$20 High Noon buckets
Saturday
Brunch with $15 unlimited bloody Marys and mimosas (11 a.m.-3 p.m.)
$3.50 Coors Light 22-ounce drafts
$5 bloody Marys and mimosas (All Day)
$5.25 Goose drafts
$5 Jack Daniels mixers
$6 You'll Shoot Your Eye Out cocktails
Sunday
Weekend brunch with $15 unlimited bloody marys and mimosas (11 a.m.-3 p.m.)
$2.75 domestic tallboys
$3.50 Miller Lite 22-ounce drafts
$5 bloody Marys and mimosas
$5.25 Firestone Mind Haze draft
$4 Malort shots
$20 Vizzy buckets
The Curragh
6705 N. Northwest Highway in Edison Park
CurraghIrishPub.com
This welcoming Irish pub will be hopping for St. Patrick's Day with a full list of festive events, as well as the tourney.
$15 game day buckets
Friday
$3.75 Heineken drafts, $4 White Claw, $20 mix 'n match assorted flavors buckets and $15 fish fry.
Saturday
$4 Irish mules and $15 domestic buckets
Sunday
$4 Tito's bloody Mary and $4 mimosas.
Tavern on the Point
6724 N. Northwest Highway in Edison Park
TavernOnThePoint.com
Use the Madness of March to take advantage of their stellar 3-3-3-3 happy hour special at this beautiful space that's loaded with TVs and comfortable seating.
Tavern on the Point's weekday happy hour from 2-5 p.m. is a solid way to kickstart a day of hoops with the "3-3-3-3 special," which includes $3 seltzers, well drinks, domestic bottles and domestic drafts. And a bonus: Their unique rooftop is covered by a heated tent for winter/spring.
Also, check out Thursday's half-price appetizers (with entrée) and Friday's fish fry.
For St. Patrick's Day, they're offering $4 Guinness, $4 Jameson, $5 mini Guinness shot of Kahlua and Irish cream.
Harp and Fiddle
110 Main Street in Park Ridge
TheHarpAndFiddle.com
This perennial Irish favorite has a day's worth of activities on St. Patrick's Day like performances from the Trinity Irish Dancers and live music, along with a great weekend brunch to get you ready for Saturday and Sunday NCAA action.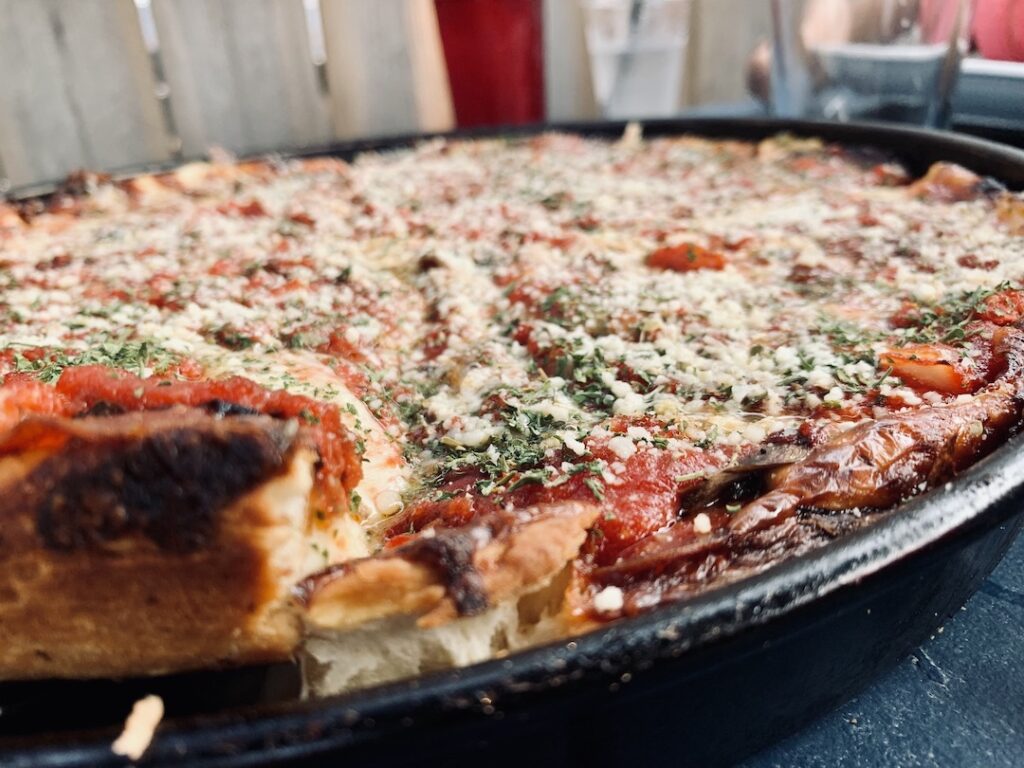 Easy Street Pizza

711 Devon Avenue in Park Ridge
EasyStreetPizzaChicago.com
This new Park Ridge favorite — try the buffalo chicken rolls and taco pizza — has some solid drink specials like $15 Miller Lite and Coors Light buckets, $18 Corona buckets, $6 Altos tequila shots and $6 Jameson drinks during the tourney.
And you can make table reservations for your favorite games by calling 847-823-4422.
Zia's Social
6158 N. Northwest Highway in Norwood Park
ZiasSocial.com
This new venture from Joe Calabrese has taken Norwood Park by storm. St. Patrick's Day specials include $6 Guinness drafts, $4.50 domestic 16-ounce bottles, $16 domestic buckets of 16-ounce aluminum bottles, $8 Tito's "Pot of Copper" mules, $16.95 fish and chips, $16.95 corned beef and cabbage, $14 reuben sandwich with fries. Check out our winter issue cover story on them here.
Countryside Saloon
2501 E. Ballard Road in Des Plaines
CountrysideSaloon.com
Thursday: Domestic bottles $3.25, house wine $4, featured cocktails $1 off, Saloon burger $7.
Friday: Fish fry $15.75, Jameson and Fireball Shots $4, Montucky Cold Snack bucket $17.
Saturday: One pound of ribs $15.95 (w/fries) $16.95 (w/baked potato), $1 off all premium wine, pint of PBR with a shot of blackberry brandy $6, Cside lemonade $5.
Sunday: Three-piece fried chicken dinner $12.95, 23-ounce domestic draft (Miller Lite/Coors Light/PBR) $4, Bloody Mary with PBR beer back $6
Edison Park Inn
6715 N. Olmsted in Edison Park

EdisonParkInn.com
Thursday: $3 domestic bottles, $4 Coors Light pints
Friday: $18 domestic buckets, $5 craft beer and import pints, $4 Fireball shots
Saturday: $15 Miller Lite and Coors Light buckets, $4 Miller Lite and Coors Light aluminum pints, $10 Miller Lite and Coors Light pitchers, $16 bucket of wings
Sunday: $15 Miller Lite and Coors Light buckets, $4 Miller Lite and Coors Light aluminum pints and $6 bombs