Inside Scoop: Park Ridge and Sketchbook Brewing's Oktoberfest celebrations, Fall Wine Walk, Rosemont's Family Fun Fest and more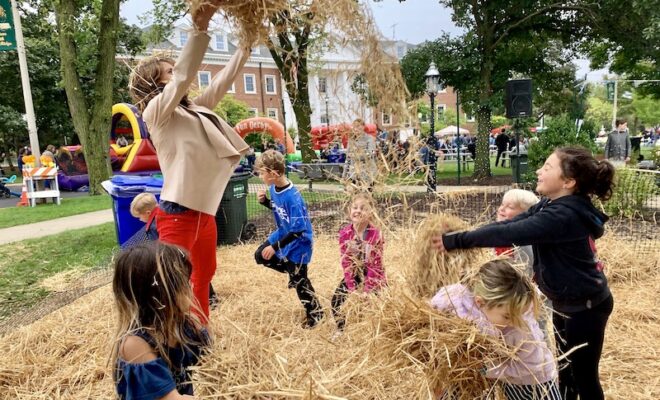 Park Ridge's annual Oktoberfest celebration Sept. 24
The annual Park Ridge Oktoberfest celebration will take place on Saturday, September 24 at Hodges Park, located at 101 Courtland Avenue, from noon-9 p.m. Sponsored by the Park Ridge Park District, Harp and Fiddle, Beer on the Wall and Mpowered Smiles Orthodontics, attendees can expect great food and beer options, live music all day, adult and children's contests like stein holding and strudel eating and plenty of children's games, inflatables and more (from noon-5 p.m.) with a $5 wristband per child. Visit PRParks.org for more information.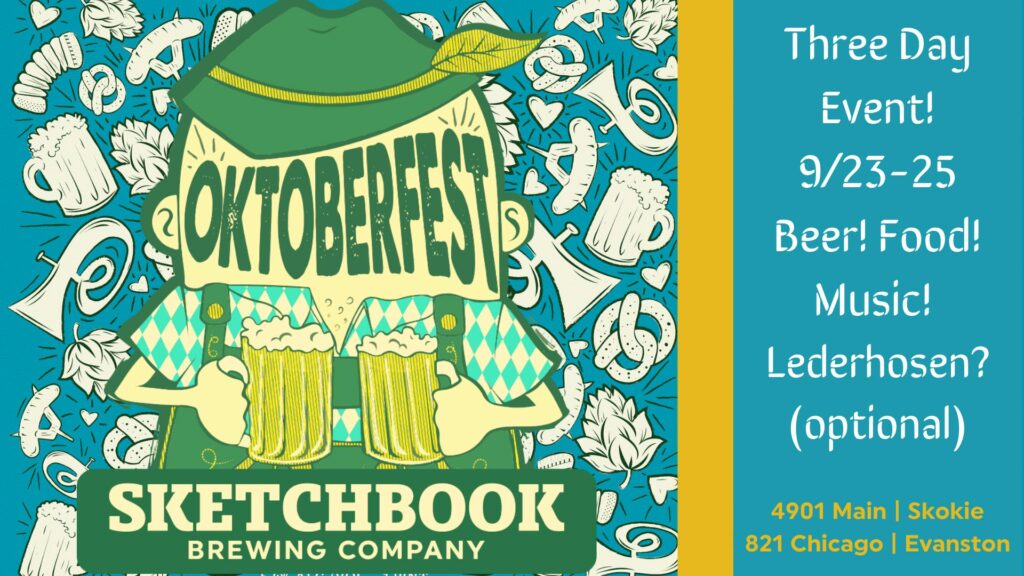 Sketchbook Brewing Company's Oktoberfest celebration Sept. 23-25
Sketchbook, the popular craft brewery in Skokie and Evanston, will host what they call "the finest Oktoberfest this side of Munich," and judging by past events and their plans for this weekend, who are we to argue? Expect three days of live music, local food, and family-friendly frivolity.
Costume contests, stein-hoisting competitions, live music and dancing, ample food options and plenty of liters of their stellar Oktoberfest Märzen flowing freely all weekend. Think traditional — but with a twist.
Oktoberfest activities will primarily be held outside in the Skokie location's spacious beer garden and in the east alley and back in the brewery's loading dock. Overflow parking will be available at St. Peter's (Niles Center & Searle) during these hours: Friday noon-11 p.m., Saturday 6-11 p.m. and Sunday 1-8 p.m.
Located at 4901 Main Street in Skokie. (847) 588-0652. SketchbookBrewing.com
Park Ridge Wine Walk Sept. 25
Join the Park Ridge Chamber of Commerce on its annual Fall Wine Walk on Sunday, Sept. 25 from 1-5 p.m. with wine tastings and pouring stations hosted by member merchants, restaurants and businesses throughout Uptown. Guests will receive a special wine glass to be used at each pouring station, a wristband, swag bag and chance to win some fabulous prizes. Tickets are $40 per person. Get more information and purchase tickets online at ParkRidgeChamber.org
Family Fall Fest at Rosemont's Parkway Bank Park Sept. 18
Parkway Bank Park will kick off the fall season with the return of its annual Family Fall Fest on Sunday, September 18 from 1-5 p.m. The family-friendly event will feature a variety of free activities including bounce houses, face painting, a petting zoo, balloon sculptors and more.
Families can also enjoy live music from the interactive and energetic children's band ScribbleMonster, which puts on a fun performance that encourages audience participation and opportunities for creative expression.
Parking for Family Fall Fest is available at the Parkway Bank Park parking garage and is free with validation from any of the park's venues. 5501 Park Place in Rosemont. For more information, visit ParkwayBankPark.com
The Park Ridge Drive-Thru Trunk or Treat Oct. 21
Join the Park Ridge Park District for a spooktacular drive-thru trick or treat experience you and your family will never forget. Taking over the entire parking lot at Centennial Fitness and Activity Centers, this event features each participating car driving through multiple trick-or-treat stops hosted by the Park District, local businesses, and other organizations. Participants are encouraged to dress up and decorate their cars.
Registration deadline: October 14. Cars cost $15 for a resident and $20 for a non-resident. Register for one of the following time slots at PRParks.org
6-6:30 p.m. (Activity #5150105-01)
6:30-7 p.m. (Activity #5150105-02)
7-7:30 p.m. (Activity #5150105-03)
7:30-8 p.m. (Activity #5150105-04)