Signature Dishes: Blackened grouper at Pennyville Station, Tavern on the Point's fish tacos, Une Année Brewery's burnt ends and Harp & Fiddle's Baja burger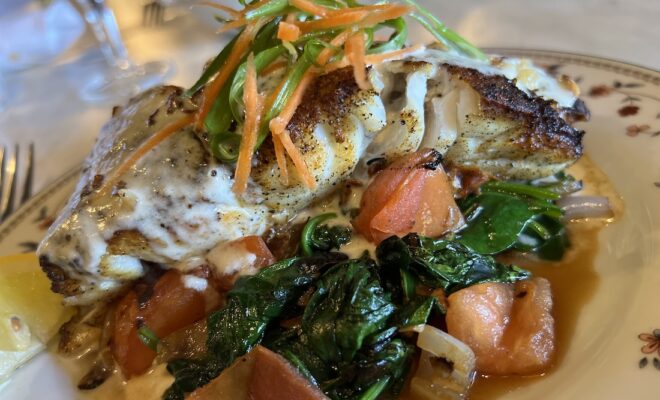 A look at some favorite local menu items that usually prove too difficult to turn down
By Trent Modglin and Sophia Gianaris
Pennyville Station's Florida black grouper
Along with a beautiful expansion at Pennyville Station, Tony Antonacci & Co. also revamped their menu in early March, adding some incredible new dishes to an already popular assortment of lunch, dinner and brunch items. With a goal of including more fish to the menu, it didn't take long for executive chef José Alvarez to hone in on this gem.
A fresh grouper fillet is pan-seared for a quick minute and then finished in the oven with a lemon garlic sauce. The grouper (think slightly crispy on the outside, not blackened) arrives at your table atop a bed of spinach, sweet onions that are sautéed in garlic, and tomatoes.
"It's such a nice fish," Alvarez says of his new creation. "It' has the look, texture and flavor of Chilean sea bass. We didn't want to put something heavy with it, either. It's a nice, light dish on its own." We tend to agree.
112 Main Street in Park Ridge. PennyvilleStation.com
— T.M.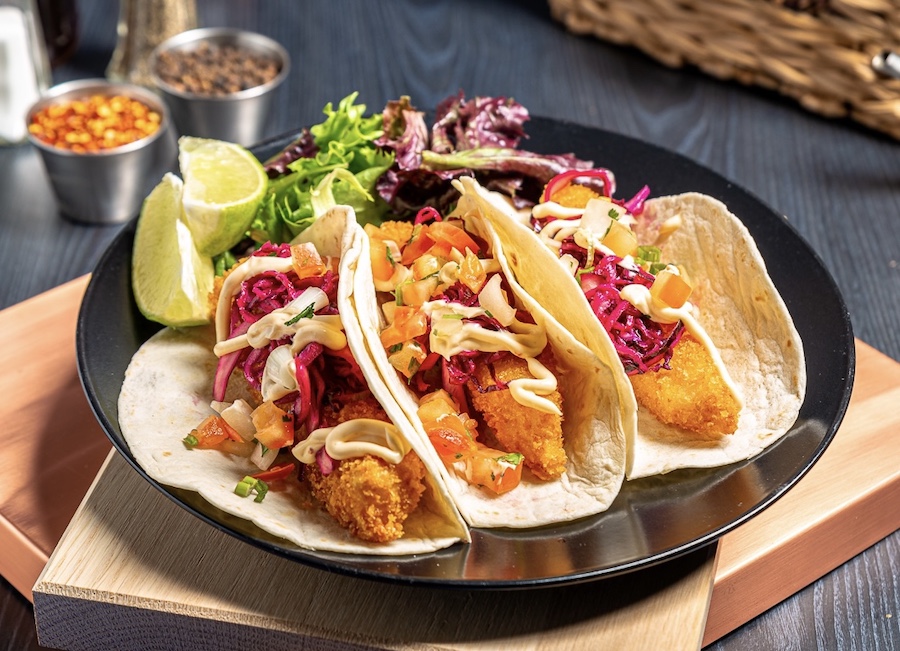 Tavern on the Point's fish tacos
The menu here is so complete with tempting, high-end options — from chimichurri skirt steak to pan-seared scallops and lamb chops oreganato — but sometimes you just need a plate of fish tacos to cure what ails you, and Tavern on the Point does them right.
Breaded cod is fried to perfection and topped with marinated cabbage, pico de Gallo and a Baja sauce that has just the right amount of kick. Pair it with one of their well-crafted cocktails, and you'll be set. Side note: Head in for their popular weekend brunch. You won't be disappointed.
6724 N. Northwest Highway in Edison Park. TavernOnThePoint.com
— T.M.
Worth noting at Une Année — besides their great beer and BBQ — is their weekday happy hour from 2:30-5:30 p.m., featuring half off appetizers and $4 select drafts, as well as a spacious patio.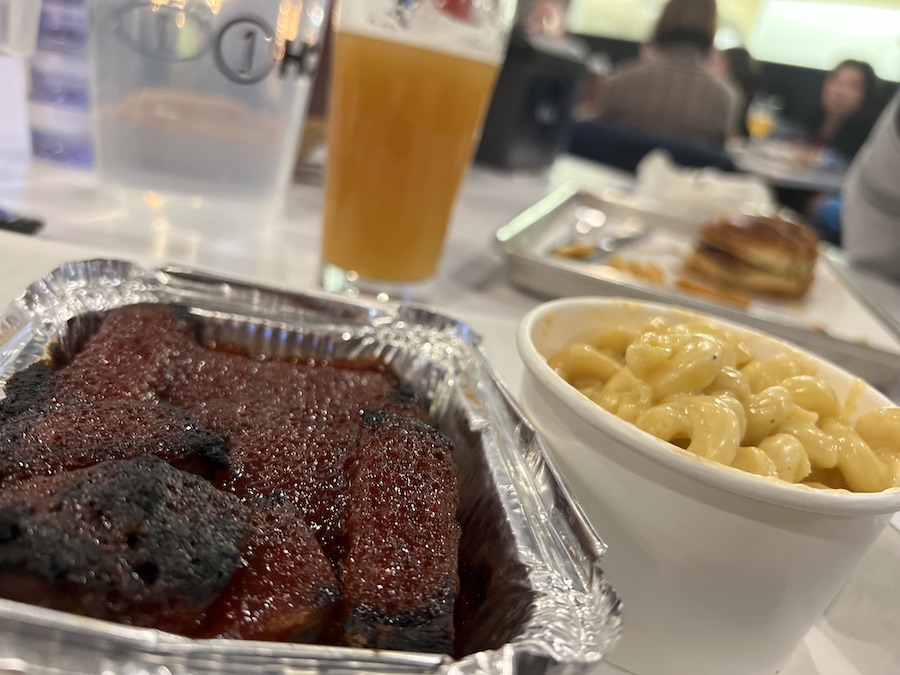 Une Année Brewery's burnt ends
The menu here is BBQ-focused, and there's a good reason for that. They do it well. Very well. Lots of mouth-watering potential here, but on a recent visit it proved too difficult to ignore their burnt ends. A half pound of the most well marbled part of their tender brisket is smoked, cubed and slathered in sauce. Pick a side like coleslaw, fries, smoked sweet potato, chili or mac and cheese and savor every bite.
Also worth noting is their weekday happy hour from 2:30-5:30 p.m., featuring half off appetizers and $4 select drafts, as well as a spacious patio for those warm spring and summer days (or evenings).
6543 Gross Point Road in Niles. UneAnnee.com
— T.M.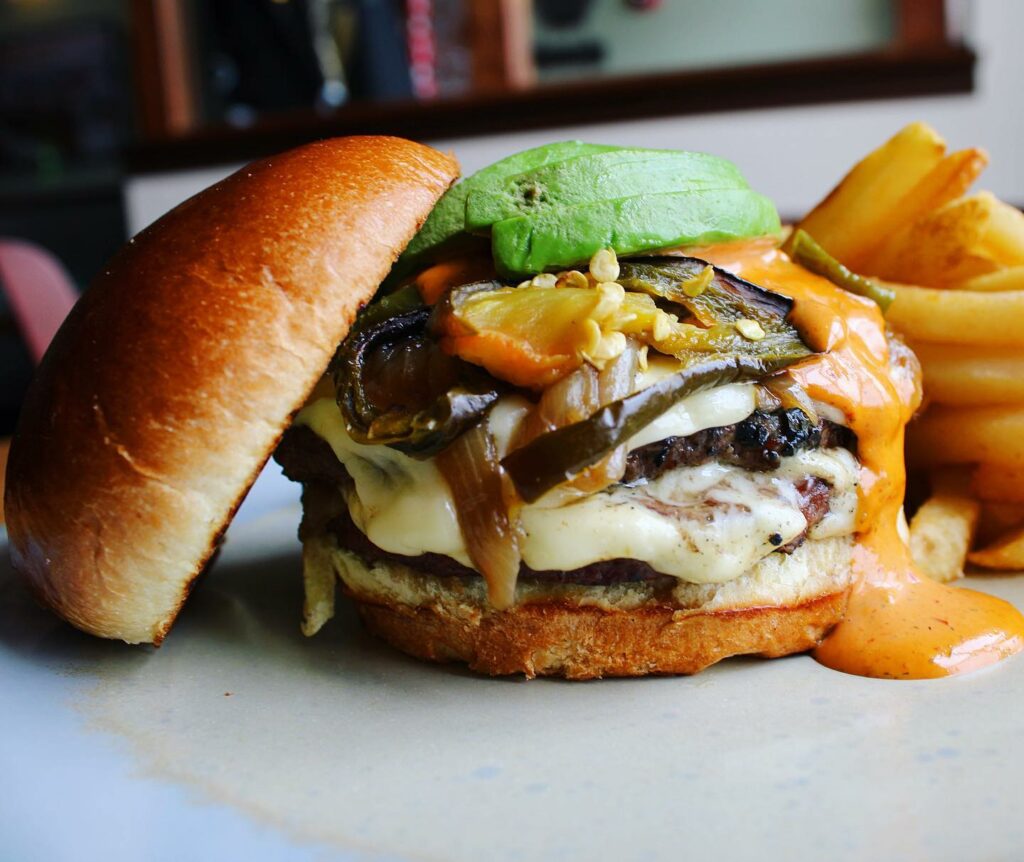 Baja burger at Harp & Fiddle
This family-friendly staple of the Park Ridge restaurant scene serves up American and Irish comfort food and is known for their craft beer, cocktails, patio and live music. On a recent visit, I split the Baja burger with my friend and it was delicious. I must admit, while reading the menu and the ingredients, I was a bit skeptical at first. But when it came out, I knew I would love it.
Typically I'm not a big fan of spicy foods, but the Baja sauce has just the perfect amount of kick. For anyone who wants to turn down the heat, the sandwich comes with avocado to add a cooling element. The patty is juicy and tender, and the jalapeños and grilled onion add plenty of flavor. Alongside the burger was the perfect complement of a generous portion of crispy fries and a pickle.
110 Main Street in Park Ridge. TheHarpAndFiddle.com
— S.G.