Fun in the sun: It's patio season, so we "researched" nearly 30 of the best local spots to eat and drink outdoors this summer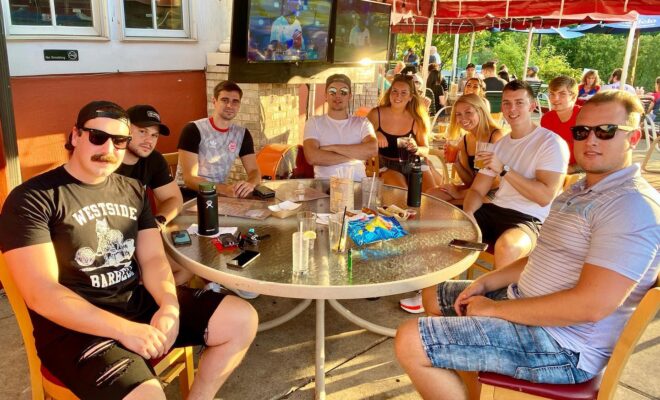 Howard Street Inn
6700 W. Howard in Niles. HowardStreetInn.com
This local favorite sits on the edge of the beautiful Tam O'Shanter Golf Course in Niles and offers a popular wrap-around patio that is perfect for happy hour, watching baseball, a post-golf bucket of beers or dinner with the family at sunset. The Howard Street Inn is known for its great specials too, including $17 buckets of domestic beer every day and $4 martinis on Thursdays.
What we're eating: This is an extensive menu that makes decisions difficult, but you can't go wrong with the pulled pork sliders, shrimp tacos or one of their traditional hand-tossed pizzas.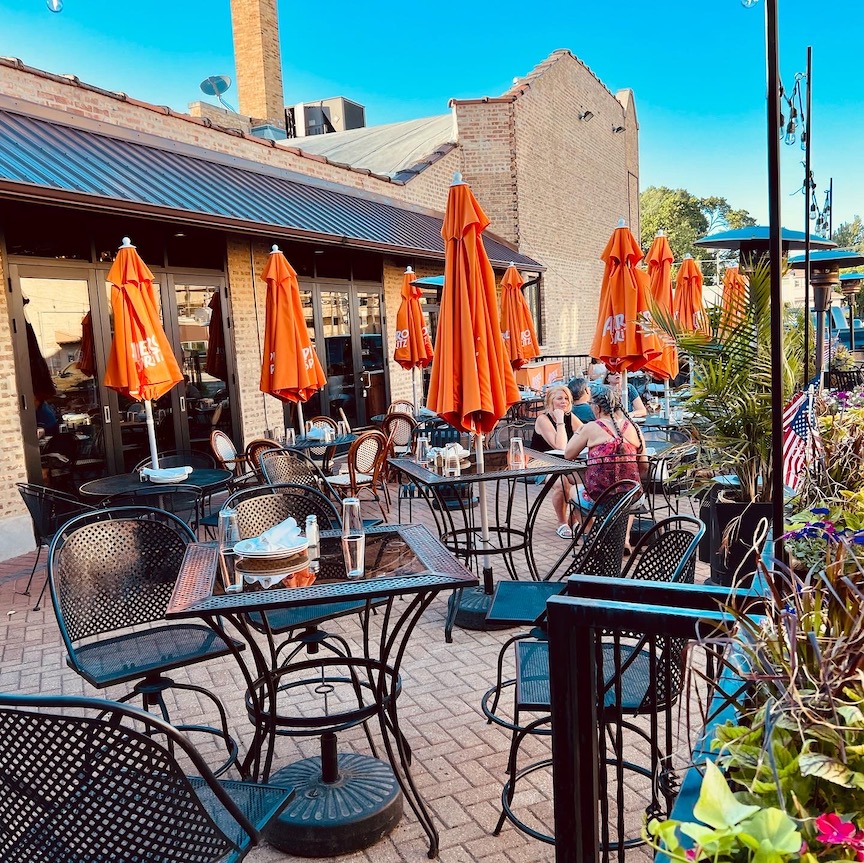 Zia's Social
6158 N. Northwest Highway in Norwood Park. ZiasSocial.com
Joe Calabrese's latest gem is a massive hit in Norwood Park, and they only added to the allure of this gorgeous space by building one of the larger patios in the area this spring just off the side of the main dining room. Enjoy choosing between 48 beers, signature cocktails, homemade sangria and a standout wine list — and don't forget $7 you-call-it Tito's cocktails Monday-Wednesday and a weekend brunch that's drawing rave reviews.
What we're eating: Decisions are always difficult here, but leaning toward their seasonal bruschetta or shrimp scampi to start things off, and then either a brick-oven pizza, specialty pasta or the scallops with squash, pine nuts, pomegranate and brown butter atop a bed of beet risotto.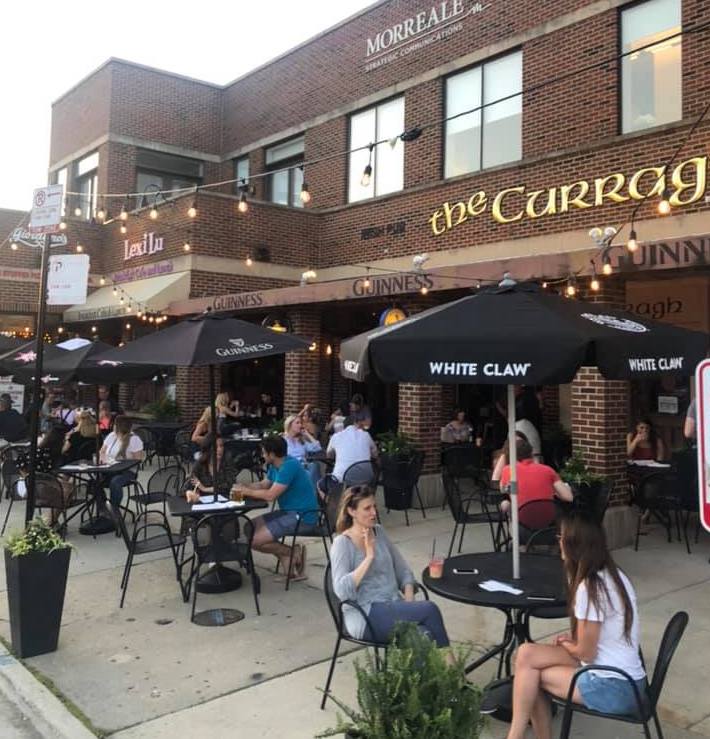 The Curragh
6705 N. Northwest Highway in Edison Park. CurraghIrishPub.com
Sure, when you first think of this popular Irish bar and restaurant, you may picture yourself wedged in next to the fireplace in the winter with a steaming hot plate of shepherd's pie and a pint of Guinness in front of you. That's understandable because it's that kind of a cozy place. But it also has an attractive sidewalk patio worth experiencing in the heart of Edison Park with plenty of seating for groups.
What we're eating: An order of black n' tan onion rings dipped in a Guinness batter to share. And then either a classic reuben or the Trinity chicken sandwich with basil pesto, fresh mozzarella and roasted red peppers.
The Tavern on the Point rooftop is the kind of venue that makes it easy to spend three hours at brunch or lose an entire Saturday with a group of friends (in a good way).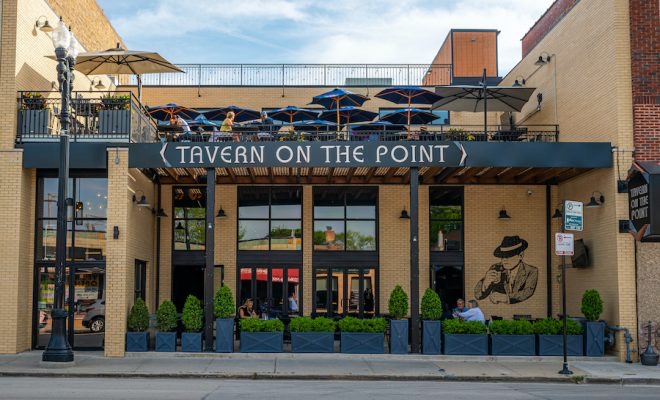 Tavern on the Point
6724 N. Northwest Hwy in Edison Park. TavernOnThePoint.com
There's no denying that this sleek new addition to the Edison Park dining and nightlife scene is legitimately unlike anything else around. The rooftop speaks for itself and is the kind of venue that makes it easy to spend three hours at brunch or lose an entire Saturday with a group of friends (in a good way). The the elevated comfort food plays a big role in TOTP's popularity too. Not to be forgotten is the sidewalk patio out front, offering a blend of shade, sun and people-watching opportunities. Insider's tip: You can grab a burger and a beer for $10 on Mondays.
What we're eating: The crab Louie salad is refreshingly light for summer with an iceberg wedge, lump crab, tomato, grilled asparagus, hard-boiled eggs, cucumber and Thousand Island. Also, the steaks are great, but don't sleep on the almond-crusted grouper as a summer alternative.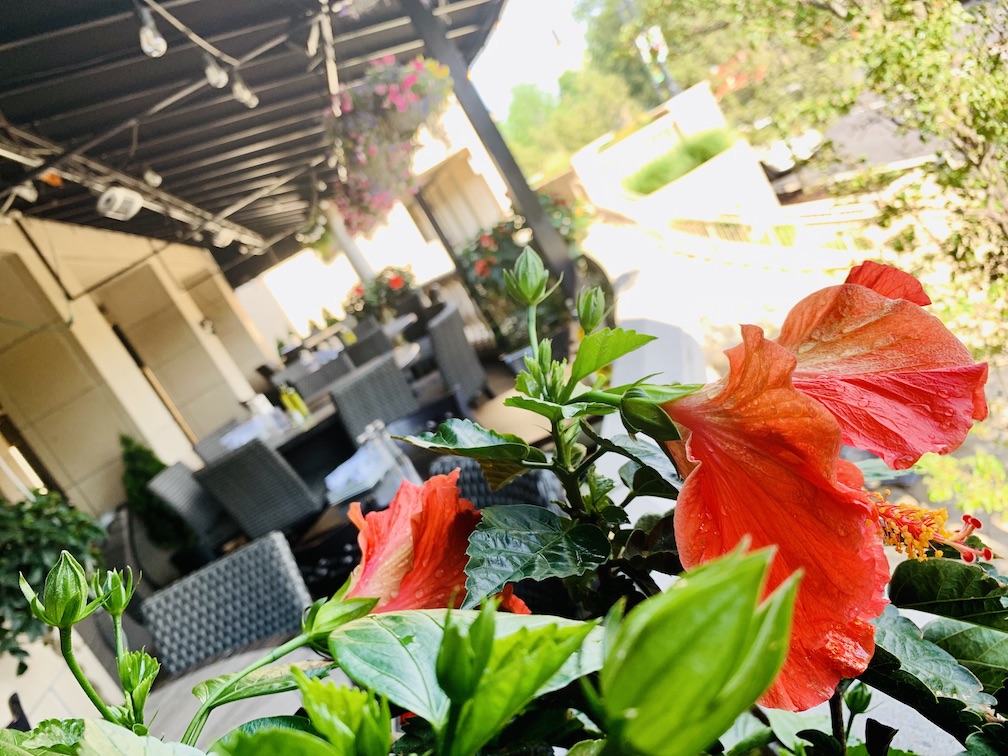 Zaza Cucina
608 W. Touhy Ave. in Park Ridge. ZazaCucina.com
Zaza Cucina is one of the more strikingly beautiful restaurants around, and it would be a coveted spot if it were just indoors. But alas, that patio. That gorgeous, flower-lined dining deck that overlooks the Park Ridge Library and Pickwick Theater. Our advice: Make reservations early so you can claim your space out here because it makes for a truly special dining experience. And when the weather turns chilly, there are fire pits conveniently located in the middle of the tables to extend patio season just a bit longer.
Zaza Cucina's gorgeous, flower-lined dining deck that overlooks the Park Ridge Library and Pickwick Theater makes for a truly special dining experience.
What we're eating: What aren't we eating off executive chef Joseph Rocco's menu of Italian specialties? We're probably starting with the grilled Spanish octopus and some chilled white wine or a Zaza mule, and then on to the linguine with Gulf shrimp, calamari, mussels, clams and the fish of the day in a light tomato sauce.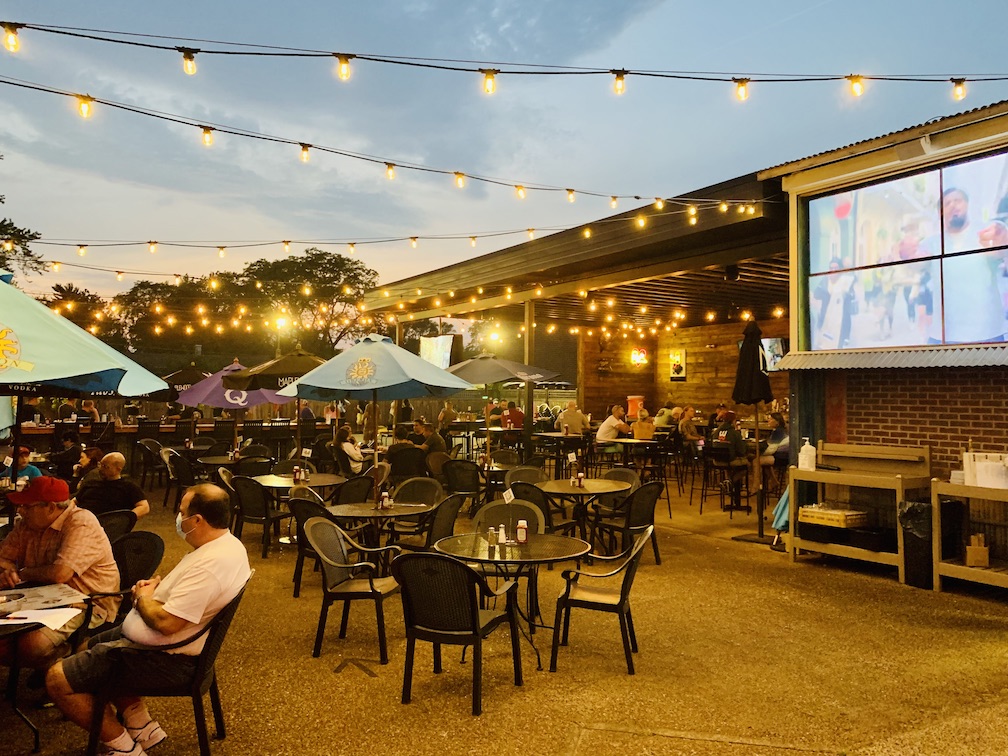 The Beacon Tap
1374 Lee Street in Des Plaines. TheBeaconTap.com
As if the expansive beer garden wasn't appealing enough at The Beacon Tap, they went and added a full, year-round outdoor bar last fall that not only adds to the convenience level when ordering drinks, but also provides a bit of shade and a few more TVs to catch the game. They also replaced an old sand volleyball court to make room for more seating. The Beacon's daily specials are some of the best you'll find, and don't be fooled by the casual sports bar appearance — the menu is legit. Craft beer list is too.
What we're eating: The trash can nachos and double-stacked Beacon burger are always difficult to turn down, and they smoke their own meats here. The thin-crust pizza is popular too. Want to go lighter in the summer? Try Nick's Greek salad, loaded with fresh toppings and splashed with a red wine vinaigrette.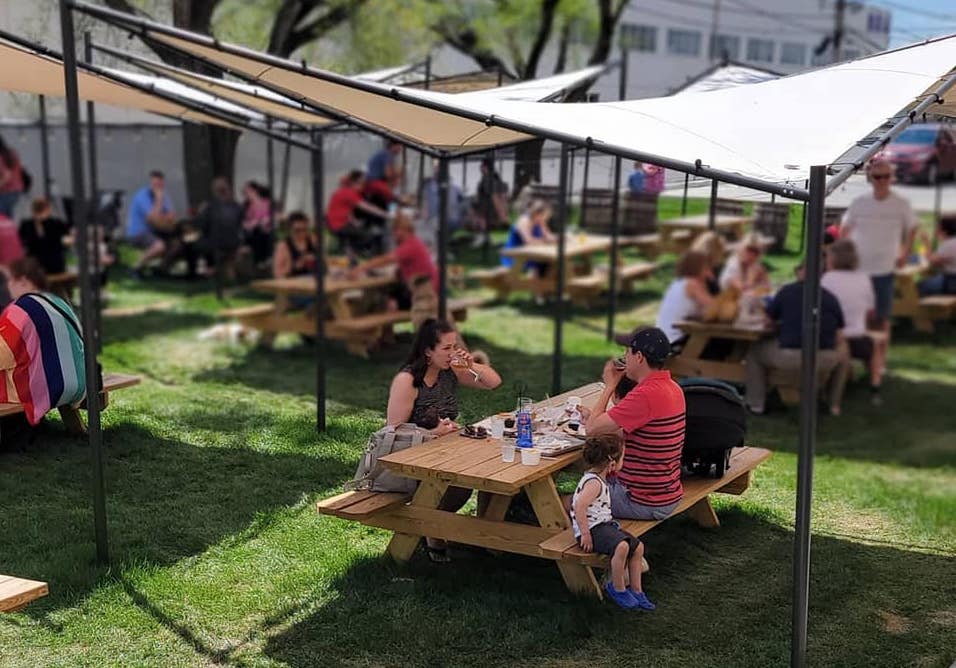 Une Année and Hubbard's Cave Brewery
6343 W. Gross Point Road in Niles. UneAnnee.com
Finding this cavernous brewery on your first visit may be a bit of a challenge, considering it's tucked back in an industrial area in Niles. But once you settle in at one of their many picnic tables on the spacious, dog-friendly, family-friendly lawn, you'll be sure to remember your way back again soon. They specialize in Belgians, stouts, hazy IPAs and sours and get pretty creative. Don't miss their trivia (Monday), live music (Wednesday and Sunday) and weekday happy hour (closed Tuesdays) too.
What we're eating: Basically, any of their homemade BBQ, which is smoked in house, especially the pulled pork sandwich or brisket nachos. The spicy smoked Texas hotlink is pretty unique too.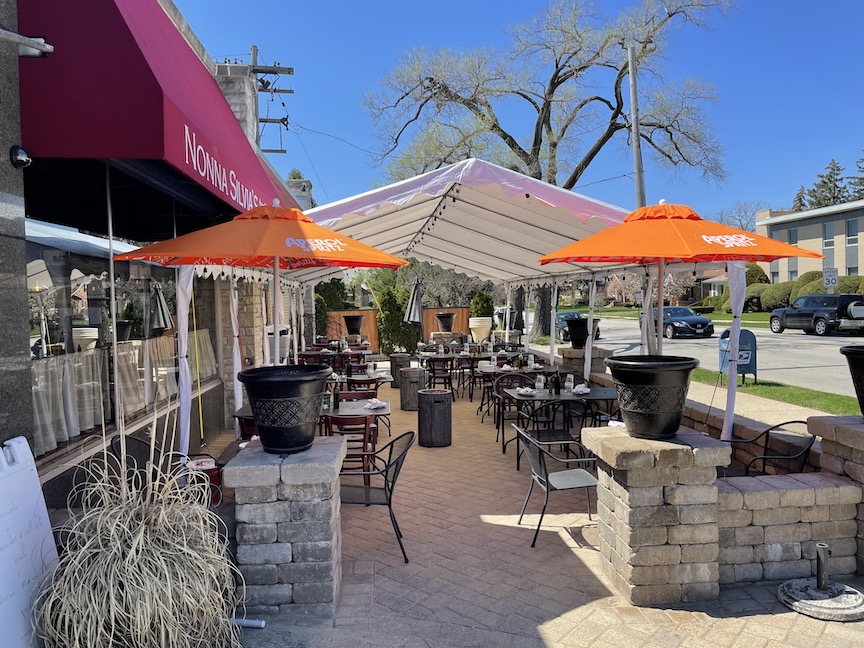 Nonna Silvia's
1400 Canfield in Park Ridge. NonnaSilvias.com
Routinely listed as a local favorite in the Park Ridge Insider section of The Real Park Ridge, Nonna Silvia's has earned a stellar reputation for their authentic Italian creations and warm hospitality. The underrated patio out front, which can be covered in colder weather, makes for a great way to celebrate a special occasion, dinner with the family, or just summer and great food in general.
What we're eating: An order of thin-sliced carpaccio and fried or grilled calamari (it's always a toss up) to kick things off. The homemade gnocchi and pork chops vesuvio in a garlic white wine sauce are favorites, but the menu offers something for everyone.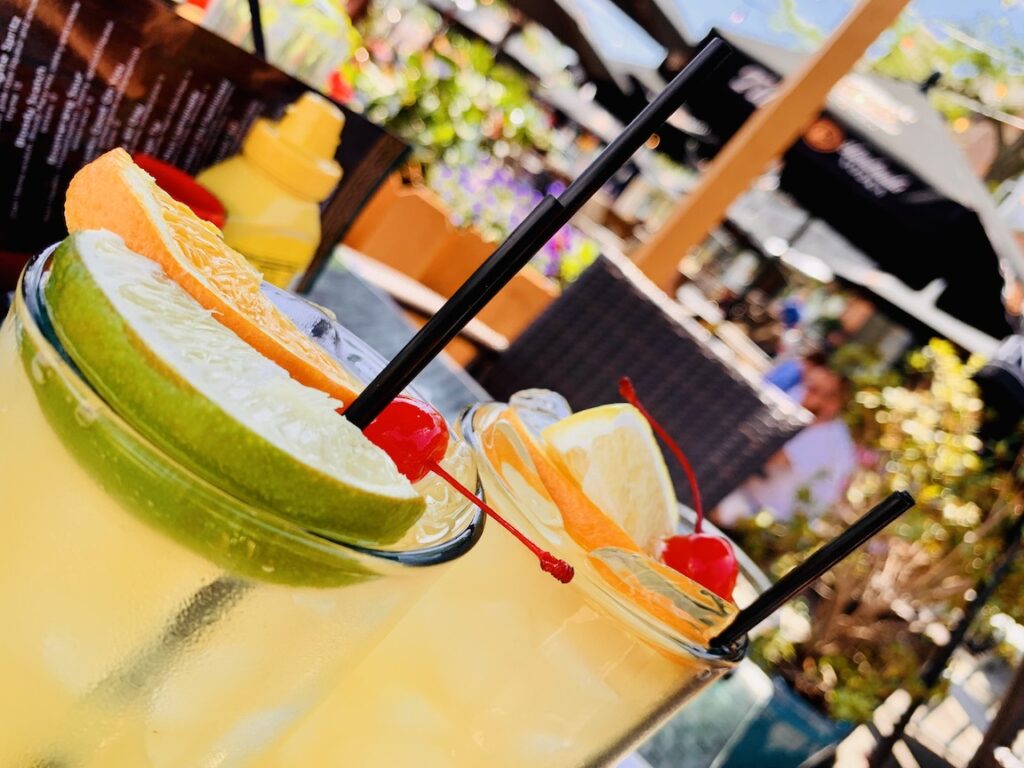 Harp & Fiddle
110 Main Street in Park Ridge. TheHarpandFiddle.com
Leading the popular Main Street patio takeover again this summer in Park Ridge, Harp & Fiddle is definitely one of the more popular restaurant destinations in the area. With the attractive patio arrangement out front consistently luring folks in, it can be easy to forget the 2,000 square-foot enclosed beer garden out back. The relaxed, family-friendly atmosphere is key here, and make sure to sneak inside to catch some live Irish music on Thursdays and acoustic guitarists on Fridays.
What we're eating: The boom boom shrimp and spinach artichoke dip are always consistent starters, and then it's on to the mahi tacos, chicken and pretzel sandwich with truffle fries or one of their creative specials. To drink? Whatever catches our eye off a solid, rotating craft-beer list or their fruit-topped sangria.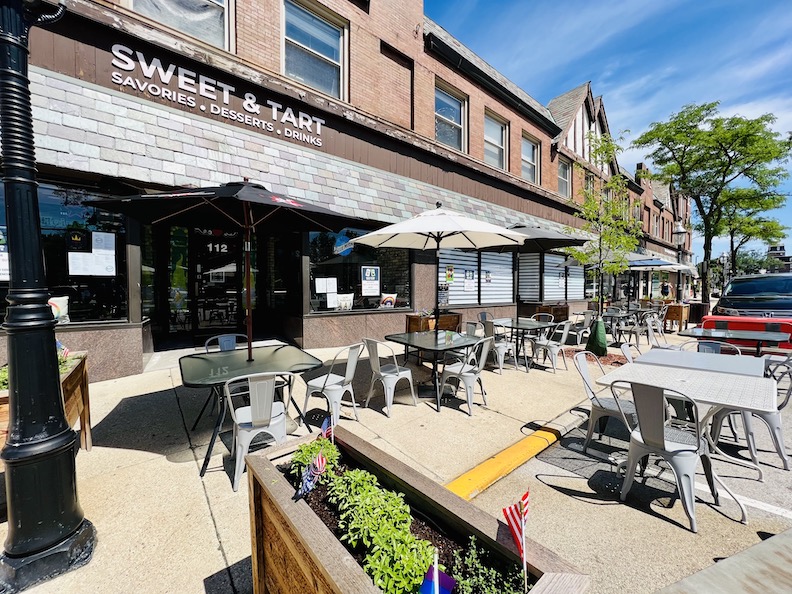 S&T
112 S. Prospect in Park Ridge. SweetAndTartShoppe.com
Located in Uptown Park Ridge, S&T (formerly Sweet & Tart) is a lively spot for great food, drinks and weekly events. The menu focuses on a creative assortment of small plates and a full bar with fun cocktails. Pull up a seat on their sidewalk patio for weekend brunch, a martini flight, or even some live music or karaoke.
What we're eating: The delightfully satisfying cranberry walnut salad, chicken salad plate or one of their flatbread pizza or panini concoctions. And don't forget a martini or one of their creative cocktails (including a few new colorful boozy floats).
Decorated with string lights and colorful flowerbeds, Café Touché's patio is a summer destination for sure, whether for dinner at sunset or a weekend brunch outing.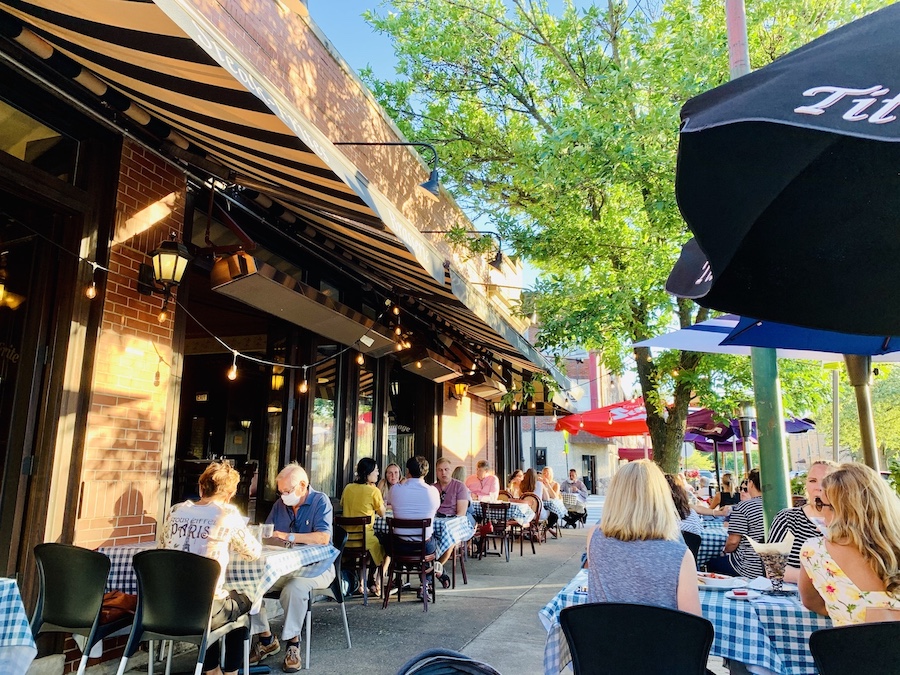 Café Touche
6731 N. Northwest Highway. CafeTouche.com
This casual French restaurant is a staple of the Edison Park scene and boasts one of the more gorgeous sidewalk patios anywhere around. Decorated with string lights and colorful flowerbeds, it's a summer destination for sure, whether for dinner at sunset or a weekend brunch outing.
What we're eating: For brunch, the Belgian-style waffles with fried chicken breasts, applewood bacon and pure maple syrup. Heading for dinner? Can't go wrong with the étouffée with crawfish tails, shrimp, andouille sausage and white rice or the New York strip steak frites.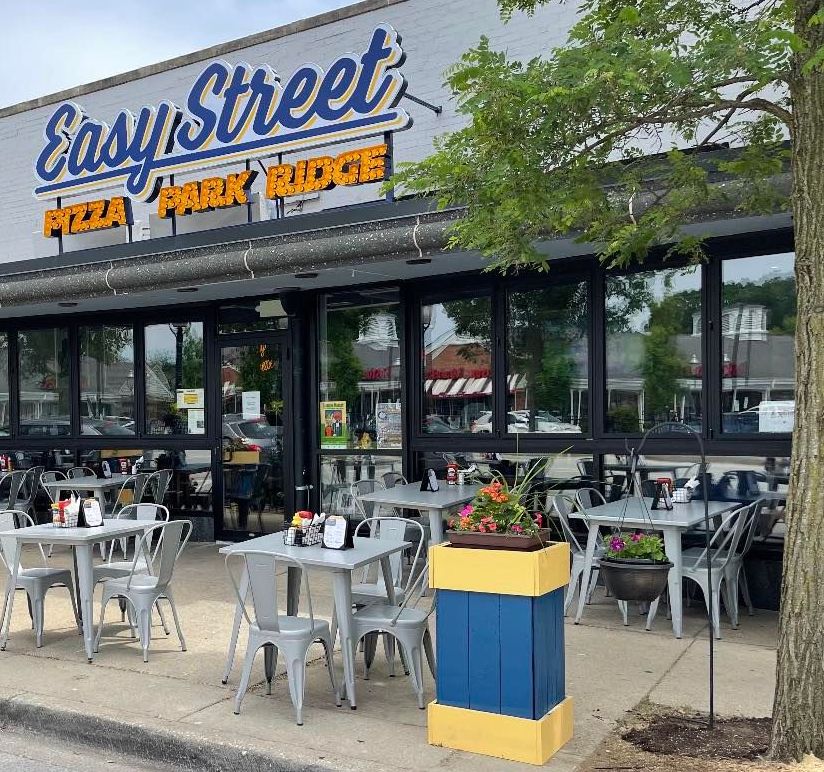 Easy Street Pizza
711 Devon Ave. in Park Ridge. EasyStreetPizzaChicago.com

Opened back in 2021, this casual, family-friendly restaurant (with two other locations on Chicago's northwest side) fit what Park Ridge's South Park neighborhood had been craving. Great pizza, great atmosphere and a recently beautified front patio with new windows, flowers and tables on the sidewalk.
What we're eating: Their delicious pepperoni rolls or popcorn chicken to start, followed by a deep dish or specialty pizza like the one topped with shredded beef, giardinera and onion.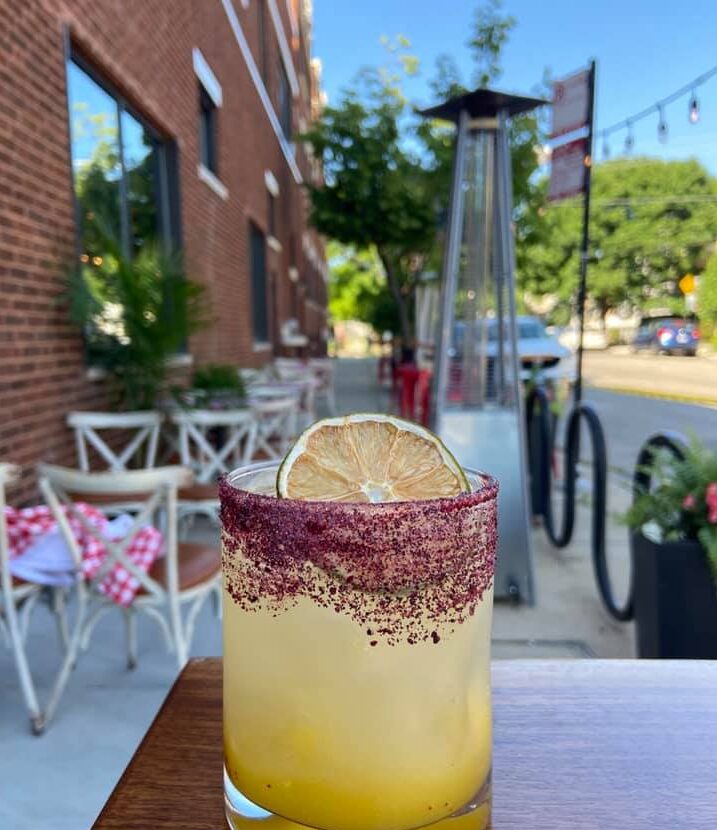 Qué Onda
6701 N. Northwest Highway in Edison Park. QueOndaEdisonPark.com
It's difficult not to be drawn in by Qué Onda's stylish, colorful and lively dining room. It's just that inviting. But we here in Illinois know that alfresco dining is a short season, so it's wise to take advantage of Qué Onda's large glass doors that open to a pleasant sidewalk patio, which offers the perfect mix of sun and shade.
What we're eating: Don't even open the menu until you've ordered one of their famous frozen margaritas or specialty mezcal cocktails. We particularly enjoy Qué Onda's tazons, which are bowls of rice, beans and a variety of toppings served with steak, grilled chicken, shrimp or slow-roasted beets. The Mexican street tacos are stellar as well.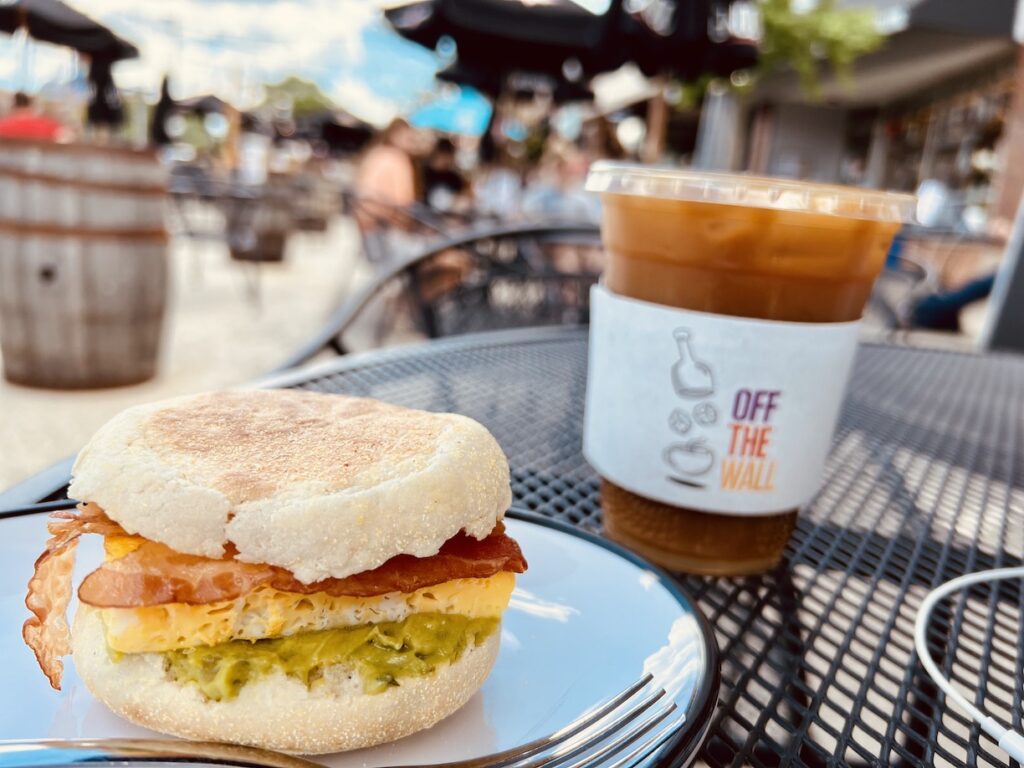 Beer on the Wall / Off the Wall Café
106 Main Street. WeHaveGreatBeer.com
104 Main Street. WeHaveGreatCoffee.com
Combining your favorite coffee shop vibe and the impressive selection of a specialty beer store, Beer on the Wall and Off the Wall Café have quickly become favored destinations on Main Street in Park Ridge, offering comfortable seating options, board games, regular events and a staff capable of socializing about craft beer, wine, cocktails and coffee. Their adjoining patios on Main Street are perfect for an iced coffee, glass of wine or flight of craft beer with friends.
What we're eating: The nachos at Off the Wall are some of our favorite anywhere — and meant for sharing. Stopping in for coffee or a morning meeting? Try one of their scrumptiously creative breakfast sandwiches.
Sketchbook Brewery's beer garden has neighborly backyard feel to it for sure. Plenty of picnic tables, trees lit up with solar lights and 20 beers on draft.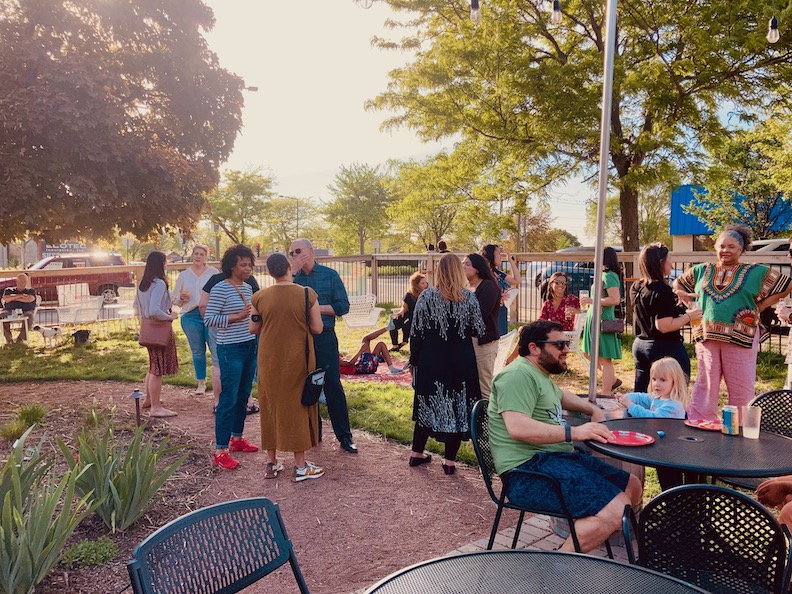 Sketchbook Taproom & Brewery
4901 Main Street in Skokie. SketchbookBrewing.com
Sure, you may be a fan of their beer, but have you ever seen their incredible beer garden in nearby Skokie (they also have a brewery in downtown Evanston)? As if a colorful 4,000-square-foot taproom with a 60-foot curved bar, 25-foot ceilings and regular live music isn't enough, Sketchbook also boasts an expansive beer garden, which feels surprisingly secluded despite being on Main Street and close to the train. It's got a neighborly backyard feel to it for sure. Plenty of picnic tables, trees lit up with solar lights and 20 beers on draft combine to make for a good day out with friends.
What we're eating: Sketchbook doesn't have a kitchen, but they accommodate hungry customers with a number of regular food trucks in the parking lot, and you can also order in from nearby establishments.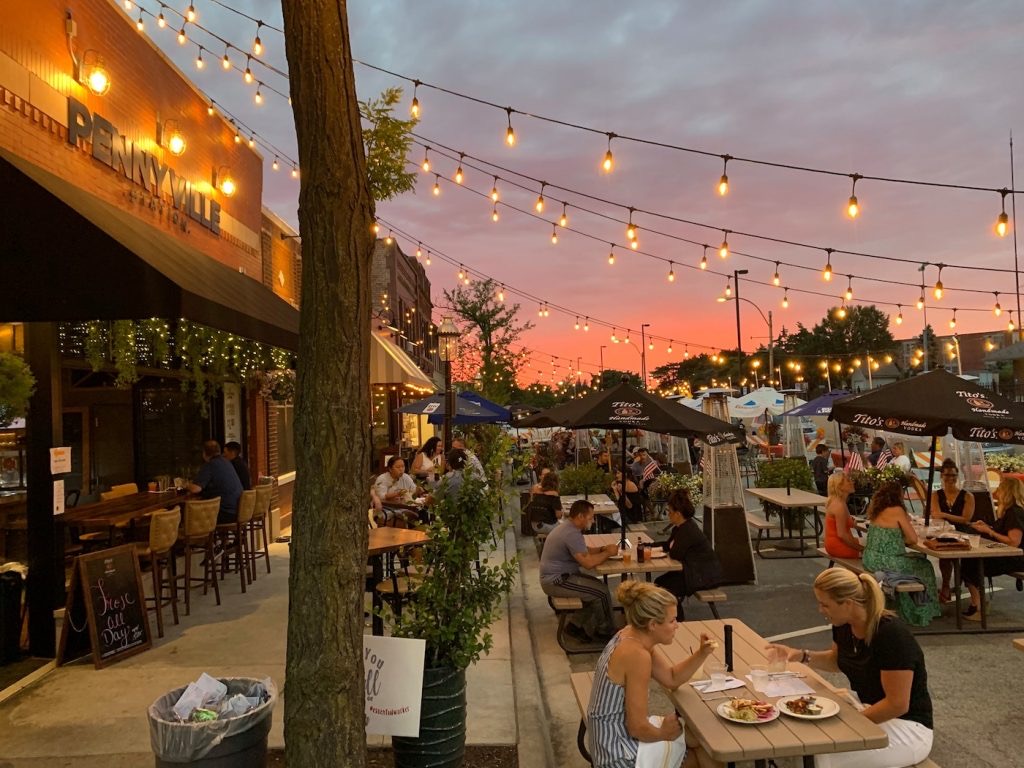 Pennyville Station
112 Main Street in Park Ridge. PennyvilleStation.com
Farm-to-table New American fare is all the rage at this popular Park Ridge destination. Cruise anywhere near Main Street and it's impossible not to notice Pennyville, which owns one of the largest patios around. Adorned with beautiful string lights, shade umbrellas, gas patio heaters and tables for all sizes, it's got it all.
What we're eating: The BBQ-glazed short ribs with white cheddar mashed potatoes are fantastic, as are the filet sliders topped with horseradish and caramelized onions. Plenty of creative, lighter salad options as well.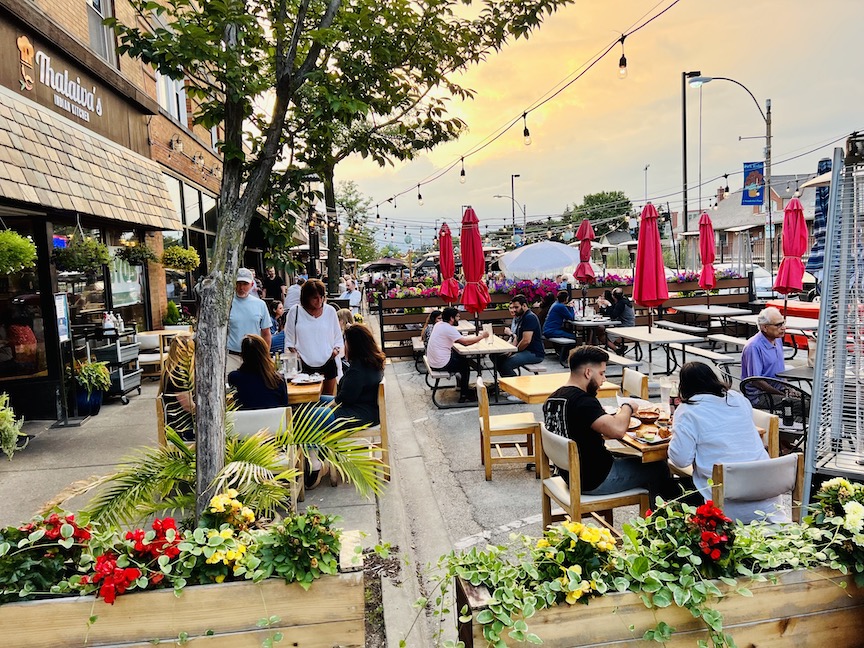 Thalaiva's Indian Kitchen
116 Main Street in Park Ridge. ThalaivasIndianKitchen.com
A local go-to for authentic, flavorful Indian food, this friendly BYOB restaurant in the heart of Uptown Park Ridge also offers an appealing Main Street patio, perfect for dinner before a concert in the park down the street or after a day of shopping on Prospect.
What we're eating: The veggie curry with fresh, seasonal vegetables cooked in a tangy curry sauce with fresh herbs or the roasted lamb tikka masala in a rich, creamy onion tomato sauce.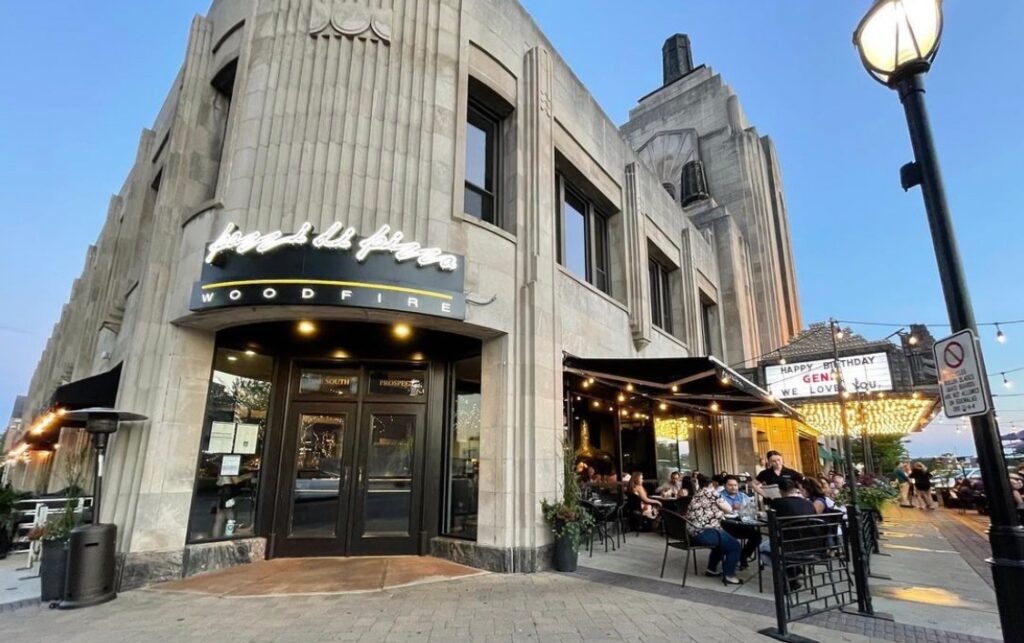 Pazzi di Pizza
1 S. Prospect Ave. PazziDiPizza.com/park-ridge
Want to feel like you escaped to a European streetside cafe? Well, that's what Pazzi di Pizza offers with its intimate space, colorful flowers and string lights in the shadow of the Pickwick Theater. Fun vibe and authentic Italian cuisine as well.
What we're eating: To kick things off, the fritto misto appetizer, consisting of lightly battered and fried calamari, shrimp and octopus. Great salads, pizzas and entrees fill out an impressive menu. Check out the linguine vongole with littleneck clams sautéed in garlic and oil or a light cherry tomato sauce.
Want to feel like you escaped to a European streetside cafe? Well, that's what Pazzi di Pizza offers.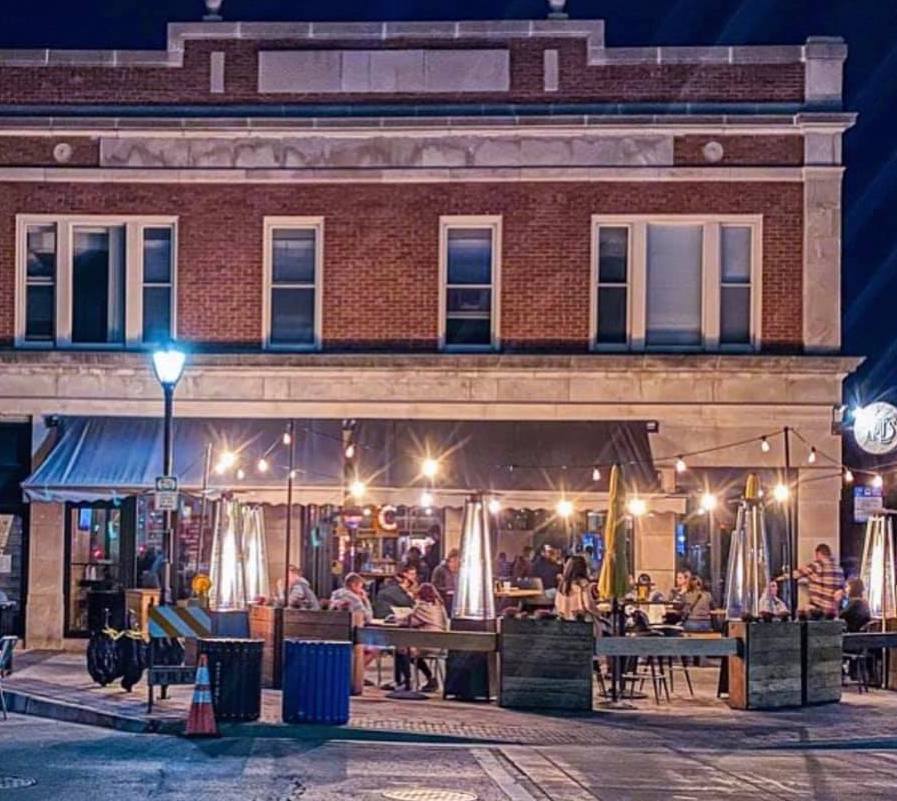 Holt's
43 S. Prospect Ave. in Park Ridge. HoltsParkRidge.com
There's no denying Holt's corner sidewalk patio is a seriously sought-after spot during the warmer months. Picnic and tall-top tables, beautiful tall wood flower beds, sunset views and great people watching on the corner of Prospect and Vine.
What we're eating: The flavor-filled Southwest salad is a meal in itself with chopped romaine, cotija cheese, pickled red onion, roasted corn, crispy tortilla strips, avocado, roasted pepita and a citrus vinaigrette. And we'd be remiss not to mention their quality burgers, which — along with a creative summer cocktail list — are worth the trip.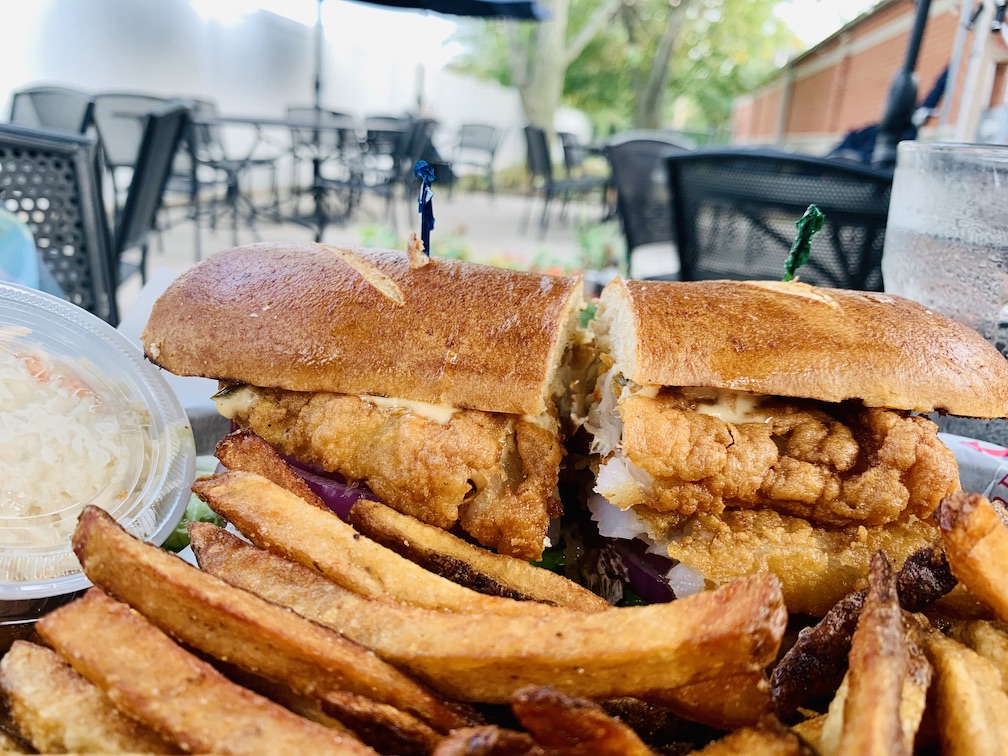 Boston Fish Market
1225 E. Forrest Ave. in Des Plaines. BostonFishMkt.com
Highly regarded as the best spot for fresh seafood anywhere in the area, Boston Fish Market has a gorgeous outdoor dining space that's ideal for family dinners, date nights or a special occasion.
What we're eating: Where do we begin? Maybe with the fresh swordfish or fried Great Lakes combo platter (whitefish, perch and walleye)? Or the shrimp and crawfish gumbo? We never said it was an easy decision here.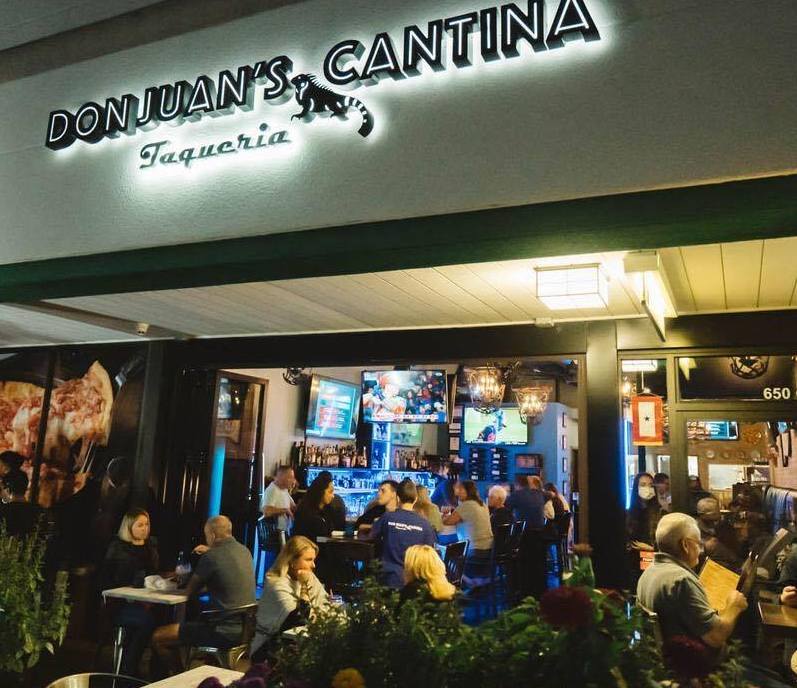 Don Juan's Cantina
650 N. Northwest Highway in Park Ridge. DJScantina.com
Don Juan's has been welcomed to Park Ridge with open arms since their move over from Edison Park last year. A flower-lined and shaded sidewalk space — with gas heaters for those chillier nights — Don Juan's has you covered for that authentic alfresco Mexican lunch or dinner.
What we're eating: Ranging from traditional to contemporary Mexican dishes, you're sure to find something for every palate in your group. The tacos al pastor (marinated pork shoulder) are a personal favorite, as are the shrimp fajitas, served with sautéed tomatoes, green and red peppers, mushrooms, onions and zucchini. Don't forget a fresh margarita to top it off.
Ranging from traditional to contemporary Mexican dishes, you're sure to find something for every palate in your group at Don Juan's.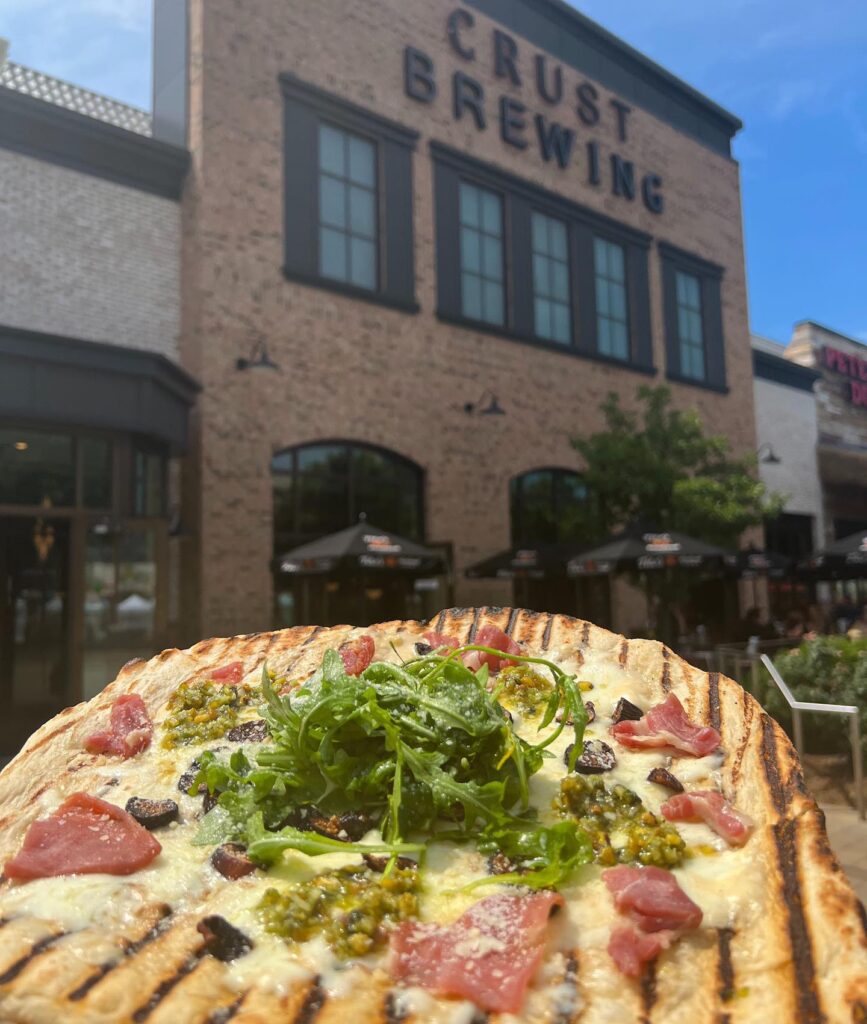 Crust Brewing
5500 Park Place in Rosemont. CrustBrewing.com
The Matushka family, the ownership team behind the former Hofbrauhaus in Rosemont's Parkway Bank Park entertainment district, has a hit on their hands with this new concept that offers industrial and rustic design elements, a splendid (and diverse) menu and their own brewery. The lovely patio out front is a great spot to catch Rosemont's concerts, fireworks or just take a break from shopping at the outlet mall.
What we're eating: The charred lemon garlic wings, panko-crusted coconut shrimp and one of their creative salads are great starters before moving on to the crispy chicken sliders or red wine-and-fennel sausage pizza out of the brick oven.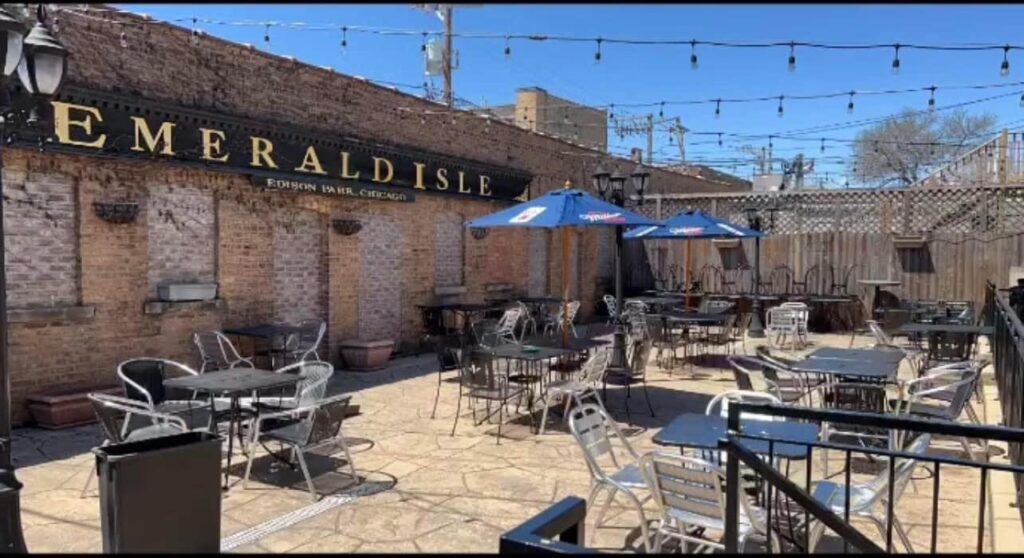 Emerald Isle
6686 N. Northwest Highway in Edison Park. EmeraldIsleChicago.com
This welcoming Irish pub has been a staple in Edison Park for more than four decades. Their enclosed beer garden may be somewhat hidden out back, but it's surprisingly quite large (and full of character). Regular live music too, and don't miss out on one of the area's better happy hours from 4-6 p.m.
What we're eating: A menu full of solid pub grub, you can't go wrong with the thick and melty double cheeseburger or hot wings here.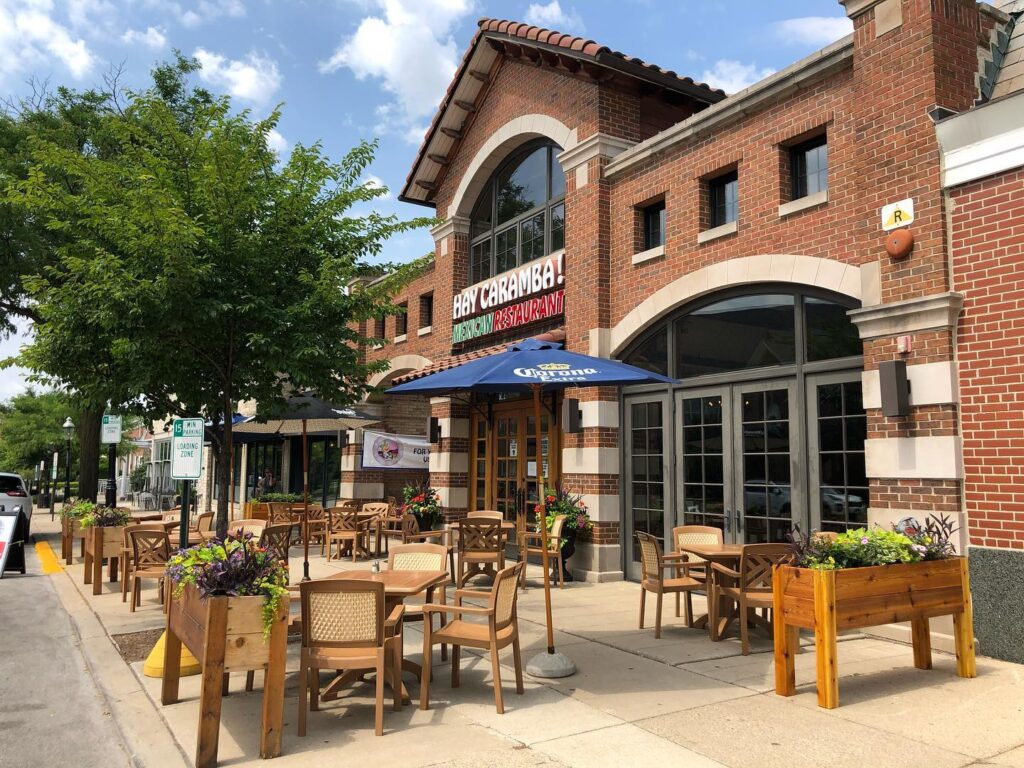 Hay Caramba
122 S. Prospect Ave. HayCaramba.com
The amount of outdoor seating at this Mexican food staple in Uptown Park Ridge is deceiving, as Hay Caramba offers both a sidewalk space and an open-air patio tucked partially underneath the building.
What we're eating: For starters, the combo appetizer gets your outing off on the right foot with guacamole, chicken quesadillas, Mexican sausage quesadillas and nachos grande with sour cream and salad. The burritos and broiled skirt steak with ranchero sauce is tasty as well.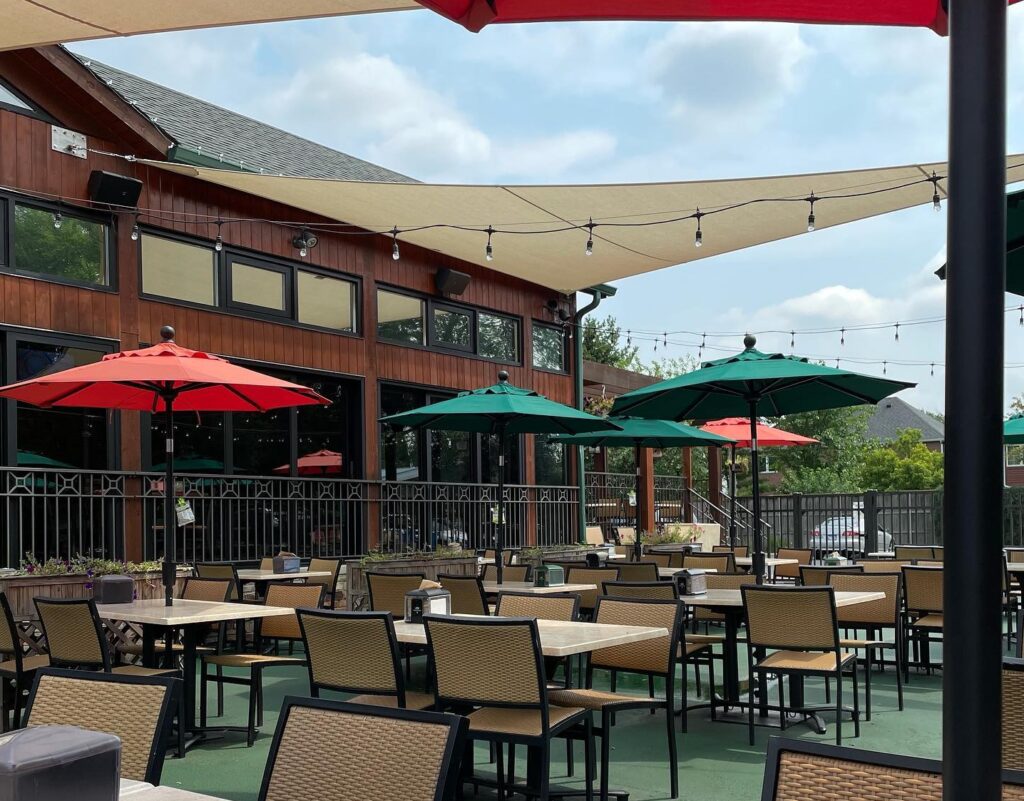 Countryside Saloon
2501 E. Ballard Road in Des Plaines. CountrysideSaloon.com
Head to nearby Des Plaines for this sizable and friendly beer garden that's perfect for spending a day in the sun. A favorite spot for pizza, catching the game, live music Fridays and taking advantage of some great daily specials like half-price pizza on Wednesdays, $7 burgers on Thursday and 23-ounce domestic drafts for $4 on Sundays.
What we're eating: The loaded roasted turkey cobb salad is eye-catching to say the least, and the char-grilled filet mignon sandwich that's served on toasted garlic bread is a tasty favorite.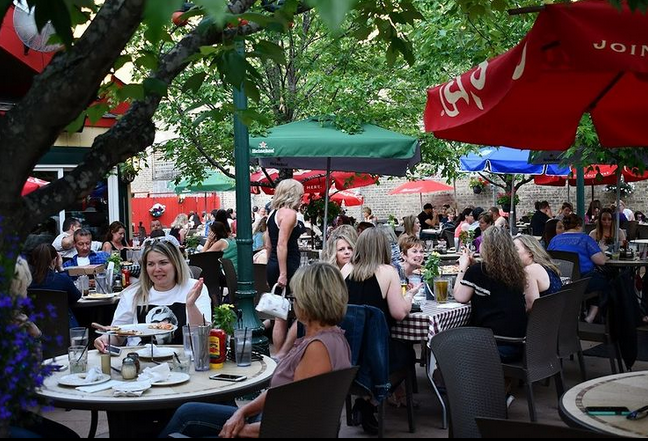 Moretti's
6727 Olmstead in Edison Park
9519 W. Higgins Road in Rosemont
MorettisRestaurants.com
Park Ridge is fortunate to be located smack dab between the Edison Park and Rosemont locations of this reliable restaurant chain, and both have great outdoor spaces, especially Edison Park, which boasts one of the larger tree-lined beer gardens you'll find anywhere around.
What we're trying: Moretti's is best known for their award-winning Chicago-style thin-crust and deep-dish pizza — featuring a crazy number of potential creations. The chicken parmesan and short rib ravioli are dynamite as well. Keep an eye on their happy hour and daily specials (half-price pizza Tuesdays, half off wine and $5 martinis on Wednesdays, etc.), which can help battle this thing called inflation.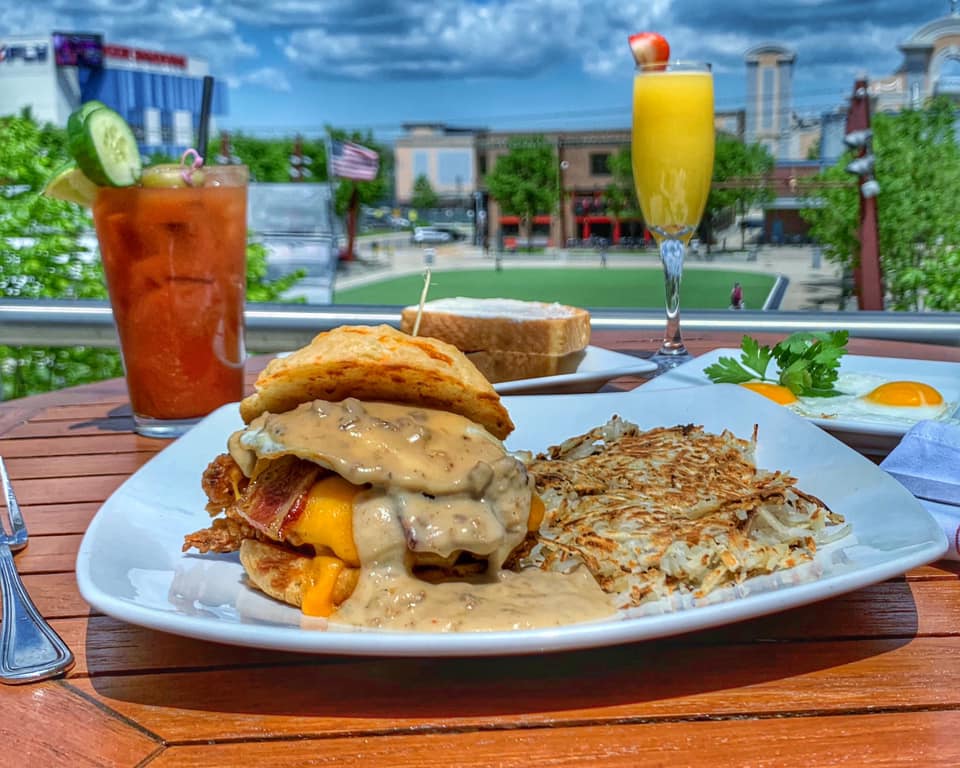 Park Tavern
5433 Park Place in Rosemont. ParkTavernRosemont.com
Park Tavern, one of the more popular spots in Rosemont's Entertainment District, offers a contemporary spin on the gastropub experience. Ordinarily, the first-level patio that's ideal for people watching would be enough to satisfy your alfresco cravings, but the stylish Sky Bar rooftop lounge with views of Parkway Bank Park gets most of the notoriety here, as it should.
What we're eating: The firecracker shrimp with a sriracha aioli have great flavor, as does the healthy yum yum salad with its grilled chicken and soy ginger vinaigrette. The smoked beer can chicken and Chicago dip sandwich (shaved prime rib with giardiniara on a toasted baguette) are standouts as well.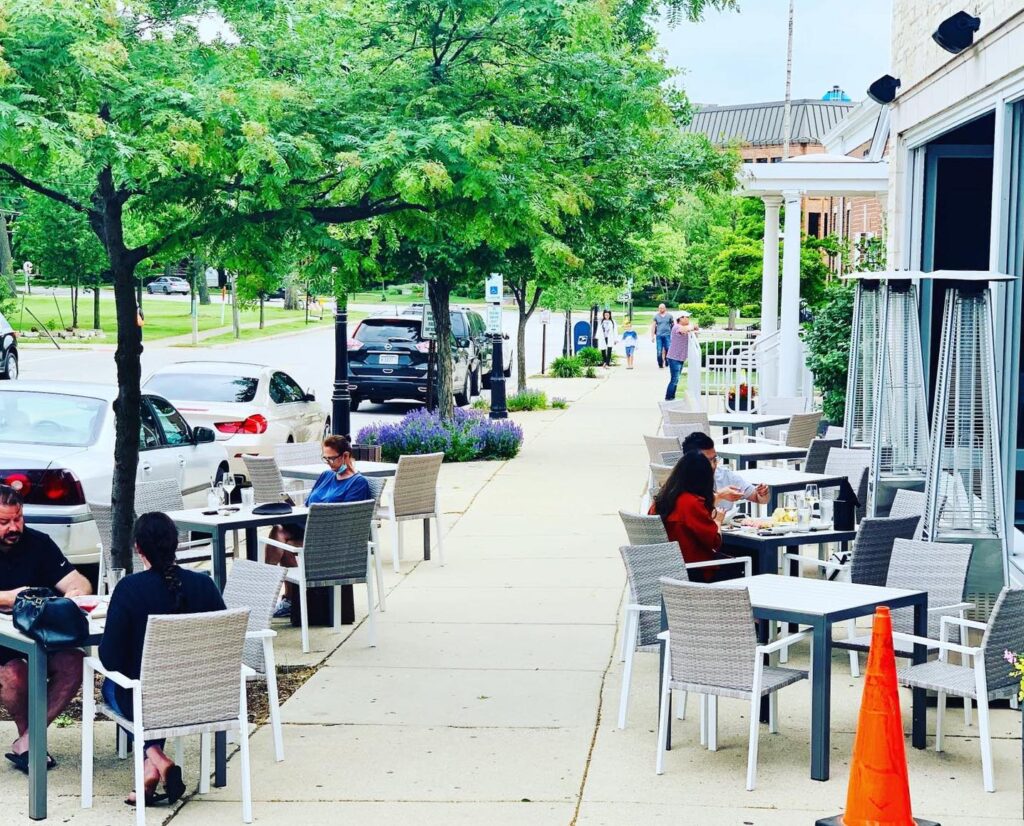 Shakou
130 S. Prospect Ave. ShakouRestaurants.com
Labeled one of the "top 100 restaurants in America" by Forbes magazine, we don't have to remind ourselves how fortunate we are to have one of Shakou's five locations right here in Park Ridge. Equal parts elegant and creative, it's where to go for fresh, visually striking sushi and Asian-fusion dishes.
What we're eating: For summer, the marine salad is perfect. Your choice of marinated tuna or salmon on a bed of lettuce comes with cucumber, tomato and avocado drizzled with ginger dressing and citrus ponzu. The poke bowls and signature maki rolls are dynamite as well.