Aerial yoga at The Sanctuary in Edison Park: Overcoming fears, making connections and feeling the zen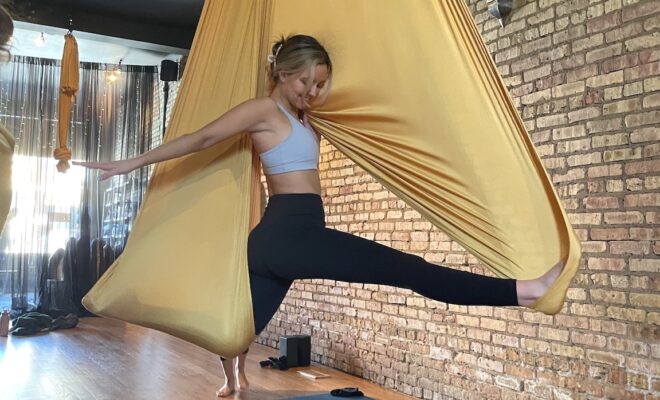 By Natalia Kuppers
6710 N. Northwest Highway

TheSanctuaryChicago.com
First glance: This newish yoga studio has a small storefront in the heart of Edison Park, so it's easy to miss, but once inside you're transformed into a quiet, zen-filled space that feels miles away from the busy street that lies just outside the door.
Background: Owner Natasha Palmisano, who left the finance world to share her love of yoga with her community, has been practicing yoga for 20 years and has served as an instructor for 12, actually beginning her teaching career when she was pregnant with her daughter.
Offerings: The Sanctuary offers classes of all varieties, and I found their prices to be pretty affordable. If you're a drop-in attendee, yoga, aerial yoga, teen aerial and new-moon cycle classes range from $25-$35.
They are also offering new classes, including one all about sound baths. This class is available twice a month and focuses on sound healing. There's a Mommy & Me option too, as well as prenatal classes.
If you're wondering what the new-moon cycle class is, it's based on the moon of that month and involves journaling to connect with what you and your body need to heal from that particular month.
I was intimidated by the yellow silk hanging from the ceiling the moment I walked in the door, to the point that it took me awhile to stop staring at it.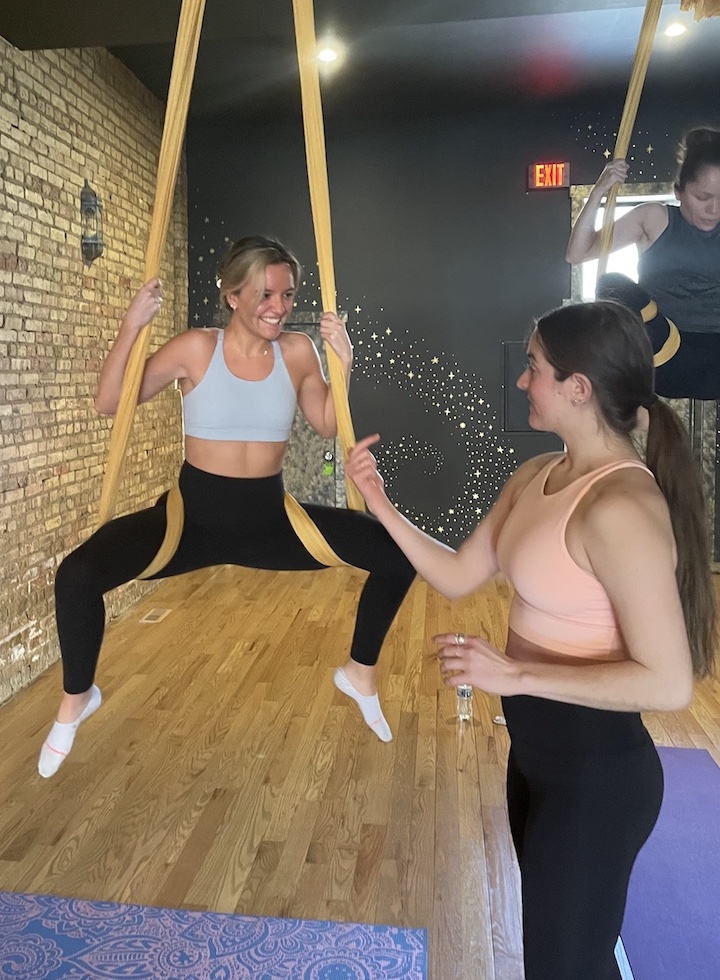 What Natasha wants you to know about The Sanctuary: "That we're here! There are many ways to advertise your brand, but we believe that the most effective way of advertising is by word of mouth. Experiences are the only way to really know the true atmosphere of a company."
Her take on life is to "always try new things." It sounds cliché, but it's true. You only live once, so why not venture out and try something you never thought you would (like me trying out aerial yoga!).
When you're at The Sanctuary, the goal is to "show up, tune in and zen out" — and leave in a better state of mind than the one you came with.
My initial anxieties: To be honest I wasn't sure what to expect. I've only done yoga the way it's commonly portrayed, so when I heard I was doing a class hanging from silk ropes, my heart skipped a beat. I've seen pictures of it and I've always been curious, but I wondered: Does the silk hurt? Is it safe?
I was intimidated by the yellow silk hanging from the ceiling the moment I walked in the door, to the point that it took me awhile to stop staring at it. I was thankful to have women experienced in aerial to help me along because, to be fair, it was way different than I expected.
The Sanctuary is the perfect, cozy spot to practice the ideas of spiritual work and meditation — and feel comfortable doing it.
The experience: First impression: Whoa. And yes, it's safe. I knew that it was a class meant for fitness and I work out moderately, but I wasn't prepared for the number of muscles that would be sore afterward that, honestly, have never been sore before. It was a crazy ride from start to finish. Crazy but fun.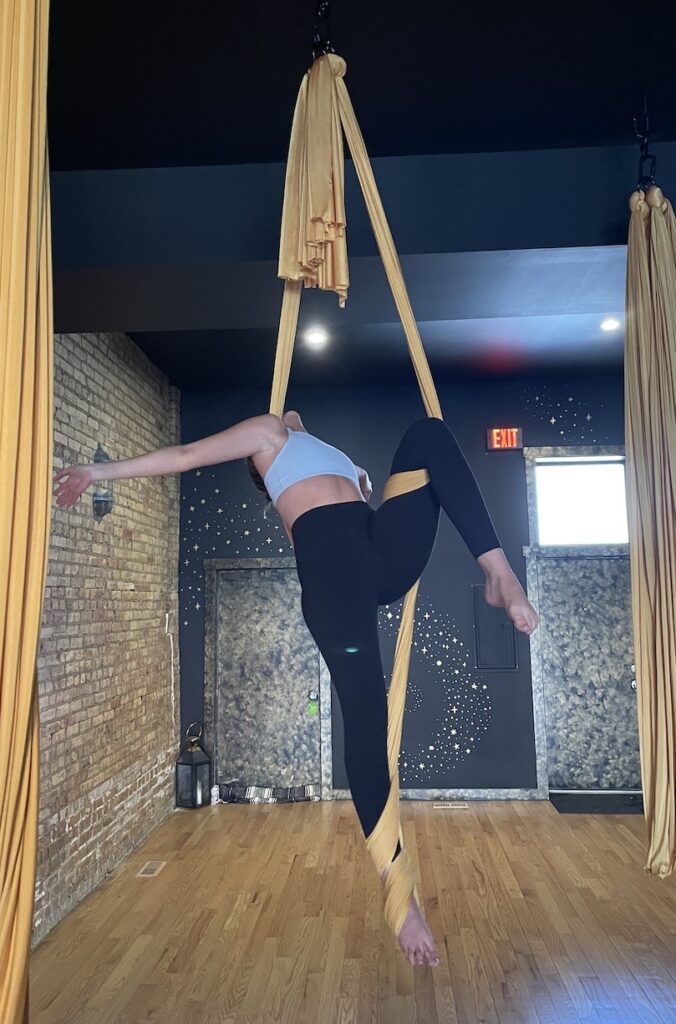 The area I felt most sore were my hands. Grabbing onto the rope was difficult because of the necessary grip strength we aren't used to using in everyday life. I'm not very flexible, but my back felt so lengthened after every position in the rope.
The other women were getting all twisted in these ropes so easily, and watching them pushed me to raise my own expectations for myself. My favorite thing about the smaller class size was that it allowed you to make connections with everyone.
Final thoughts: So, as you can probably tell, I loved this class. I think this studio is definitely a new hub for yoga in the area because of the growing demand for spiritual work and meditation. The Sanctuary is the perfect, cozy spot to practice those ideas — and feel comfortable doing it. I've never done aerial yoga before, but trying something out of my comfort zone made me feel even better.
And it's designed for all levels. It doesn't matter if you've been doing yoga for years or you're just starting (like me), you'll get the same amount of support from the teacher and the class. I also loved the sense of community between everyone there. I'll be trying other classes from this studio very soon to get that zen feeling of peace and fellowship again.