Park Ridge Insider Mike Boychuck on the steaks and views at Gibsons Italia, the underrated Edison Park Inn, family escapes to Door County and 16-inch softball with the Park Ridge Park District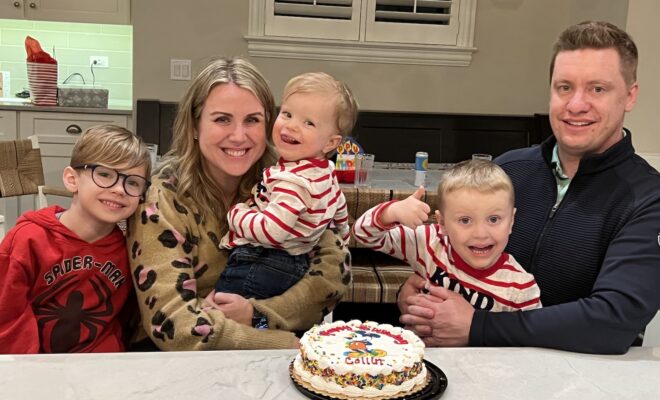 What you do for a living: I'm self-employed in real estate management in the north side of Chicago.
How long you've lived here: Born and raised, left for college in Iowa and then spent two years living in Chicago before returning to Park Ridge, where my wife Katie and I raise our three sons.
What you like best about Park Ridge: I like its proximity to the city for sure, and I love all the bar and restaurant options Park Ridge has now. It's very different than the town I grew up in. My youngest son was recently diagnosed with a rare genetic disease called Med13L, and my wife and I have been blown away by the support the town has given us. You can read more about it at Med13L.org
Best meal you've had recently: I would say Gibsons Italia on the Chicago River. I had the W.R.'s Chicago cut steak (massive bone-in ribeye) and an espresso martini. That's a pretty good meal right there. The steaks are always cooked to perfection, and the service is second to none. The view at Gibsons Italia may be the best in the city too. We had a table that looked right down the river.
Favorite restaurant in the area: I have two, and it's hard to pick. I really like Pennyville Station. I love their chicken calabrese. They have great drinks, a good atmosphere, and it's so consistent. We look forward to sitting out on the front patio every summer now. My other one is Zia's Social in Norwood Park. I have yet to have a meal there that I didn't love.
Everyone thinks of Edison Park Inn as just a bar, but their food is really good. The steak sandwich is a favorite with mozzarella and A1 steak sauce on garlic bread.
Favorite "hidden gem" restaurant: Edison Park Inn. Everyone thinks of them as just a bar, but their food is really good. The steak sandwich is a favorite with mozzarella and A1 steak sauce on garlic bread. The pizza is solid too.
Best bar to grab a drink or to catch the game: If I'm going to catch a game or meet up with friends, I'd head to Harp & Fiddle. They've got good TVs, live music and Guinness on draft. If we're looking for BBQ, Mel's Craft BBQ is the best spot for it on the northwest side.
A great night out with friends usually includes… trying to avoid a hangover. But seriously, sitting outside on Main Street in Park Ridge for dinner and drinks would be great. A concert in the city is always a good time too, whether it's at the Chicago Theatre, Wrigley Field, etc.
The best way to spend a Saturday in the summer: For me, playing golf at Glencoe or Mistwood down south. But usually it's coaching my sons in baseball during the day. I love escaping with the wife or friends to Wrigley Field for a Cubs game whenever possible too.
What's something you look forward to every summer?
My 16-inch softball league at Hinkley Park through the Park Ridge Park District. We've basically had the same team for about 21 years. It's so much fun hanging out with the guys I grew up with on a weekly basis. And then having beers with them afterward.
Favorite local store or best shopping area: I'm not much of a shopper, but I know my wife really likes Edie Boutique here on Prospect Ave. Or Co-Op California in Edison Park.
Underrated activity in the area: The Park Ridge Wilderness Scouts. Getting to make friends with dads that I wouldn't otherwise know, and our kids making friends outside of school, is fantastic. Plus, all the seasonal campouts and activities we do are a lot of fun.
Secret spot: It's not really a secret for those who grew up in the northwest suburbs, but I love Hackney's on Lake Street in Glenview. I've never had anything other than their famous burger, onion rings and a Guinness in all the times I've been there. I still meet up with old friends for an annual Christmas dinner we've been doing there since 2008.
What have you heard great things about but have yet to try?
Patina Wine Bar. We've got friends who love it and rave about the small plates and vibe there.
Weekend getaway spot: My wife's family has a lake house in Michiana near New Buffalo that we make it down to a couple times a month during the summer, or our annual trip up to Door County each year with my mom. We've been going to Egg Harbor in Door County since I was a kid and love it up there. The kids really enjoy breakfast at the famous Al Johnson's.