Park Ridge Insider Holly Santelli on the eco-friendly items at her Ash & Willow Salon, wine dinners at Harp & Fiddle and the hidden gem businesses that call South Park home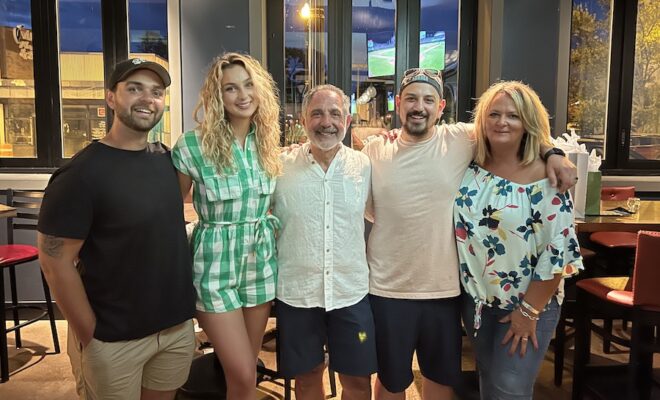 What you do for a living: I am the owner of Ash & Willow Eco Salon in the South Park neighborhood of Park Ridge (with additional locations in Barrington and Long Grove).
How long you've lived here: I actually live right over the border in the Edison Park neighborhood of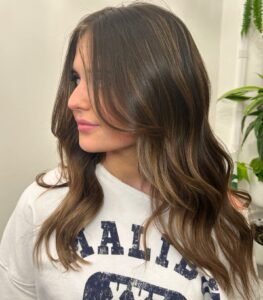 Chicago, but I have been a business owner in Park Ridge for eight years, owner and creator of Ash & Willow for more than five years and have worked in Park Ridge for 14 years. Even though I don't live right here, I'm a big supporter of the community. I love it here. It feels like home.
What you like best about Park Ridge: I love the people! The community and how it's grown over the years is amazing… and it just keeps getting better. Park Ridge people are big supporters of local business and are always there for all of us owners. I love that everyone is so welcoming and ready to support our businesses and events. We really appreciate that about this community.
Best meal you've had recently: The wine dinner at Harp & Fiddle in February. My husband and I have made a regular date with some good friends to go to these dinners each month for the last year. I love that Chef Jerry so easily creates these amazing and delicious menus along with great wine pairings. They often have live music at these dinners, so it makes for a perfect night out. The best part is that with each wine dinner, they donate part of the proceeds to different organizations in the area. My business is focused on giving back as well, and I love to support other local businesses, especially when they have a mission of giving too.
I love that Chef Jerry at Harp & Fiddle so easily creates these amazing and delicious menus along with great wine pairings. They often have live music at these wine dinners, so it makes for a perfect night out.
Favorite restaurant in the area: Harp & Fiddle is my favorite restaurant in the area, but there are so many fantastic ones to choose from here. I do love Pennyville Station, Nonna Silvia's and Pazzi Di Pizza for a night out as well.
Favorite "hidden gem" restaurant: A couple of hidden gems are over here in South Park. Triple Scoop'd for coffee, donuts and ice cream is amazing. They are always doing something fun over there, and the owners are just great people. Shawarma Inn is another favorite. I love their hummus, rice and the chicken shawarma. It's a regularly ordered item for my team at the salon.
Best bar to grab a drink or to catch the game: To catch a game we normally go to Harp & Fiddle, but Mel's Craft BBQ is a great choice for that as well.
A great night out with friends usually includes… dinner at a local restaurant with some live music and outdoor seating during nice weather. I do love the outside area they've created on Main Street in Park Ridge and the outdoor seating at Hay Caramba. It's nice to sit outside with a margarita and some yummy chips and guac to celebrate the warm weather.
The best way to spend a Saturday in the spring: Heading to Lurvey Home & Garden in Des Plaines to shop and dream about my spring planting! Lurvey's is my go-to place for all the pots that I plant outside around the salon and in our secret garden courtyard. They also have great home decor and an amazing selection of house plants and pots as well. It's my happy place for sure.
Favorite local store or best shopping area: I love shopping at the boutique at Ash & Willow for gifts. We have a nice, eclectic mix of small gift items, clothing, silk pillowcases, hair accessories, jewelry, crystals, bath-and-body/self-care items, plants and eco-friendly items that are hand-crafted. You never know what fun items you might find there.
Also, 2 Sisters Boutique on Prospect, where Natalie, the owner, is amazing! She has a great selection of clothing, accessories and gift items. They also do personal styling sessions there, which is great for someone unsure of their style and how to put pieces together to create a great look.
Park Ridge Paint & Glass is another favorite spot in South Park. Between the salons and my house, I'm always painting something. One of the great things about them is not only are they so knowledgeable, but they also keep your paint colors, and the room it is going in, on file in their system, so if you forget which color it was and you need a touch up, they have it for you.
Secret spot: Well, I hear there is a new business opening over here in South Park, a pottery studio and art therapy space called Centered Clay Collective, right by Devon Avenue Meats, which will be a great addition to the already amazing businesses on this side of town. You'll find me there Zen-ing out making clay creations on their wheels as soon as they open.
I don't even know exactly what the meatball blend is at Devon Avenue Meats, but it makes the most bomb Italian meatballs you've ever had — and makes me look like a real pro chef.
Speaking of Devon Avenue Meats, it is definitely a hidden gem. One of my favorite things about them is the meatball blend. Did you know that if you tell them you are making meatballs, they make a special blend? I don't even know exactly what the blend is, but it makes the most bomb Italian meatballs you've ever had — and makes me look like a real pro chef! Besides that, they are just so nice and helpful. They will even tenderize your chicken if you call ahead and ask, so you don't have to spend time making that mess. I so appreciate having such an amazing butcher so close by.
Underrated activity in the area: Hanging out in South Park. Not everyone makes their way over here. We are slowly growing and have a lot of great businesses in this area of Park Ridge. We, as business owners, come together to put on awesome family events such as Winterfest, an Easter egg hunt, trick or treating and more. We're always looking for more ways to support the community.
Weekend getaway spot: Klinger Lake in Michigan. I grew up there, met my husband there and will likely retire there. We have family and friends there, and it's a nice quiet place to relax and recharge in nature.
What have you heard great things about but have yet to try?
I've heard great things about the American Science and Surplus store. I hear they do lots of fun make-and-takes for the kids. I haven't been to their Park Ridge location, but it's definitely on my list.