Spotlight on Wellness & Beauty by MD Ventures: A focus on clinical research, treating patients like family and natural rejuvenation at this rapidly growing med spa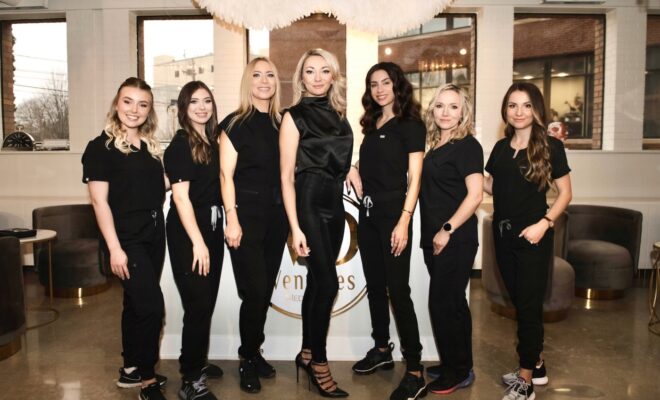 Where you'll find it: 222 S. Prospect Ave. in Park Ridge. 224-377-9577. MDVentures.us
How it all began: Marta Druzbacka's career in the medical field began back in 2005 as a nurse intern in downtown Chicago, and prior to launching her own practice, she served as a nurse in interventional neuroradiology and pediatric cardiology, even giving in-patient consultations for Lurie Children's Hospital and building a program there to better organize follow-up programs for teenagers and young adults with congenital heart issues.
She was offered the director position at a med spa and laser center before the Covid shutdown shuttered those plans. But sensing an opportunity, she received her certifications and started doing Botox and joint plasma injections in her spare time before opening her own office in Palos Hills in June of 2020 — all while still at Lurie, teaching conferences and writing programs. When the lead physician left the hospital to take a position in Maryland a year later, however, Marta viewed that as an opportunity to take the plunge and expand MD Ventures on a full-time basis.
"I've seen it all from the procedural, trauma and surgical side of things, so helping people look and feel their best is not stressful at all," she says with a laugh.
"We educate all of our patients when they come in. … The more you know about the procedure, the more you know what to expect about the results."
Sparkling new home: It didn't take long — just six months to be exact — for Marta to run out of space at her original Park Ridge location, so she moved her practice down to the ground floor and added two rooms. But a year later, not even that was enough, and a great opportunity presented itself this winter to move next door and claim a larger, newly renovated space at 222 S. Prospect in the heart of Uptown. "This move would never have happened without the support of my staff and friends and family," Marta says.
And what a space it is — very clean, bright and welcoming, with large windows for natural light, relaxing music and, perhaps most importantly, good energy.
"A lot of people are nervous coming in for the first time as new clients, so it's our job to build trust and make them feel comfortable, even if they are coming in as a referral, which we got lots of," Marta says.
Meanwhile, expansion is also on its way for her Palos Hills and Schaumburg locations, with a future desire to open up a practice in Miami as well.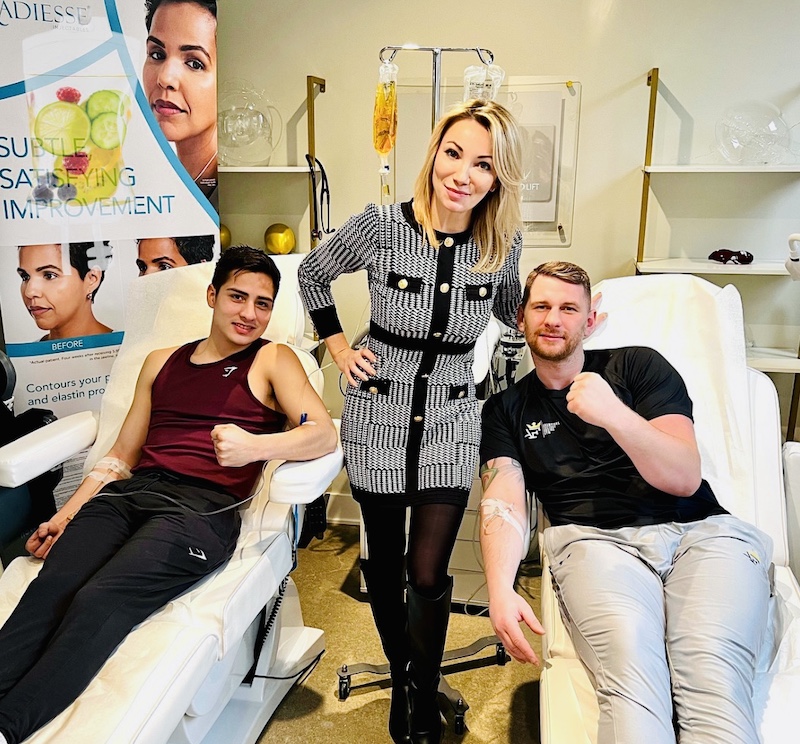 Specialties: MD Ventures is a high-end medical spa specializing in PDO threads, PRF joint injections, Sculptra, IV vitamin infusions, Botox, healthy weight-loss treatments and more.
Noteworthy: Whether you need a little vitamin C, vitamin D and Zinc as a preventative treatment during cold and flu season or you had a little too much fun last night and can't afford to waste a day recovering on the couch, IV treatments are popular these days and available with a quick appointment.
My staff probably rolls their eyes on Sundays when I send them articles and research papers to read. But our goal is to take care of our patients like they're our family.
No shortage of experience…. or socializing
MD Ventures' staff consists of highly-trained licensed and registered nurses with a background in critical and intensive care. The laser technician has 15 years of experience, and Marta's medical assistant was a practicing physician in Poland prior to joining her in Park Ridge.
"Everything we do is based on clinical research and experience," Marta says. "I encourage my staff to gain more and more knowledge. They probably roll their eyes on Sundays when I send them articles and research papers to read. But our goal is to take care of our patients like they're our family."
It's not all business, though. They have their share of fun, too. Admittedly, there is a lot of socializing after treatments because the staff not only wants their clients to look and feel good, but really feel at home as well.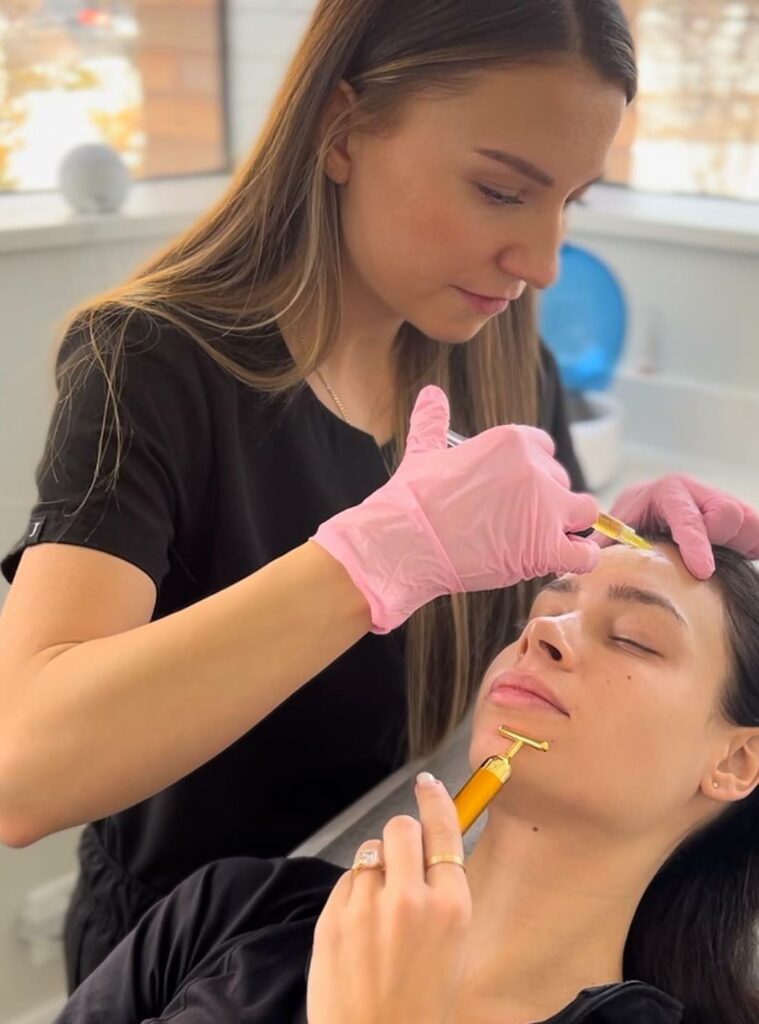 Never too young
A growing market for MD Ventures is their work with children, as they are seeing an increase in parents bringing their kids in for vitamin shots to address various deficiencies, and even laser treatments or skin rejuvenation.
"We provide a holistic assessment to see what we can improve on, whether it's sleeping habits, eating, exercise or something else," Marta says. "This is part of my background of working with kids and taking an approach of helping them along the way to become a strong, independent adult."
Natural rejuvenation
A lot of the focus for MD Ventures is on the natural rejuvenation of your own collagen (which we lose 1-1.5% of every year), using Sculptra as a biostimulator, plasma injections and microneedling. But they also stress to aid the rejuvenation process by way of exercise, a healthy diet, antioxidants and avoiding too much sun. And when it comes to collagen supplements and fillers, nothing goes on the shelf without Marta's approval.
"I do my own research for months before I will sell anything," she says. "My staff will never recommend a treatment or product we haven't tried first."
Plasma therapy helps with joint rejuvenation, too. For instance, she has helped an injured 16-year-old soccer player get back on the field using plasma that contains stem cells that rebuild your own body's defense system.
A lot of the focus for MD Ventures is on the natural rejuvenation of your own collagen. … Plasma therapy can help with joint rejuvenation, too.
Educating patients and follow-up consultations
"We educate all of our patients when they come in," Marta says. "Even if they end up going some place else, I want them to be informed and to help them understand what is the reasoning for certain procedures. The more you know about the procedure, the more you know what to expect about the results."
Follow-ups with new patients are key too, because the results need to pass her critical eye. "If I'm not happy, I will work to make it right," she adds. "We have the eye for aesthetically pleasing results. And I'm probably a tougher critic than my patients."
Client testimonials: "Marta provided me with exceptional service prior to an event. I was seen and evaluated by her just two days before an event, and she made my face look amazingly fresh and rejuvenated. I had few treatments done that day, and I could tell the difference upon leaving the spa. Absolutely loved it. … The staff and atmosphere in the spa is exceptional as well, and the location is so convenient."
— Marta Woroszylo
"This is a very welcoming, family-like medical spa led by an experienced and highly educated nurse practitioner who is an expert in her field. Marta will listen and take care of your needs, and she will never push products. Highly recommend."
— Edyta Bardo