Local recommendations include the Beacon Tap, Davies Homes Services, House of Cakes and Madsen Home and Garden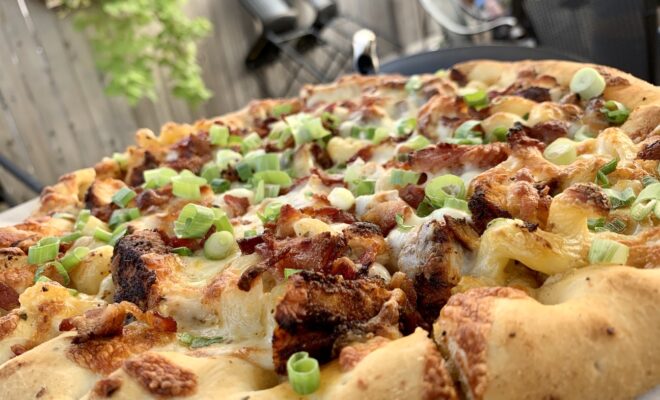 Beacon Tap's mac & cheese pizza
Active locals share some of their favorite businesses in the area
Huge shout out to Tommy and the amazing staff at The Beacon Tap. We hosted our end-of-year baseball party in their outdoor heated area, and everything was delicious (gluten-free pizza included) and the service was beyond incredible. If you are looking to host an event, I highly recommend considering The Beacon Tap!
— Caroline Marie Schaab
I need to thank Jason at Cameo Cleaning Crew for the fantastic job cleaning my ovens. I've been looking forever for someone to do it. I contacted him less than a week ago, and today it shines like new. If you need your oven cleaned, do not hesitate.
— Carol Harmon
I wanted to post a highly positive review for Park Ridge Pick Ups. I have used them several times for numerous jobs, including heavy lifting, moving furniture and ping pong table assembly. They are extremely professional and efficient.
— Jacqueline M.
If you're looking for somewhere new to try for lunch or dinner, I highly recommend St. Bess Jerk. It's just down Northwest Highway a few minutes at Nagel. The dishes are flavorful, plentiful and served so hot that everything was still very hot when we got home. It's a small, simple place, but there is dine-in space (the old Bill's Drive-In) and parking. My husband and I split a meal and it was plenty of food for the two of us.
— Nancy Vee
Great big giant shoutout to House of Cakes! They have been working hard and have stayed open. I regularly visit and have witnessed some customer behavior that could be described as challenging, but that doesn't seem to faze the employees! They are always kind and courteous! Not only that, they have the best cheese sticks In the world!
— Kristine Binder
Big shout out to Flint Chiovari of Chiovari Painting. If anyone needs a great painter, it's Flint. Not only is he an outstanding painter, but he's honest. He painted our 2,000 square-foot basement by himself in seven days.
— Karen Ann
Mandy Madsen with Madsen Home and Garden did a great job with my house. I knew what I thought I wanted, but needed direction on how to make it flow with an open floor plan. She was great at advising on color combinations (i.e. which of the 400 shades of white works with the cabinets you already have, etc.) and sourced all the lighting, finishes etc.
— Bridget Zocher
Thank you to Gianni Marinelli for the great work installing a new ceiling fan in my daughter's room! I know small businesses depend on these recommendations, and I am happy to post that we were all pleased with his work and will reach out to him again if we need an electrician.
— Jennifer Mikulina
The gentleman at Dick Pond that helped my son out was absolutely fantastic! From the minute my 8-year-old stepped into the store until we left, he was nothing but incredibly friendly and welcoming.
Huge shout out to Dick Pond. The gentleman that helped my son out was absolutely fantastic! Patient, incredibly kind, and he went above and beyond to help him! I wish I remembered his name. From the minute my 8-year-old stepped into the store (by himself) until we left, he was nothing but incredibly friendly and welcoming. I highly recommend stopping in and shopping local! We left with a happy kid and a great new pair of shoes for his first Turkey Trot!
— Lisa Cross
Peter Wilk with Peter and Sons was fantastic with garage door repairs. We got two prices over the summer, and he was significantly cheaper. Great work and very happy with the result after we had everything replaced. Plus, he's local!
— Ashley Lichter
Danni at Davies Home Services in Park Ridge is a great interior designer! If you look at the website, you can see before and after photos, blueprints and the digital renderings she did.
— Molly B.
I picked up a couple beautiful large charcuterie boards to take to a wake this evening from Daniel's Charcuterie, and I can't recommend them enough. They do a fabulous job!
— Shelly Ewald Carey
Chimney Care Guys — Just had my chimney lined and repaired, and they did an amazing job. Ask for Eric. He is the best!
— Tina D'Agostino
Kelly at Colonna and Company does it all — interior and construction design, space planning, new-home build assistance, planning and selections, kitchen and bathroom design plans, color consultations, styling, furniture selections, window treatments and more!
— Kaitlyn Schlitter