Inside Scoop: The Park Ridge Library's "Live on the Lawn" Summer Reading Club event is June 4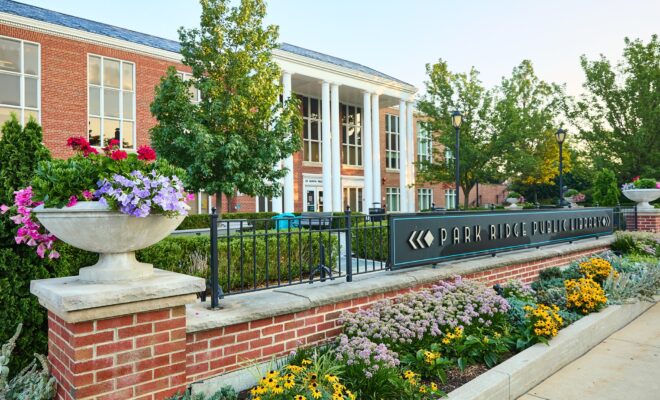 The Park Ridge Library is kicking off its Summer Reading Club for patrons of all ages with live music, ice cream treats and a tie-dye party on Saturday, June 4, from 11 a.m. to 3 p.m. on the library lawn. Attendees are encouraged to bring a picnic blanket and their own food and beverage and enjoy an afternoon of live music, craft activities and an outdoor photo booth to commemorate the start of summer.
The first 200 Summer Reading Club registrants who check in at the event will get a free serving of Triple Scoop'd ice cream. Register for Summer Reading Club at beanstack.parkridgelib.org. Registration for Live on the Lawn is not required.
Other highlights include:
**Before the outdoor fun begins, families can gather in the first floor meeting room for a performance by the Firefly Family Theater from 10-10:45 a.m. Tickets for this event are available at the Children's Services desk.
**Live music outside starting at 11 a.m. with School of Rock's house band, followed by The Hitmaker, whose sound has been described as "Olivia Newton-John and Harry Styles hanging out in Van Morrison's camper van" from 12:25-1:30 p.m. Patti's Preference will wrap up the afternoon with their covers of '90s and 2000s classics from 1:50-3 p.m.
**Bring a white or light colored shirt or other clothing to our DIY tie-dye booth and give it color to last all summer. Booth will be open from 1-3 p.m.
Anyone who registers for Summer Reading Club by June 3 will be eligible to win one of 25 Park Ridge Library-branded roll-up picnic blankets. Drawing will be held the morning of June 4 so the winners can claim their prize at the event. Ice cream will also be available for purchase while supplies last.
The theme for this year's Summer Reading Club is "Read Beyond the Beaten Path." Participants are encouraged to not just get outside and read, but read something new. Try a debut author, a new genre or a different format like an audiobook. Registration for Summer Reading Club began Friday, May 20, and participants can begin tracking on Friday, June 3. There are challenges for all ages:
Adults who read one book in each of four categories by Saturday, August 13, will earn tickets for our prize drawing to win a gift card to a local business or a custom Park Ridge Public Library picnic blanket. The categories include a book by a debut author; a book that almost won a prize; a book with a place name in the title; and a new genre. Earn more tickets by completing our bonus challenges like referring a friend to the Reading Club or doing a book match for more reading recommendations.
Participants from sixth grade through high school can earn a virtual ticket for every 10 days they read and get entered into a prize drawing to win a gift card to iFLY Indoor Skydiving in Rosemont, Amazon gift cards, a ring light and more. If they read at least 30 days, they will earn a prize book.
Children from birth through fifth grade will also get a prize drawing ticket to enter our drawing for every 10 days they read or are read to. Prizes include an iPad, a telescope, Squishmallows and gift cards to Amazon, Triple Scoop'd and Target. Anyone who reads at least 30 days will win a book to keep.
For more information about the Library's programs and services, visit www.parkridgelibrary.org or call 847-825-3123.