Inside Scoop: Rosemont's Sparkle Lights Festival, Wellness & Beauty by MD Ventures opens new space Dec. 10, Harp & Fiddle's annual Christfiddle Market Dec. 11 and much more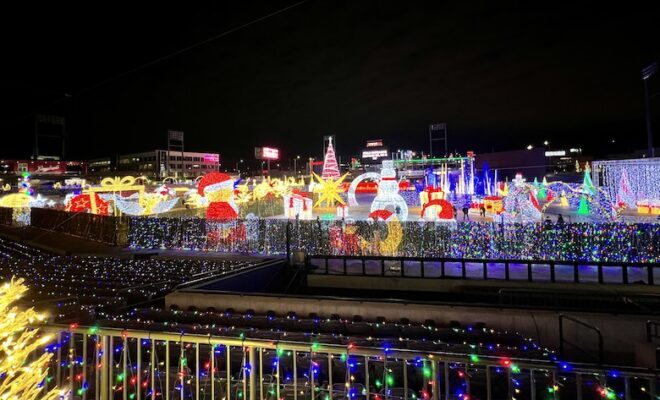 Rosemont's Sparkle Light Festival is open through Jan. 1
This holiday season, Rosemont's Impact Field is shining a little brighter with the debut of Sparkle Light Festival, where visitors can enjoy an immersive display of millions of holiday lights amongst outdoor holiday activities including train rides, winter tubing and themed mazes.
Guests are invited to explore five illuminated villages: the Frozen Forest, Snowflake Circle, Winter Wonderland, the North Pole and Deck the Walls, an all-ages maze of lights. Families can also visit Rudolph's Kids Zone and enjoy a children's maze, see-saws and other interactive activities. Additional attractions include winter tubing on the Alpine Slide and free train rides on the Holly Trolly. A special menu of festive food and beverage options is also available.
Sparkle Light Festival is open through January 1. General admission tickets are $25 for adults and $20 for children ages 2-12. Premium ticket packages that include unlimited tubing rides and buffet and drinks are also available.
Parking is available at Impact Field's onsite parking garage for $5 per vehicle. For ticket info, visit SparkleRosemont.com
Also in Rosemont, the Chicago Wolves Ice Rink returns to the Parkway Bank Park entertainment district this winter. Admission is free. Guests are invited to bring their own skates, but skate rentals are available on-site for $8. The rink will be open every day through Jan. 29, 2023. For more information and hours, visit ParkwayBankPark.com
Wellness & Beauty by MD Ventures opens new space Dec. 10
Come celebrate the opening of Wellness & Beauty BY MD Ventures' beautiful new space on Saturday, Dec. 10 from 4-7 p.m.
* LOCATION : 222 S. Prospect Ave., Studio 1 in Park Ridge
* Lots of raffles and giveaways
* All skin care and laser packages 20% OFF
* Gift cards 10% off
* Drinks, food and DJ
Raffles include:
* PDO mini thread lift
* Versa lipsa and Versa HA fillers
* New tox – Jeuveau
* Vampire facial®
* PRXT33
* Skin care basket
* Laser genesis
* Laser hair removal
* DaVinci laser teeth whitening
* IV hydration vitamin booster
* BioBoost shot
RSVP — Text/call to 224-377-9577
MDVentures.us
Harp & Fiddle's third annual Christfiddle Market is Dec. 11
Come get in the holiday spirit and do all your Christmas shopping in one place on Sunday, Dec. 11 from 11 a.m.-6 p.m., as the Harp & Fiddle hosts is third annual Christfiddle Market.
Enjoy spirit and wine-tasting stations, face painting for the kids, more than 20 local businesses selling various items and gift cards, and plenty of holiday spirit.
110 Main Street in Park Ridge. TheHarpAndFiddle.com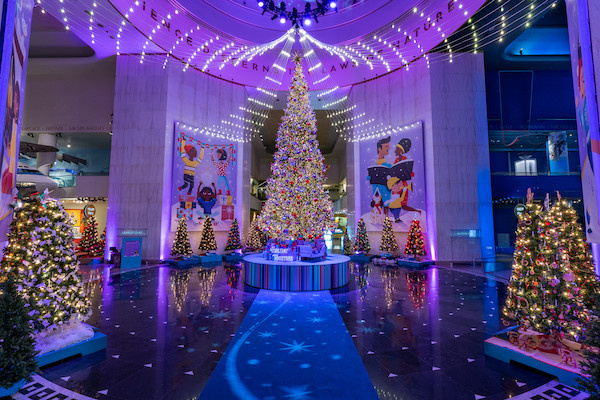 The 80th anniversary of Christmas Around the World at the Museum of Science and Industry runs through Jan. 8
The Museum of Science and Industry's beloved holiday tradition, which has inspired guests from Chicago and beyond to celebrate the holiday season by learning about traditions celebrated around the globe, is back for its 80th year.
The exhibit started with a single tree in 1942 and has blossomed into a display of more than 50 trees decorated by volunteers from around the Chicagoland area to represent the holiday traditions from cultures around the globe. In addition to the decorated trees, families can explore Holidays of Light, which offers vitrines that contain symbolic objects that showcase celebrations honoring light and enlightenment.
Christmas Around the World and Holidays of Light run through January 8, 2023. 5700 S. Lake Shore Drive in Chicago. For more information, visit MSIChicago.org
Don't forget Pennyville Station's Dinner with Santa event on Wednesday, Dec. 14 from 4-7 p.m. as well as their NYE festivities.
Pennyville Station's impressive new addition slated to open in December
Pennyville Station, the popular and stylish farm-to-table restaurant in the heart of Park Ridge, will be nearly doubling its size this December, as their space next door — formerly called the "Bar Car" and used for live music and to host special events or restaurant overflow — is now combined with the primary restaurant thanks to an extensive renovation project this fall.
In late November, we got a sneak peek of the new open layout that connects both rooms, and it's easy to see why owner Tony Antonacci his staff are excited about the 2,000-square-foot expansion of the previously narrow establishment. Stay tuned for more info.
Don't forget Pennyville's Dinner with Santa event on Wednesday, Dec. 14 from 4-7 p.m. as well as their NYE festivities. 112 Main Street in Park Ridge. 847-720-4841. PennyvilleStation.com
Sandberg Jewelers closing its doors with massive 80% off sale
After more than 100 years of celebrating life's special moments with the Chicagoland community, Susan Sandberg has announced her retirement and the closing of Sandberg Jewelers in Skokie. To commemorate its history, Sandberg Jewelers launched a massive sale event earlier this fall, providing customers the opportunity to shop a fresh selection of inventory, including diamond engagement rings, earrings, pendants, bracelets, timepieces, estate jewelry and more for up to 80 percent off.
Don't delay: Visit Sandberg Jewelers in the Village Crossing Shopping Center and receive up to 80 percent off your purchase while supplies last.
Sandberg Jewelers is located in the Village Crossing Shopping Center at 7096 Carpenter Road in Skokie. SandbergJewelers.com