Good Eats at Sweet & Tart: Irish breakfasts, tasty sandwiches, fresh-baked pies and colorful cocktails — there's plenty to like about this friendly restaurant in Uptown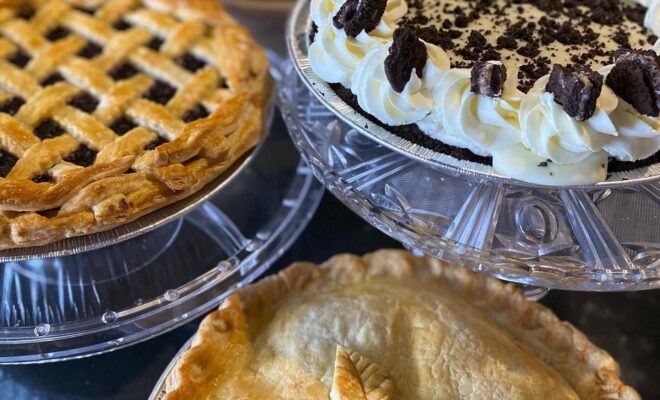 Location: 112 S. Prospect Ave. in Park Ridge
847-518-5555
SweetAndTartShoppe.com
Local beginnings: It doesn't take long to realize Meghan O'Neill and Jamie Kendall have been friends since they went to high school together at Maine South in the late 1990s. They tease, finish each other's sentences and effortlessly work well together.
"We're the perfect balance, really," Meghan shares. "I'm the guts and she's the practical. I'm always pushing forward, and she's more analytical and likes to assess. After 30 years of friendship, we haven't killed each other yet. We're still happy to see each other at work, we hang out, and our kids are friends. When things feel right, they just feel right."
And they definitely feel right these days, at least compared to a year and a half ago when they decided to open their dream restaurant and cocktail lounge at the start of the pandemic… and after withstanding a frustrating location change.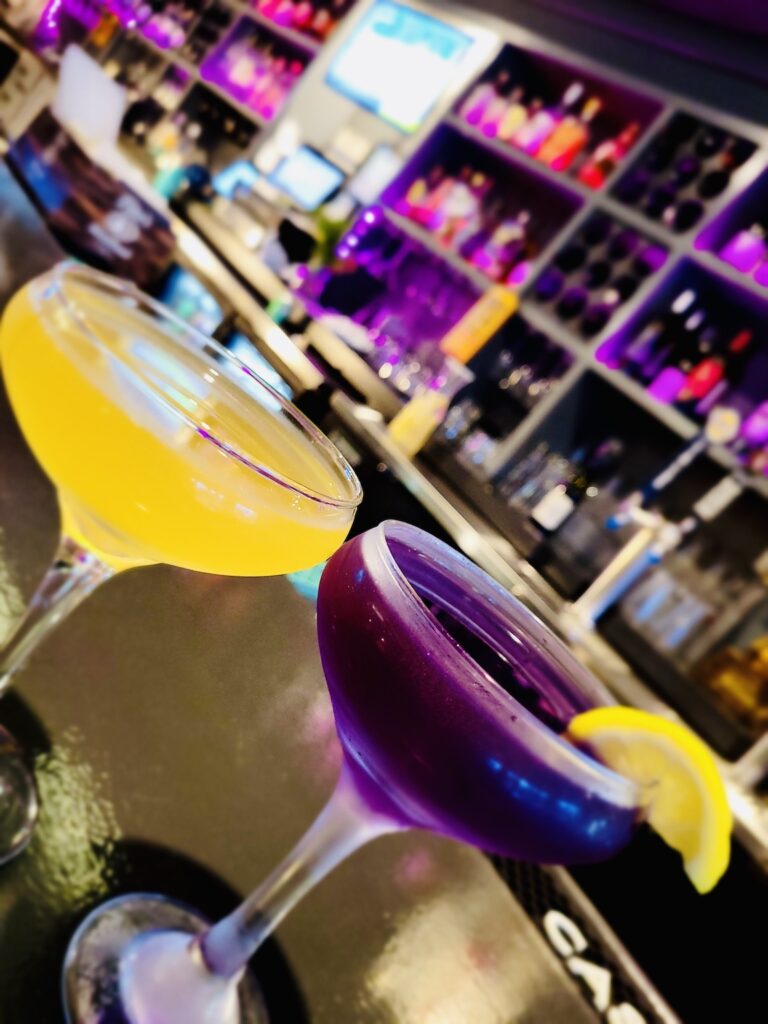 "Covid has taught us that while our initial vision was great, we needed to evolve and change with the times," Meghan admits. "We're stronger, more flexible and a better business. And we know and can trust everyone on staff so well that we listen and often go with their opinions."
The scene: A fun, lively environment, where you're greeted with a smile seemingly before you even enter the front door. Meet friends for a cocktail or glass of wine at the bar, or claim a table and favorite childhood board game that suits your family inside or on the flower-laden sidewalk patio.
Oh, and the space is believed to be haunted. Just ask for a story or two.
The food and drink: Order a classic cocktail or one of their innovative creations — either way, you won't be disappointed. Colorful martini flights — where you can choose three from their selection of 13 varieties — are only $30 on Friday. Talk about a perfect way to jumpstart the weekend.
Sweet & Tart's focus is on baked goods and small plates. But the exciting part is that it's always evolving, meaning you'll likely discover a few new options with each visit.
We recommend kicking things off with the dip trio, a plate of vegetables and crackers with roasted red pepper hummus (they actually roast their own red peppers), spinach artichoke and a jalapeno dip. Many of the veggies from various dishes are grown right out front of the restaurant (please don't steal them). The heaping plate of Shelley's steak nachos is perfect for sharing.
Weekend brunch, with a bottomless mimosa or bloody Mary option, is quite popular at Sweet & Tart, especially when you consider the brown bread and full Irish breakfast are "made in an Irish kitchen by Irish women."
The eggplant parmesan sandwich on fresh focaccia bread and the loaded chicken salad are personal favorites, and the menu offers a host of tempting salads, flatbreads and paninis as well.
Weekend brunch, with a bottomless mimosa or bloody Mary option, is quite popular at Sweet & Tart, especially when you consider the brown bread and full Irish breakfast are "made in an Irish kitchen by Irish women." You know, in case you were somehow concerned about authenticity. The pancakes and waffles topped with fresh fruit are delicious as well.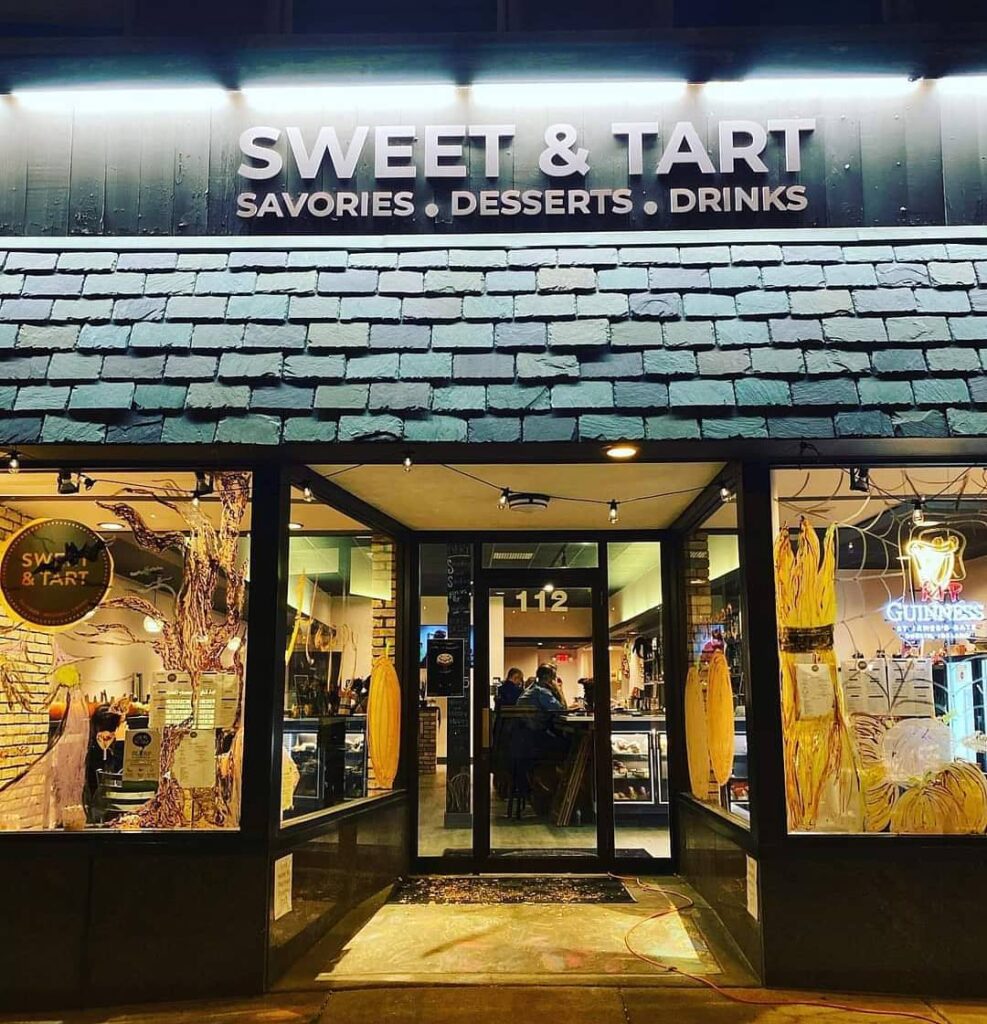 On the way out, don't forget the individually-wrapped muffins, cookies, cake pops other goodies available for purchase by the counter.
It's the perfect place to… leave it to the professionals when it comes to your Thanksgiving, Christmas or special-occasion pies. They do so many things well, but this could be their specialty. Priding themselves on freshness, the staff worked 18-hour days to create nearly 300 pies last year for Thanksgiving alone.
Key lime is particularly popular, as is the Dutch caramel apple with a crunchy topping. Catering and customized cakes, cupcakes and other desserts? Yep, they can handle that too.
Local artistic spin: Sweet and Tart offers wall space for local artists to display their works and sell items like soaps, candles, mugs and gifts from local artisans at the front.
We look forward to… dipping a panini into a hot bowl of soup and watching the snow fall through the big windows this winter. They already have assembled a binder full of soup ideas, and their hearty chicken pot pie and baked mac and cheese will return this fall as well.
Events and more: Meghan and Jamie aren't ones to sit idly by. They sponsor the city's Concerts in the Park in nearby Hodges Park, host karaoke nights, trivia events, sponsored tastings, regular live music performances, and even art classes for the kiddos. At Sweet & Tart, the fun is never-ending.