A night out at Bottle & Bottega: Bring out your inner Van Gogh, sip wine and catch up with friends at this Park Ridge art studio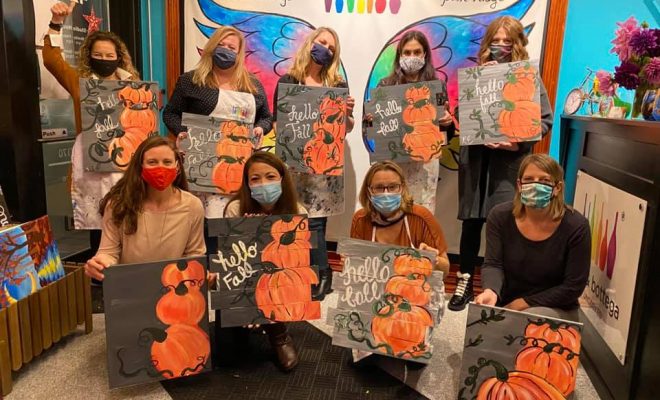 By Debbie Podmore
Sometimes you just need to get out and do something different. And with the girls, at that. As the weather quickly transformed before our eyes, we opted to welcome the change of seasons at Bottle and Bottega in Uptown Park Ridge.
Not only did this event bring some of the neighborhood ladies together for a much-needed night out, but it also allowed for us to bring home our very own Homegoods-type décor for the f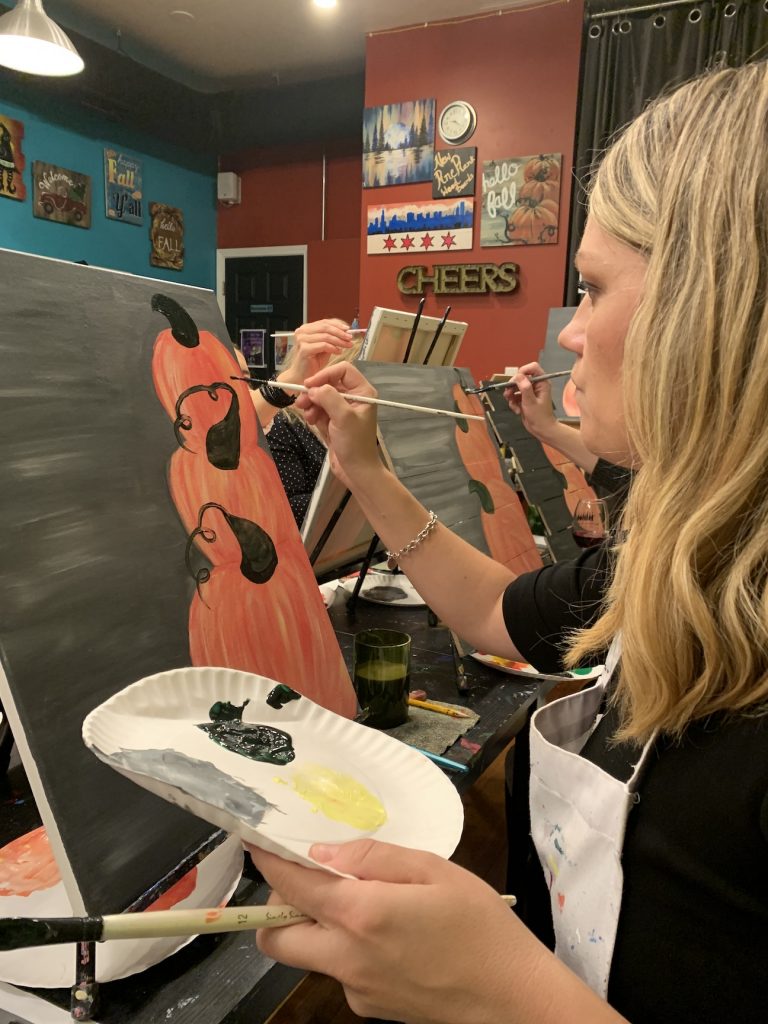 all.
Roya, our personal art teacher — supportive, kind and encouraging — was navigating a group of nine women talking and laughing, and she patiently waited to provide instructions.
"You should totally be an elementary art teacher," we told her. "You're so supportive!"
Roya responded sweetly, "Yes, I am an art teacher."
Well, there you go.
As you begin to think of ways you can mask your second-grade skill level, you start following Roya's detailed instruction, and sometimes she provides you with a quick hit of direct painting assistance.
Right when you begin to think it's impossible to replicate what you see on the piece of paper before you — or the magic that Roya is producing on her canvas (which she makes looks so simple) — it begins to get easier. You feel yourself beginning to unleash your inner Van Gogh and think maybe, just maybe, you could've been a real artist. Nah, I'll stick to reality… and drinking this wine!
Painting, socializing, eating, drinking, laughing — what better way to bring people together in a seamless and memorable way?
Is Bottle & Bottega a cost-effective way to creatively spend an evening? Yes. When you pick out your selected canvas (ranging from $40-48), you receive all the painting materials, space and your own personal art instructor for about two hours.
To make it even better, it's BYOB. And Bottle & Bottega provides the glassware and other necessities to help with some of those annoying logistics, as well as an additional 30 minutes before art time to socialize, drink and catch up with each other.
"This has always been on my bucket list," said my neighbor Agnes, who took this event so seriously that after our 10 p.m. end time, she continued to add highlights to the leaves on her pumpkin while initialing her fall portrait. I might add, it looked professional, and within minutes of being home, it was already the centerpiece on her beautiful fireplace.
Painting, socializing, eating, drinking, laughing — what better way to not only do something unique, but also bring people together in a seamless and memorable way.
Bottle & Bottega is located at 424 W. Touhy in the heart of Uptown. Call 847-232-7170 or click here for more information on in-studio and remote painting opportunities.