Kid Zone: Holiday lights and activities at the Lincoln Park Zoo, Morton Arboretum, Museum of Science and Industry, Brookfield Zoo, Rosemont and more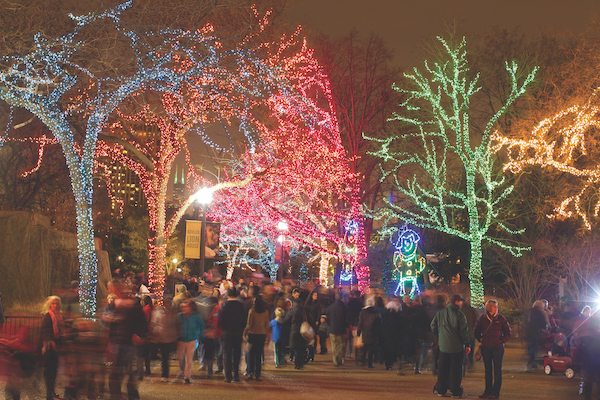 ZooLights photo by Todd Rosenberg
By Trent Modglin
Lincoln Park ZooLights
The Lincoln Park Zoo in Chicago goes all out for the holidays with its ZooLights celebration, decorating the entire property with a mind-boggling 2.5 million colorful lights, adorning everything from the trees to animal exhibits to the grass itself — often synchronized to holiday music.
The celebration, now in its 26th year, will look a bit different this year, with reduced capacity, social distancing and a $5 ticket fee, but much of the fun remains.
Get a socially distanced photo snapped with Santa, shop for gifts and enjoy additional $3 ticketed options like the holiday pop-up with spirited drinks and snacks (spiced wine or s'mores, anyone?), a one-of-a-kind light maze and the whimsical enchanted forest.
Bundle up, because the animal buildings will be closed, but you can still visit the polar bears, penguins and other outdoor habitats.
ZooLights takes place from 4-10 p.m. Nov. 21-Jan. 3, with tickets available for advance purchase. There are five free nights: Nov. 24 and Dec. 9, 17, 21 and 29. Tickets are still needed for the free nights and will be released the Sunday prior to each date at 4 p.m.
2200 N. Cannon. 312-742-2000. LPZoo.org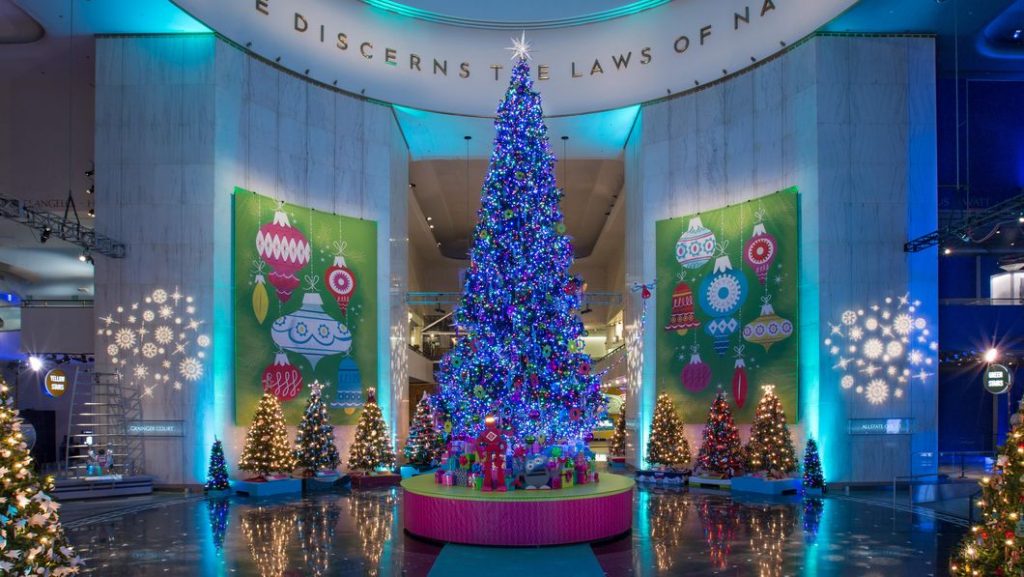 Christmas Around the World and Holiday of Lights at the Museum of Science & Industry
This popular exhibit began back in 1942 with a single tree. Today, the annual celebration features a four-story Grand Tree that is surrounded by a forest of more than 50 other smaller trees and vibrant displays to represent holiday traditions from around the globe. More than 30,000 lights and fake snowfalls add to the spirit of the season for visitors.
The exhibit is open through Jan. 3, and the museum, with reduced daily capacity, is currently open Wednesday-Sunday from 9:30 a.m.-4 p.m. Due to COVID restrictions, all museum guests must reserve timed-entry tickets in advance.
5700 S. Lake Shore Dr. MSIChicago.org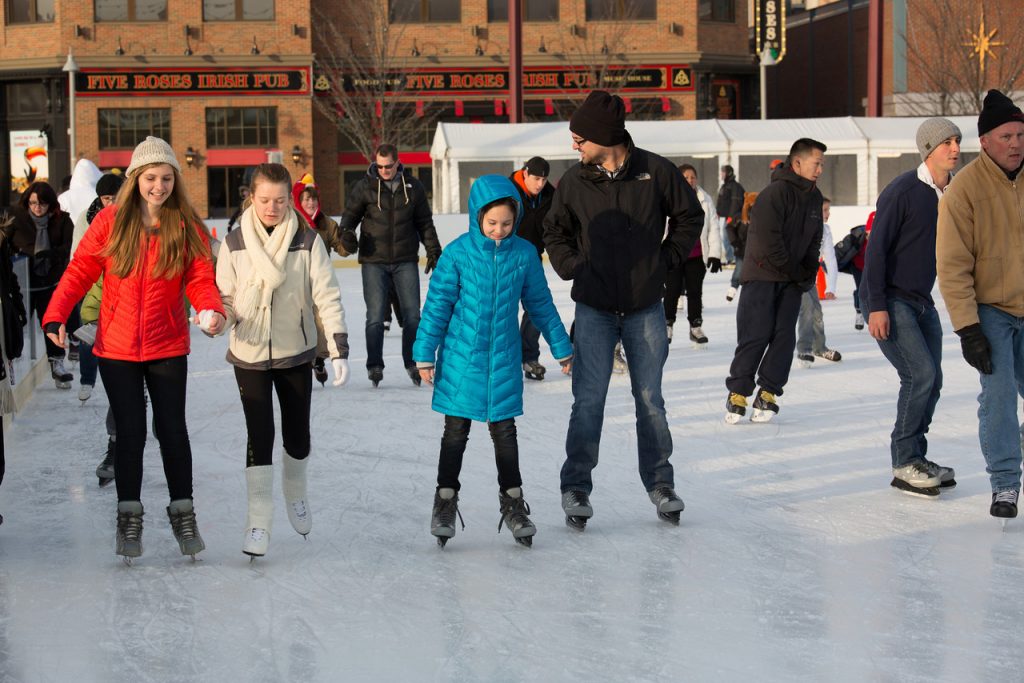 Skating in Rosemont's ParkWay Bank Park
The Chicago Wolves Ice Rink is back this winter in the middle of Rosemont's Parkway Bank Park entertainment district. In an effort to ensure social distancing this year, the outdoor ice rink will limit its capacity, and advance ice-skating reservations will be required.
Skating reservations (for 45-minute sessions) and skate rentals can be made at Parkwaybankpark.com. Face masks are required by skaters entering the skating tent, and skaters are encouraged to continue wearing their face masks while skating.
Admission to the Chicago Wolves Ice Rink is free, but a credit card is required to hold reservations. Guests can bring their own skates, or rentals are available online for $8.
The rink, located at 5501 Park Place in Rosemont, will be open every day through Jan. 5. In addition to special holiday hours, the rink will also be open on Sundays through Feb. 28. ParkwayBankPark.com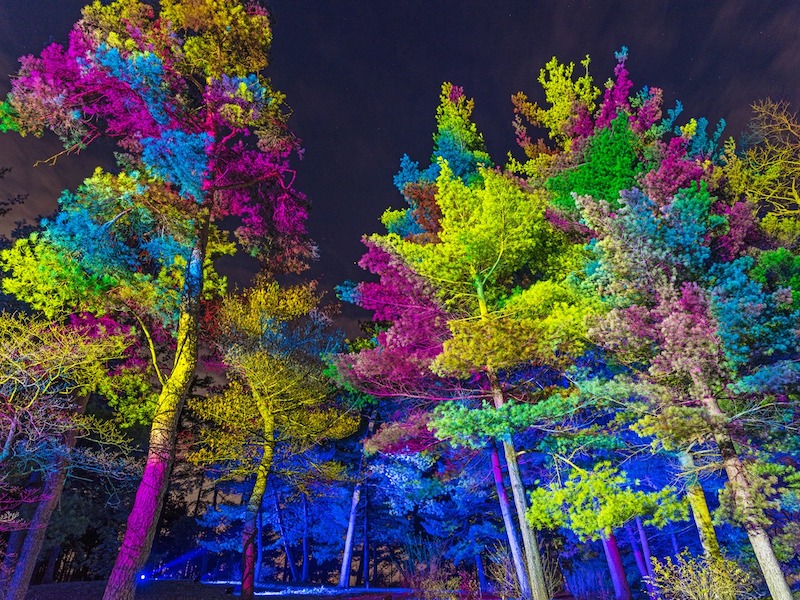 Illumination at the Morton Arboretum
This award-winning, outdoor walking tour will look a bit different this year thanks to COVID regulations. Instead of a one-mile stroll, this re-imagined holiday tradition has been redesigned with your safety in mind and now consists of a 30-40-minute driving experience featuring an unparalleled spectacle of color, light, and music.
The two-mile road winds its way through many of the 50 acres of the Arboretum's renowned tree collection, which is brought to life with more than one million lights set to music to create a captivating, colorful, interactive experience — all from the warmth of your own car.
Illumination runs Nov. 30-Jan. 3, and ticket prices per car range from $29-49 depending on membership and peak date. Date-specific tickets must be purchased online in advance.
Gates open at 5 p.m. Sunday through Thursday; last entry at 9:15 p.m.; lights out at 10:00 p.m. Gates open at 5 p.m. Friday and Saturday; last entry at 10:15 p.m.; lights out at 11 p.m. Event is closed on the following Mondays: Nov. 23 and 30, Dec. 7 and 14.
4100 Illinois Route 53 in suburban Lisle. 630-968-0074. MortonArb.org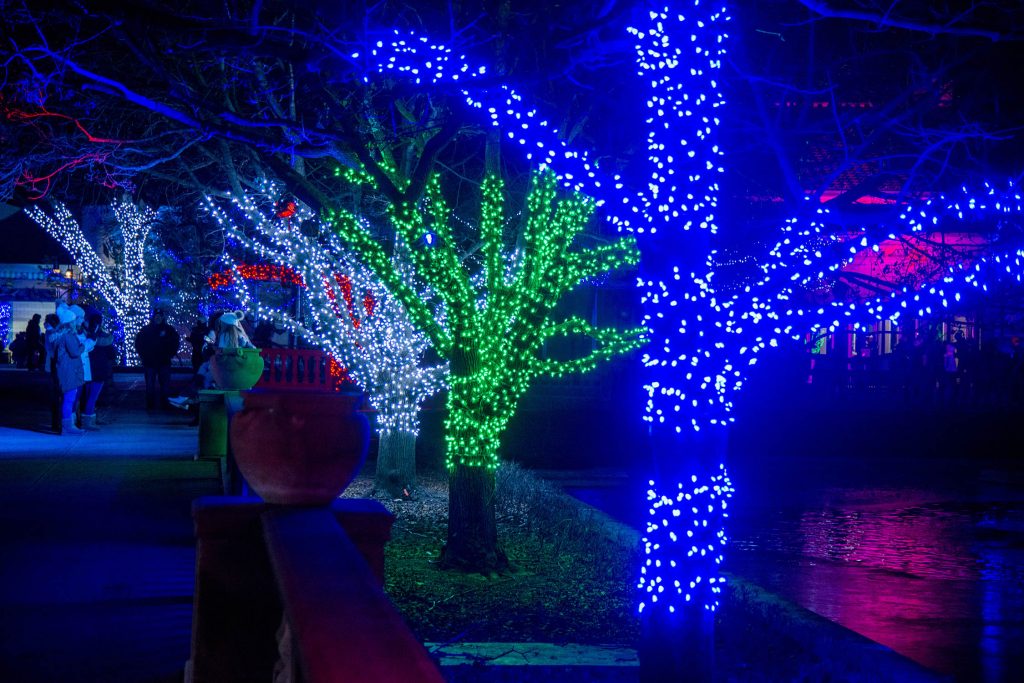 Holiday Magic at the Brookfield Zoo
Get into the holiday spirit with more than one million lights covering the trees, fences and animal structures of the Brookfield Zoo. Although a few regular fixtures won't be available due to the pandemic (Santa, carolers, skating rink, etc.), you can still experience a brilliantly lit 600-foot tunnel featuring thousands of colored lights all synchronized to music, a giant 20-foot-lit orb ideal for Instagram selfies and holiday photos, a 41-foot tree to celebrate the holidays and several larger-than-life LED animal sculptures.
Curb your appetite with snacks like pizza, cinnamon sugar pretzels, funnel cakes and more, as well as hot chocolate, beer and spiced wine.
Now in its 39th year, Holiday Magic runs Friday through Sunday, Nov. 27-29, Wednesday through Sunday, Dec. 2-6, 9-13 and 16-20, and Saturday through Thursday, Dec. 26-31. Note that the zoo will not be open to guests prior to 3:00 p.m. on Holiday Magic days.
To ensure social-distancing, advance admission and parking tickets are required. Reservation times will be available in 20-minute increments.
8400 W. 31st St. in Brookfield. 708-688-8000. Reserve tickets at CZS.org/holidaymagic
Park Ridge Library's virtual programming this winter
The Park Ridge Library has added virtual programs for learners of all ages — from cooking classes for kids to a virtual concert of holiday favorites — to its winter schedule.
"We are really excited about some of the new programs we've introduced this fall, many of which will continue through February," says Staci Greenwald, the library's youth services manager. "We've partnered with local yoga studio Sun & Moon Yoga to bring a free weekly yoga program for kids who need a break from e-learning. Our new Sticky Fingers family cooking classes bring kids and adults together to cook based on a theme from a book. And Teen Trivia and Virtual VolunTeens offer a nice diversion while still bringing teens together."
In addition to virtual programs, the library also offers support for remote learners and homeschooling families with an array of databases covering virtually every subject, as well as creative online resources like lesson plans, printables, live homework help and much more.
The library's Storytime Live series will continue through the winter as well, including a special Storytime Live with Santa on Facebook Live on Dec. 2 at 7 p.m. Also, from Dec. 21-Feb 28, residents of all ages can participate in the Winter Reading Club, track their reading online and get entered to win prizes by reading every day for 20 days or more. For a complete schedule of all library programs, visit ParkRidgeLibrary.org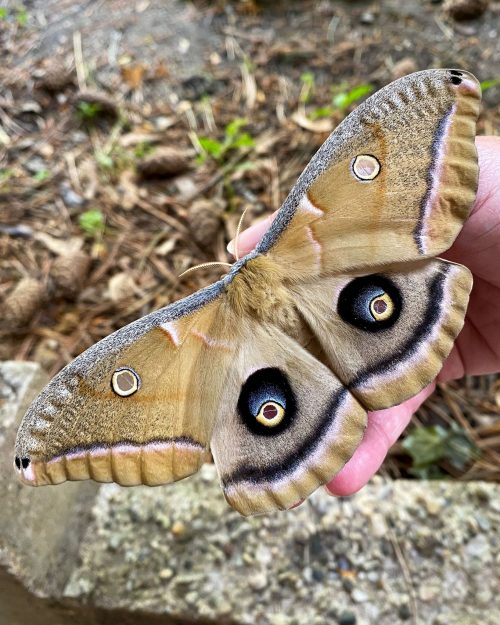 Virtual activities with the Notebaert Nature Museum
In non-COVID times, the Peggy Notebaert Nature Museum, located in Chicago's Lincoln Park neighborhood, is loaded with enriching exhibits and opportunities for hands-on interactions with a variety of animals.
And despite being closed during the pandemic, the museum has always been at the forefront in terms of routinely providing great virtual learning experiences for kids.
The staff makes it easy to explore nature and science with the young scientists in your life, and do so safely from your own home or neighborhood. Visit the Notebaert's website for virtual field trips, online programs, workshops, workbooks and much more.
2430 N. Cannon Dr. in Chicago. NatureMuseum.org