Good Eats at Mel's Craft BBQ: Brisket, bourbon and believing. This labor of love has become the area's hot new restaurant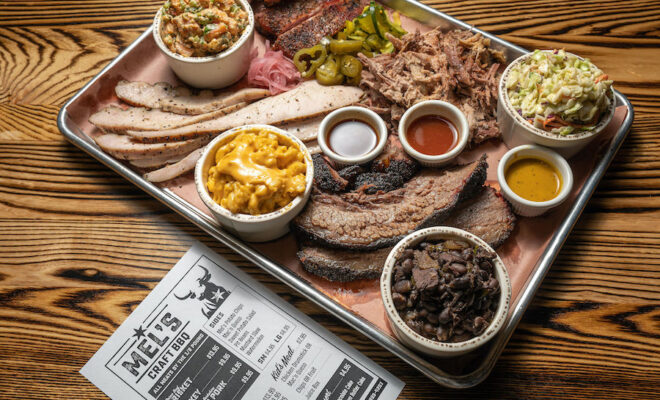 By Trent Modglin
Photos by Nikki Allen Creative

24 Main Street in Park Ridge
224-985-3461
MelsCraftBBQ.com
Background: Some 20 years ago, Mel Thillens started barbecuing for family parties and a big Memorial Day bash. With those parties — and his BBQ creations — came increased expectations, and he soon began to hone his craft.
"When Covid hit, and everyone was rethinking their lives and what they want to be doing, that's when I really started thinking about something that's been a dream of mine forever," says Mel, who serves on the Taste of Park Ridge board of directors. "My family has always been behind me and all my hair-brained ideas, but they knew this was a good one. This one just makes sense."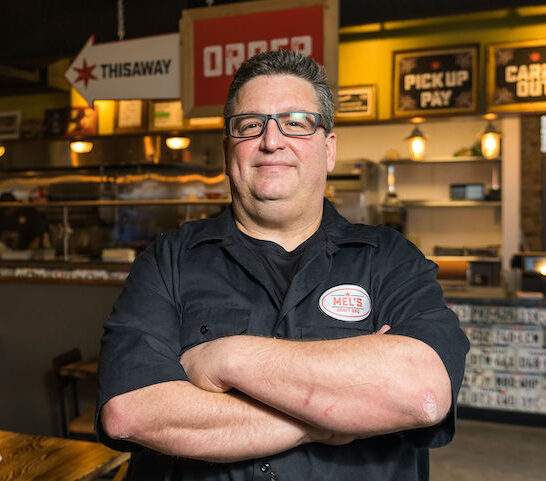 Once the restaurant idea became real, Thillens took road trips to Texas with his sons to learn from the best barbecue men in the business. Legends, if you will.
"Everyone was very cool and open to sharing ideas," Mel says. "There's a respect level — it's rare when you find someone that cares that much. And now I'm part of the crazy group of people that babysits brisket on their day off."
The eight-month buildout on Main Street started in September, and with much anticipation, Mel's Craft BBQ opened to rave reviews May 1.
My family has always been behind me and all my hair-brained ideas, but they knew this was a good one. This one just makes sense.
The scene: This fast-casual BBQ joint, despite having a small storefront, is long and spaced out well, with large floor-to-ceiling windows to welcome you in, plenty of exposed brick, varied seating options, distinguishable Texas decor and a long, skinny bar in the middle of the room.
Grab a cocktail or cold beer at the bar, and then make your way to the back service counter because that's where the magic is happening. The guys back there know what's going on. They're the ones cooking it, after all. And they're constantly communicating with one another about the process and more than willing to share advice.
The goal? "We want you to be able to get in and get your food quick, but it's also casual enough and a good enough vibe to sit and stay awhile," says Mel. "We guarantee you'll see someone you know."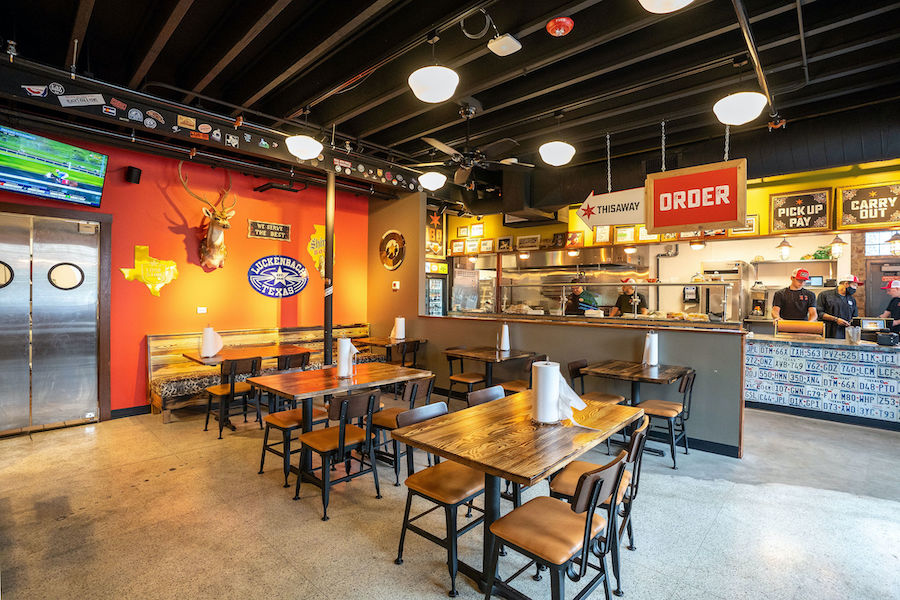 Menu expectations: I remember Mel telling us a month before opening that "the pulled pork will be popular, but don't sleep on the brisket." But I can't envision anyone sleeping on the brisket, because in a word, it's phenomenal. There's very little fat on the brisket, which is smoked over white oak logs for 20 hours and comes out incredibly tender and flavorful.
Meat prices are listed by the half pound, but you can order as much or as little as you want, and even turn a selection into a loaded sandwich. Or follow our lead and make your own sampler platter, filling a tray with a variety of meats and sides like pit beans, mac 'n' queso and mustard slaw, tailoring it exactly to what you're craving.
Mel's brisket is smoked over white oak logs for 20 hours and comes out incredibly tender and flavorful. … In a word, it's phenomenal.
Everyone loves the turkey, according to Mel, who calls it the "surprise hit of the menu." It's thin-sliced, all-natural turkey breast that's brined in house and needs to be pulled out of the smoker "at the exact right time."
The meaty wings are signature dry rubbed, smoked and then tossed in your choice of a sauce at the end, right when you're ordering them. The huge plate of BBQ nachos and giant chopped salad both caught our eye at an adjoining table. Next time, for sure.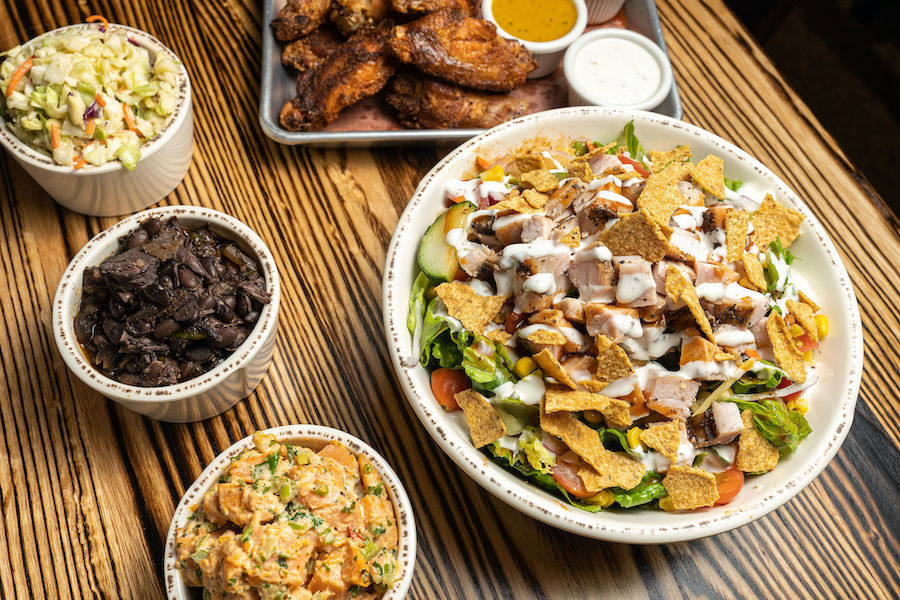 Another highlight for us was the sweet potato salad, made with chipotle, cilantro, a little lime, celery and mayo. Mel discovered the recipe when he was cooking for a big party and wanted to do something a little special with potato salad. "I always knew it was a big BBQ thing, so I spent a little time coming up with it." Genius.
Mel's offers three homemade sauces — a vinegar-based "Texas twang" with a little chili pepper and cumin; a sweet one called Mini Mel's with clove, cinnamon, pineapple juice and warm spices; and a robust mustard-based sauce. Mel set out to make sure the sauces would all be distinctly different, and they're full flavored, so the advice from the top is to use them sparingly.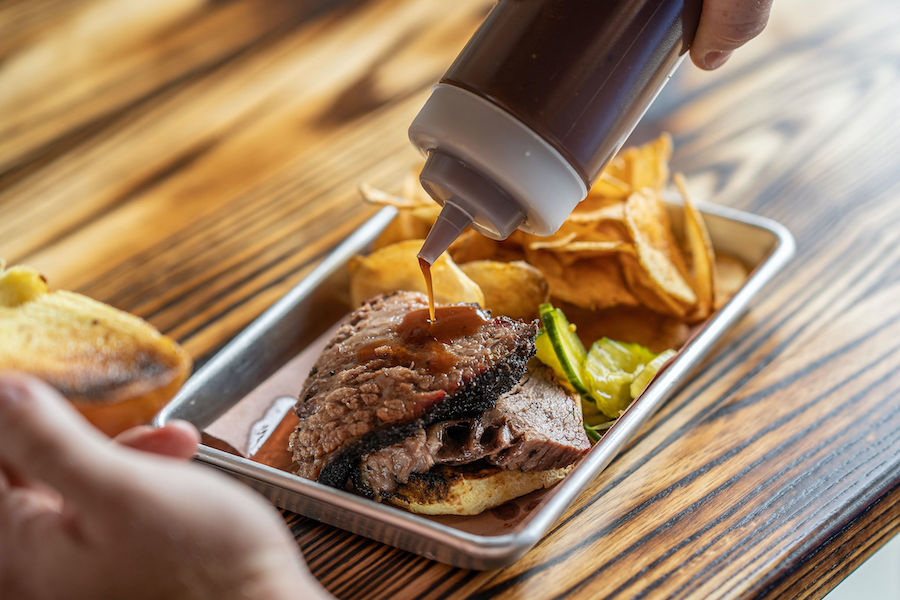 Drink options: Mel's big focus is on bourbon, as well as a good handful of ryes. They even offer a hand-selected barrel from Wolf Point Distillery. There are eight beers on draft, and buckets and pitchers are available. Two Texas favorites, Lonestar and Shiner Bock, are too. Specialty cocktails are plentiful, including a crowd-pleasing smoked Old Fashioned.
Future plans: While Mel's offers two picnic tables on the front sidewalk, there are plans for additional outdoor seating, as well as opening up the big front window to share the wonderfully sweet, smoky smells with the neighborhood.
"Right now, we're doing the basics with these meats and sides, but I've got ideas for more, believe me," says Mel.
We believe. We believe him, and that brisket.