Local charity spotlight: Diveheart.org uses scuba therapy to provide those with disabilities a chance to "imagine the possibilities"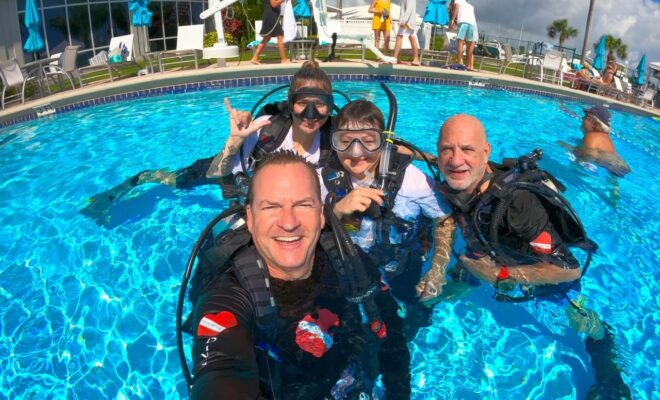 The info:
Diveheart.org
630-964-1983
Downers Grove, IL
The basics: Diveheart is a non-profit, volunteer-driven organization founded in 2001 with a mission to build confidence, independence and self esteem in children, veterans and others with disabilities using zero gravity, adaptive scuba and scuba therapy.
The purpose of Diveheart is to provide and support educational scuba diving programs that are open to any child, adult or veteran with a disability, with the hope of providing both physical and psychological therapeutic value to that person.
Through this process, Diveheart's directors and volunteers have discovered the forgiving, weightless wonder of the water column provides the perfect gravity-free environment for those who might otherwise struggle on land. "Underwater, we're all equal," they've learned.
Who they help: Diveheart works with individuals who have a variety of disabilities, including physical and developmental disabilities, vision and hearing impairments, amputations, traumatic brain injuries, Post Traumatic Stress Disorder and more. Diveheart seeks to help its participants "Imagine the Possibilities" in their lives.
Diveheart uses scuba therapy to help build confidence with individuals who have a variety of disabilities. "Underwater, we're all equal," they've learned.
Unique experiences: As a leader in the world of Adaptive Scuba training, Diveheart brings adaptive divers, buddies and instructors the latest, most innovative programs in the industry. Through their adaptive scuba adventure trip, Diveheart gives adaptive divers and buddies a wide variety of places to go where they can improve their skills, get more experience and make new friends. Their instructor directory matches adaptive divers with Diveheart instructors around the world.
We chatted with founder and president Jim Elliott about his passion for scuba diving, helping others, and "Adapting to Dive," the emotional new David Marsh documentary about his experience with Diveheart

Q: Tell us about Diveheart's beginnings? What led to you starting it back in 2001?
After decades in the media business with the Chicago Tribune, WGN Radio and CLTV News, I was ready for something different. My father was a veteran with disabilities, one of my best friends in school had cerebral palsy, and I raised kids with disabilities.
In the 1980s, I started guiding and teaching blind skiers because my oldest daughter was blind. I started scuba diving in college because — as a journalism student and young reporter — I thought if I ever meet Jacques Cousteau, I better know how to dive. I fell in love, and the rest is history
Q: How have you seen scuba therapy help people?
A: We love the idea of the "can-do spirit." Diveheart invented Scuba Therapy. My first class was at Good Samaritan Hospital in the late 1990s. Now we've inspired the world.
Q: Diveheart.org is really a global organization, isn't it?
A: There really is no limit where you can send people to improve their skills, get more experience and make new friends. I thought it would be a small non-profit like the blind ski group. Who knew?
Q: Tell us a bit about your documentary.
A: Here is the trailer. It speaks for itself. It is amazing and transformational.
Q: What does the future hold for Diveheart?  
A: We want to build the deepest, warm-water therapy pool in the world for rehabilitation, research, education and training — and to provide vocational opportunities to individuals of all abilities. We'll be announcing the location this year.
Check out ticket information to the documentary screening on May 18 here.
Interested in volunteering, donating or just learning more? Visit Diveheart.org