Inside Scoop: Park Ridge farmers' market runs through October; Sweet & Tart Shoppe, Poke Burrito, Clean Juice and Kate Spade open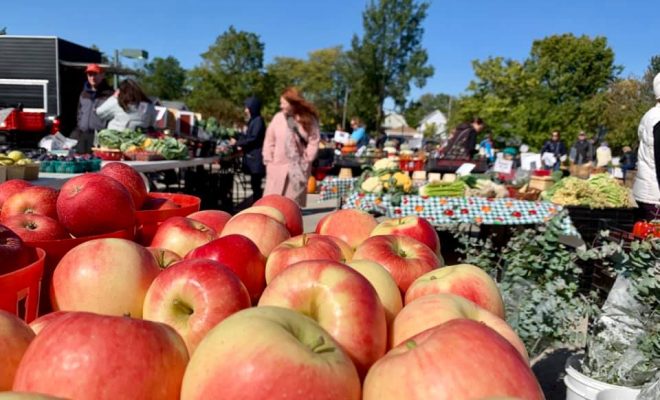 Park Ridge Farmers' Market runs through October
Committed to bringing local farmers and artisans from around the Midwest to Uptown Park Ridge, the Farmers' Market offers a variety of fresh herbs, flowers, specialty foods, baked goods, seasonal fruits and vegetables, and more. Don't forget a bit of live music and kids' activities as well. And it's perfect for pumpkins, apple cider and a few of those colorful fall displays for the yard.
The market runs through the last Saturday of October from 7 a.m.–1 p.m. Don't forget your mask! 15 Prairie Ave.
Sweet & Tart Shoppe, Poke Burrito and Clean Juice open in Park Ridge

Welcome to the neighborhood. In case you somehow missed the news, Sweet & Tart Shoppe, Poke Burrito and Clean Juice each opened in Uptown this summer.
Sweet & Tart Shoppe, launched by two longtime friends from Park Ridge, is a sleek, welcoming spot for small plates, baked goods and some creative drinks in the heart of Uptown across from Hodges Park. And oh, the desserts. 112 S. Prospect. SweetAndTartShoppe.com
Poke Burrito is a unique Asian fusion chain that utilizes healthy ingredients, steamed sushi rice and a number of different sauces to customize your order. 12 S. Northwest Highway. PokeBurritoChicago.com
Clean Juice is a locally-owned, organic juice bar that offers fresh juices, smoothies, acai bowls, small bites and plenty more. 648 N. Northwest Highway, unit 8C. CleanJuice.com
Kate Spade comes to Rosemont
The Fashion Outlets of Chicago, located in Rosemont, brought the American fashion brand Kate Spade New York aboard in August.
Located on Level Two near Bloomingdale's, shoppers can expect the brand's signature handbags, wallets, jewelry, accessories and more.
Bonus: We know from experience, the Fashion Outlets of Chicago are working hard to keep the massive space clean, socially distanced and welcoming. 5220 Fashion Outlets Way in Rosemont. FashionOutletsOfChicago.com
Deals around town
D'Agostino's Pizza and Pub, in business since 1968, recently moved their Higgins Road location in Park Ridge to Niles. And their dine-in bar specials are tough to beat on Friday night:
$12 10-inch thin, one-topping pizza and any pint of beer.
$8.95 fish & chips.
$12.95 grilled pork chop with roasted veggies, choice of potato and soup or salad.
$16.95 grilled 12-ounce ribeye steak with roasted veggies, choice of potato and soup or salad.
$12 Miller Lite pitchers and $17 all other pitchers to go with $5 well cocktails and $6 sangria pints.
The new D'Agostino's location is at 7530 W. Oakton in Niles. DagsDelivers.com/Niles
Happy hour is back at Bub City in Rosemont, featuring $6 old fashioned cocktails, margaritas and back porch teas. Available from 3-6 p.m. Tuesday-Friday.
Bub City is located 5441 Park Place in Rosemont's Parkway Bank Park. Bub-City.com